If you are having difficulties coming up with unique ways to decorate your kitchen, then the following kitchen design ideas may be the creative tool you need to upgrade your set.

Kitchen decoration can be quite a tricky subject, there's a lot of options nowadays for one to keep in mind, from what type of materials to choose to countertops and kitchen islands, among many others. In today's article, LUXXU Blog is displaying a wide variety of kitchen design ideas that range in styles and aesthetics, from modern kitchens to contemporary ones.
An avalanche of materials can be seen in this kitchen set, from brass and crystal to marble and wood. Besides this exceptional design feature, what stands out the most is the Draycott pendants by LUXXU that offers a soothing glow.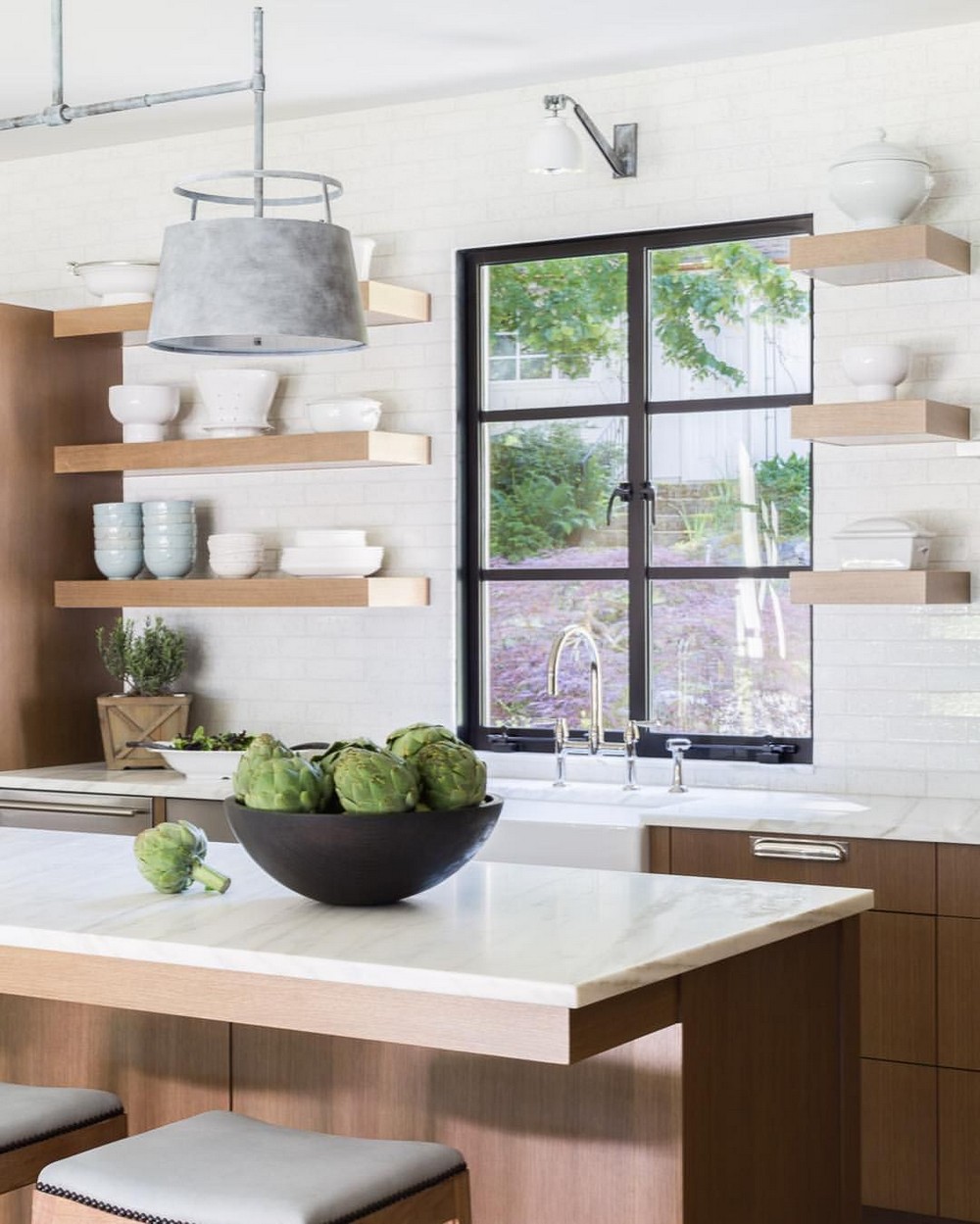 Light wood is one of the best materials or even tones to use in kitchen design. Take, for example, this contemporary kitchen that was designed by Taylor Ogle, where the furnishings assumed this lighter tone while the walls feature white tiles, making for quite a contrasting look.
⇒ Related Article: Kitchen Design Ideas – 2020 Trends You'll Be Seeing Everywhere ⇐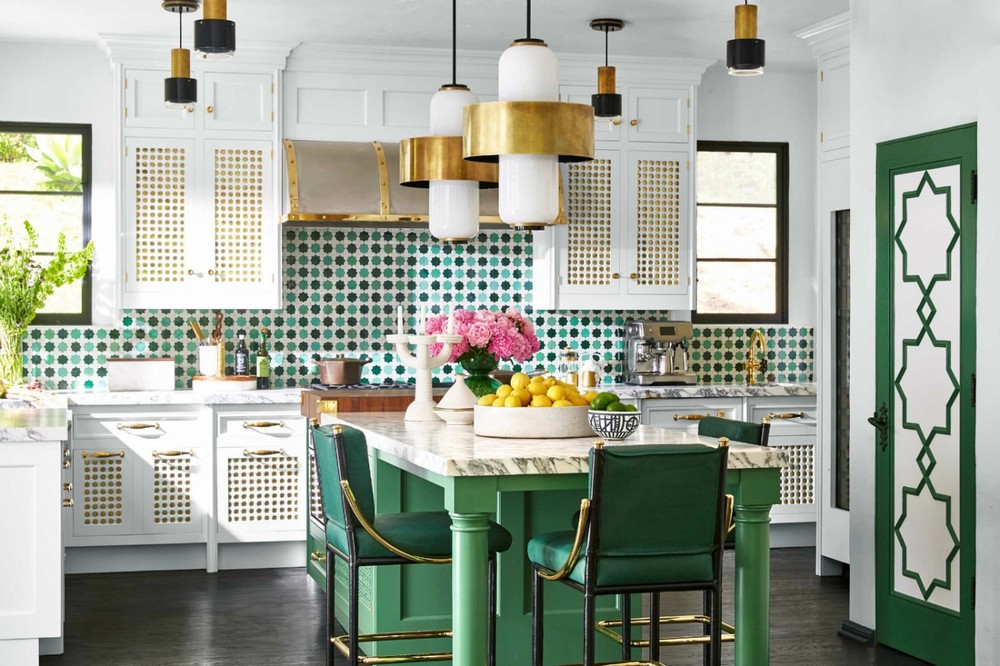 Numerous shades of green are combined in this outstanding kitchen design of Martyn Lawrence Bullard's West Hollywood Home. In addition, pops of gold, white and black in the pendants further provide an elegant touch to this set.
In this glam yet cozy modern kitchen, the Pharo pendants grant a timeless aesthetic due to delicate yet strong structure, not to mention its crystal and gold plated brass details. In addition, the Nura bar chairs introduce all the comfort and luxury a modern setting needs.
If by any chance you are looking for extravagant kitchen island ideas, then the kitchen depicted above may be the right solution for you. The interior designer Richard Mishaan decorated this dramatic kitchen of a TriBeCa apartment that highlights a curved custom island by Herzog & de Meuron.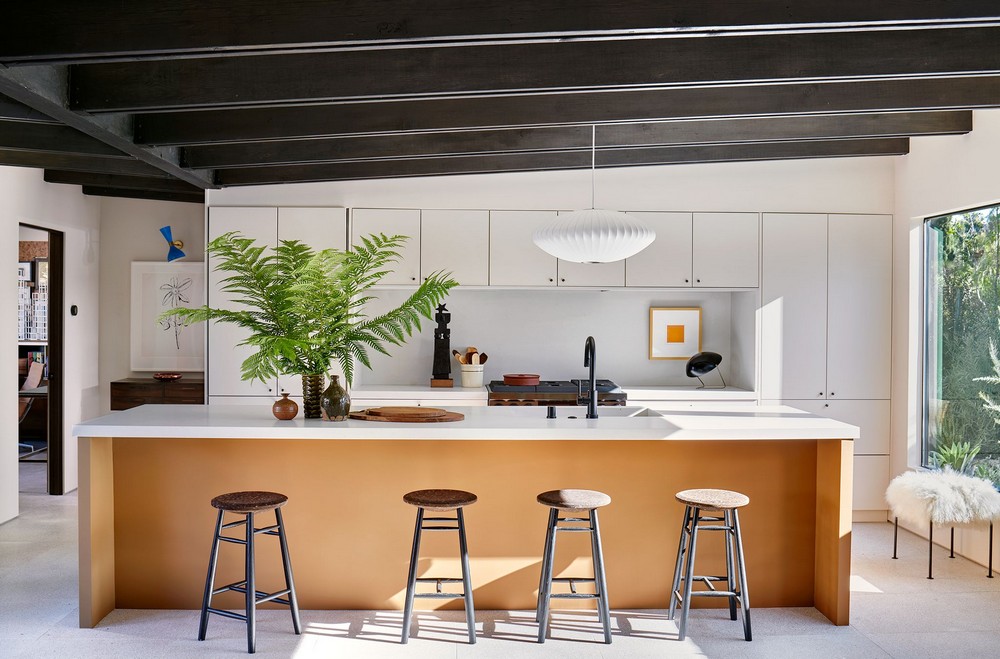 Sophia Bush's Hollywood Hills bungalow has one of the most remarkable mid-century kitchens you will ever see as minimal aesthetic comes together beautifully with an earthy and soft palette. Interior designer Jake Arnold and contractor Orie Prince collaborated to renovate the actress's gorgeous home.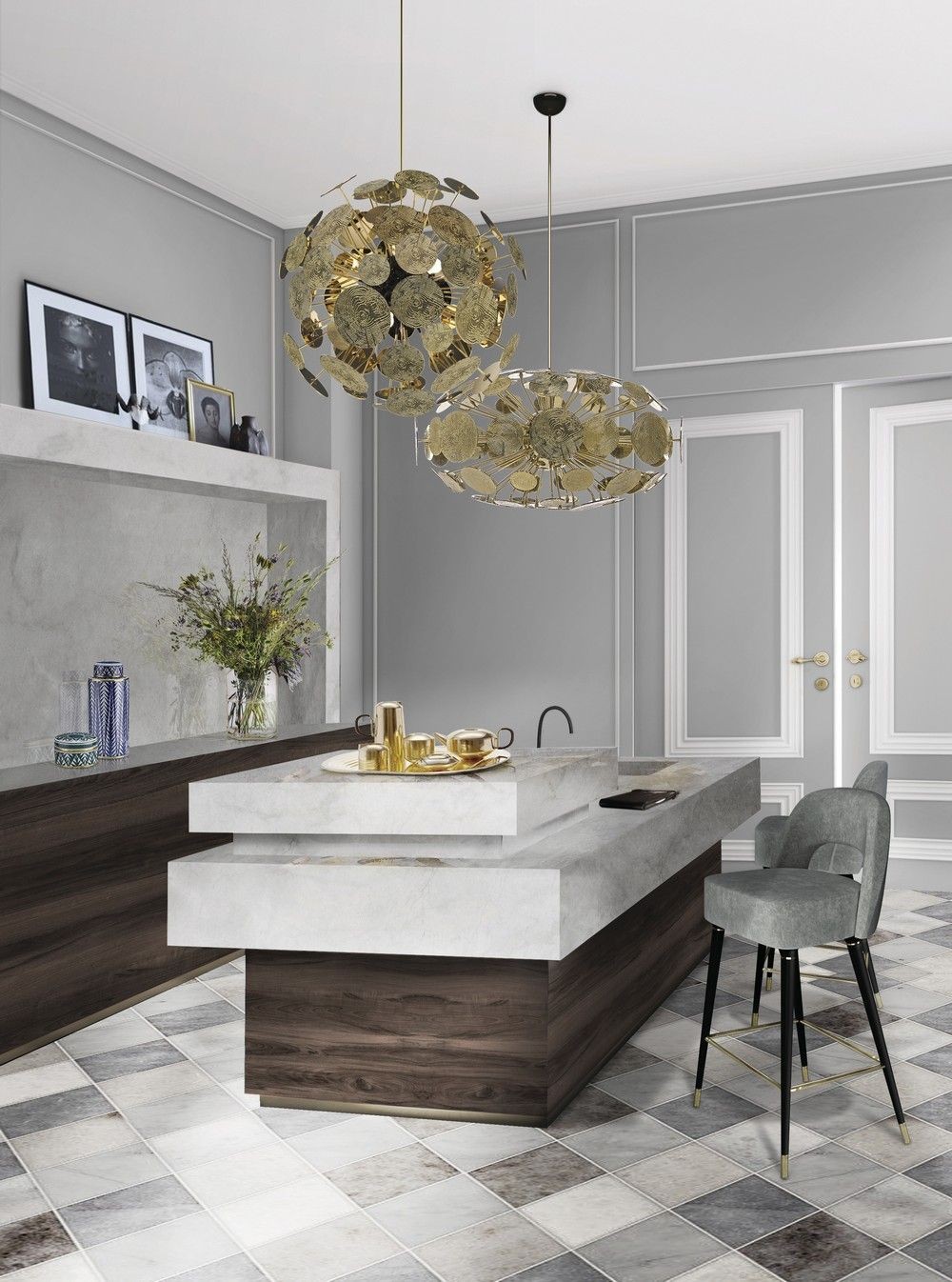 Rustic and modern elements merge seamlessly in this neutral kitchen. The aluminum and gold-plated suspensions with particular aesthetics are by Boca do Lobo and add a touch of exclusivity.
Throughout this kitchen set, one can see a combination of copper accents and white tones as well as a series of vintage elements, from the mahogany dining chairs to the cookware.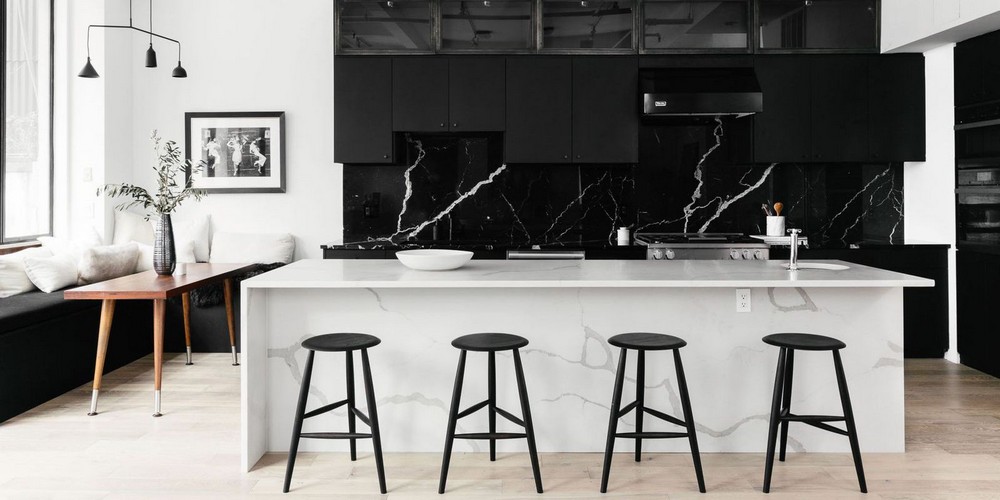 The sleek design of this modern kitchen by designer Jae Joo leaves anyone speechless. The combination of black and white marble is out of this world, providing a sense of timeless allure to the New York City condo of David Yaffe.
What makes this kitchen design so unique is that while it highlights more rigorous lines and textures, a playful touch is added through a whimsical and musically-inspired chandelier that is by DelightFull.
Editor's Choice
If the kitchen design ideas presented weren't enough, you can find three more ideas in the form of lighting designs that are bound to offer a timeless and sophisticated touch to your kitchen interiors. All in all, the Gala, Draycott, and Pharo pendants showcase impressive details in brass and crystal.
⇒ See Also: Dolce & Gabbana x SMEG Release Luxury Kitchen Appliances ⇐
If you enjoyed this article about modern kitchens, then make sure to check out our socials to find more interior design trends and ideas: Pinterest | Facebook | Instagram
Source: Elle Decor