Interior Design Projects: Neoclassical Palace in Riyadh by Comelite Architecture ⇒ Residential design has certainly gained a new perspective courtesy of this outstanding interior design project that highlights highly curated palatial interiors!

Every week, LUXXU Blog will highlight interior design projects from prominent interior designers, brands and studios that are the epitome of timeless allure and refined elegance. In today's article, you will get to know all about an outstanding residence in Riyadh, Saudi Arabia that features a neoclassical interior design conceived by Comelite Architecture, a renowned practice that is at the forefront of Arabic modern design. This astonishing place feels more like an actual palace than an actual house as every architectural and decoration detail is seamless. From dramatic chandeliers to the presence of detailed gold and crystal accents, this project certainly is a dream home, but take a look for yourself!
Easily described as one of the most ornamented interior design projects, the neoclassical residence is a combination of modern features with traditional elements setting for a contrasting look. The entrance of the house presents high ceilings, classical columns and statement chandeliers in gold and crystal.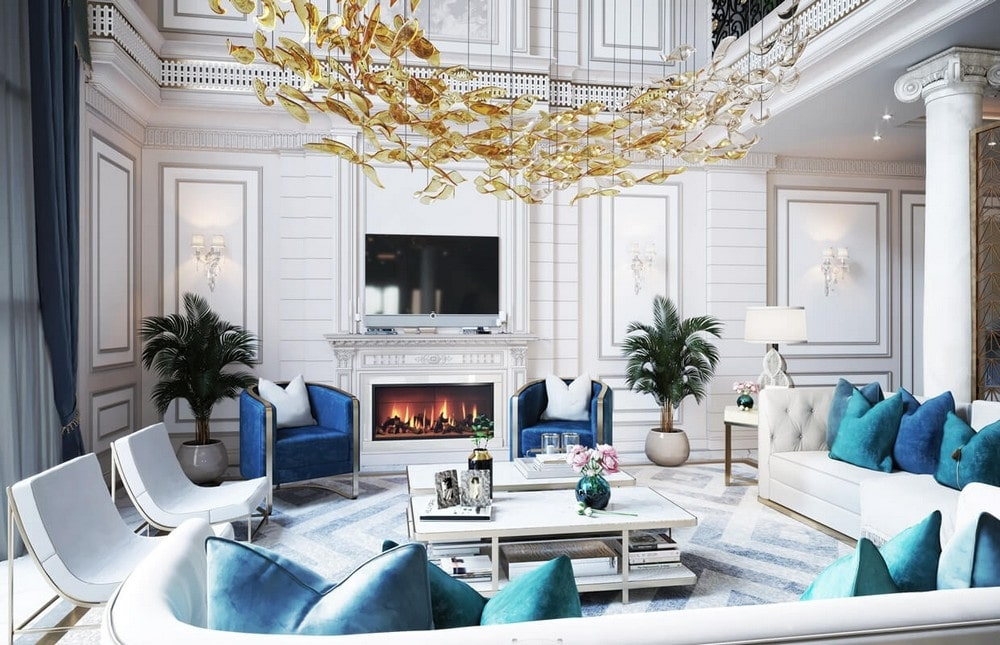 ⇒ Related Article: Interior Design Projects – Get To Know Studio Munge's Luxury Projects ⇐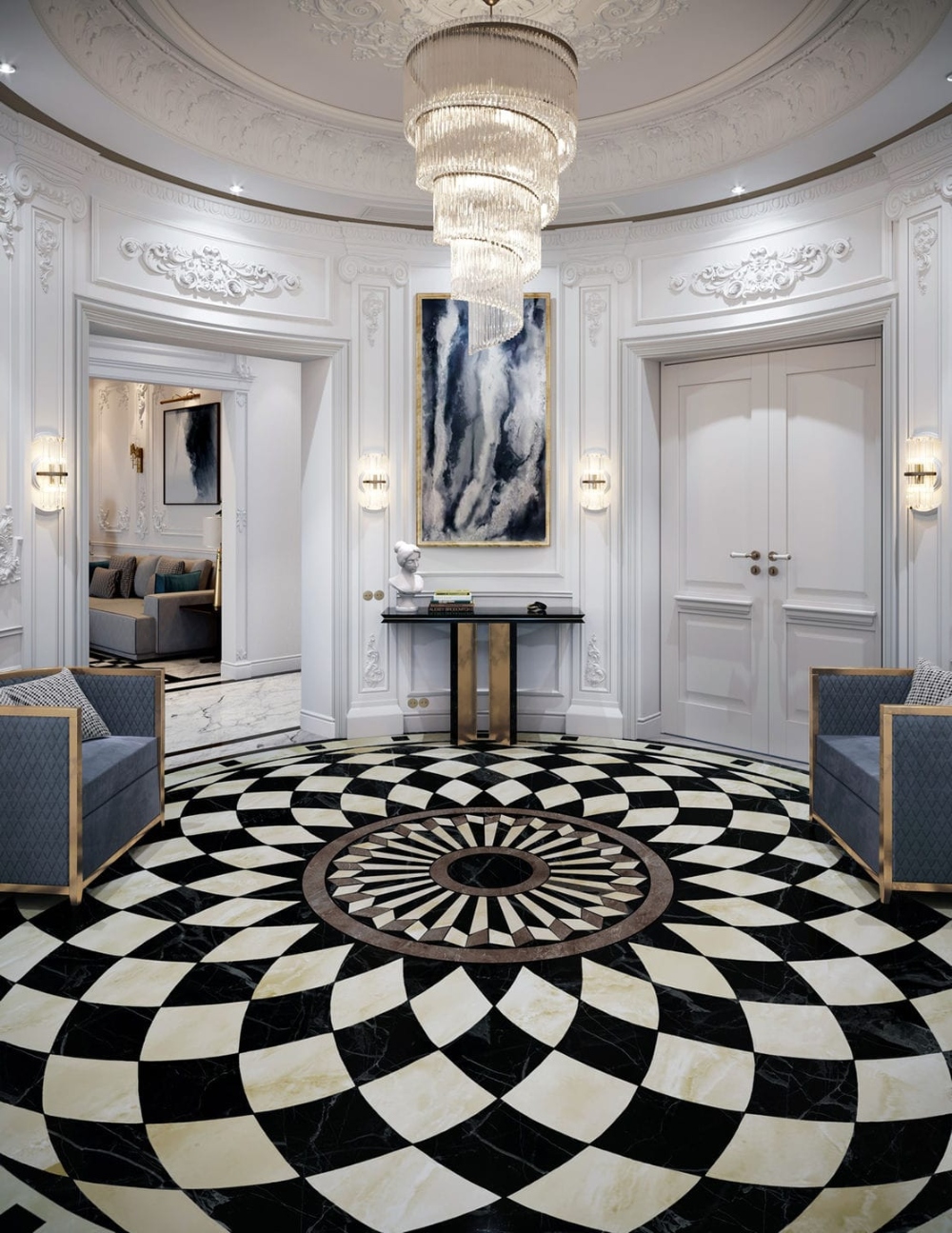 The Entry hall highlights a series of exquisite designs, from a grandiose spiral chandelier to an impressively polished console made of brass and wood. The geometric patterned floor and the intricate carvings seen on the walls are also rather complementary.
In the men's sitting room, you can find symmetrical sofas in neutral tones, highly decorative wall panels, elegant gold tampering lamps as well as granite side tables. The remarkable modern lighting suspension is by LUXXU and matches perfectly with its surroundings.
Moving on to the dining room, one can find a subtle blue-green accent, especially in the furniture and artwork. This space is further enhanced by the metallic chandelier suspended that takes a curvy shape resembling both the chairs and dining table. The softness and textured nature of this dining room is simply undeniable.
The common sitting room is another beautifully decorated division of the palatial residence. A neutral semi-circular sofa and a blue-toned upholstered coffee table grant an extremely luxurious and comfortable flair to the room. In addition, the gold and copper accents that can be seen throughout this area add a metallic and warm touch to the decoration.
As a whole, each room of this highly opulent residence is tied together by a consistent design theme, from a neutral palette with small pops of color to architectural design elements. This neoclassical palace certainly is one of our favorites interior design projects!
⇒ See Also: Interior Design Projects – Luxury Yachts – 4 Marvelous Luxury Yacht Interiors by Kelly Hoppen ⇐
If you enjoyed this article about this outstanding Neoclassical interior, then make sure to check out our socials to find more interior design projects and ideas: Pinterest | Facebook | Instagram
Source: Comelite Architecture