2020 Kitchen Trends as told by the pros – take a look at the predictions and get your plans for a new kitchen design going!

Pursuing trends when it comes to house décor may feel a bit out of place, after all, we're talking about spaces where we'll invest thousands. However, it's always a good idea to keep an eye out for fresh trends you might love and would eventually incorporate in your next interior design project.
If your plans for the new year include a house or kitchen renovation this was written for you! Take a look at the upcoming trends that you'll be seeing everywhere, from backsplashes to color palettes, these will be the most popular kitchen design ideas for 2020.
Navy Cabinetry
One of the trends will be navy cabinets! It's a fact that blue kitchens have been trendy for the last couple of years but according to Ariel Okin of Ariel Okin Interiors clients have been asking for this color more frequently. We love this color paired with brass!
Slab Backsplashes
A slab backsplash, or in other words, a solid stone backsplash, is a durable option that brings just the right amount of boldness to a kitchen!  Opposed to tile backsplashes, these have a huge impact on the whole kitchen and are very easy to maintain. The biggest trend is definitely marble slabs.
Classic with a Modern Twist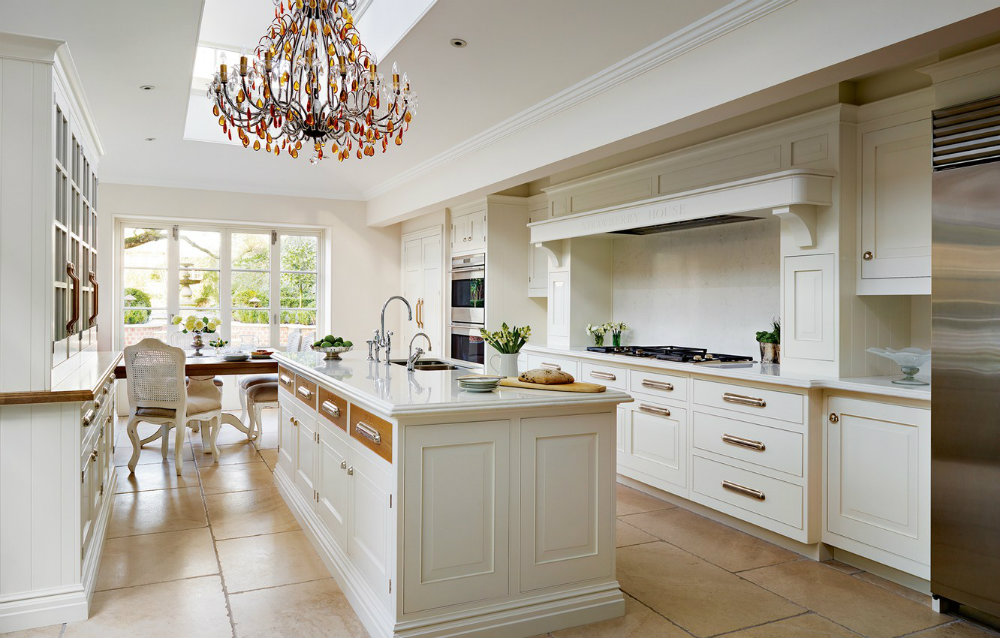 Classic design styles with a modern twist are very in for the next year! So if your kitchen is already classic all you have to do is update it! Maybe some new appliances, maybe new cabinets, or even some vintage-inspired lighting fixtures.
Open Shelving
Another trend that has been around for quite a while is open shelving! So why is this one of the 2020 kitchen trends? Simple! While we've been seeing people displaying their dinner and glassware, this new trend is all about displaying decorative items – books, vintage cookware, those porcelains you inherited from your grandma and wouldn't dare to use.
You might also like: The Best 2019 Lighting Trends
Follow our Instagram for fresh ideas every day! 
Article by Rodrigo Rosa