dolce & gabbana's new rome store is a beautifully designed space that celebrates the heritage of Rome, resembling a cathedral. Curious? Take a look below!

Rome has a rich cultural heritage full of history! Arts have always thrived in this Italian city full of wonderful architecture and beautiful paintings, including the famous ceiling fresco painted by Michelangelo in the ceiling of the Sistine Chapel, which took about 4 years to paint and was commissioned by Pope Julius II in 1508.
The new Dolce & Gabbana store also features a fresco, paying homage to the history of the city, but this fresco was not handpainted and brings a contemporary twist to these antique ceiling motifs. It almost seems like a cathedral to fashion!
The space not only features decorative elements that make this store wonderful, but also architectural features, including columns, marble floors and other elements that make it look like a 16th-century palazzo.
The new store is a two-level boutique full of character and beauty, following the brand's aesthetics with inspirations drawn from Rome! The renaissance work on the ceiling and wall, however, is not by Michelangelo, but rather by the 18th-century Austrian painter Paul Troger.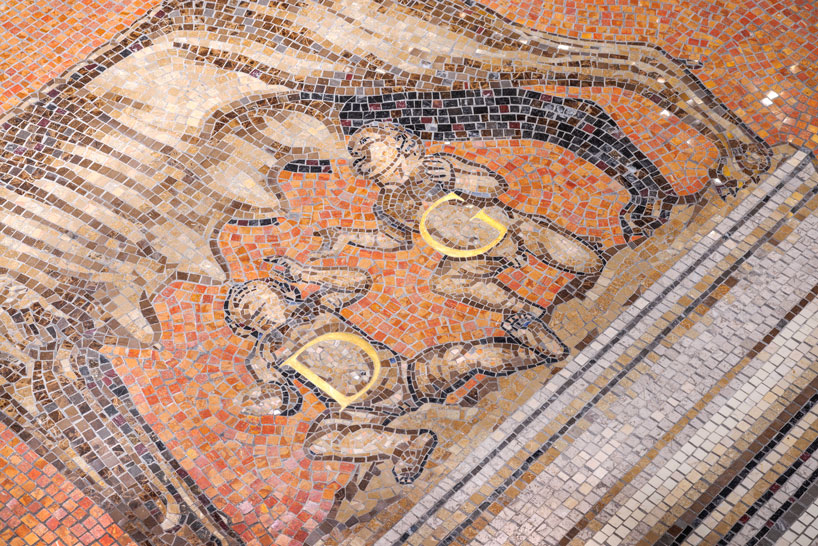 As for the floors, they are as amazing as the ceiling! With mosaic floors comprising 15 different types of marble and recreating important aspects of Italian culture such as thousands of years old myths.
With all its opulence Dolce & Gabbana's new Rome store almost looks a like a palace thanks to all the elements that lay together into creating this luxury space, from the use of stone, colors, and lights. The Grand Room (the main floor) has a 6-meter high vaulted ceiling with two skylights domes, each decorated with handmade stone mosaics.
In charge of the project, Carbondale is a luxury architect firm that has created incredible projects all over the world! This is not the only Dolce & Gabbana store in their portfolio, and they have created spaces for other luxury brands such as Louis Vuitton, BMW, and Tag Heuer.
You Might Also Like
Victoria's Secret Stores Around The World