Furniture Pieces that look like stars are the ideal subtle Summer-themed décor pieces that work all year around! Discover 4  incredible designs in this article!

Decorating for Summer but don't want elements that are too seasonal and that you'll have to change when a new season comes around? Or do you really just want something that reminds you of the immense vastness of the universe without actually buying something universe themed?
Adding elements of décor that remind us of stars (or the Sun in this particular case) is a great way to do so for both cases. With these pieces of décor, you'll easily add a subtle element!
LUXXU has the perfect furniture and lighting designs for these matters! These pieces that look like stars (or fireworks) but are not actually representations of the Sun are the way to go for a subtle look as they are timeless designs.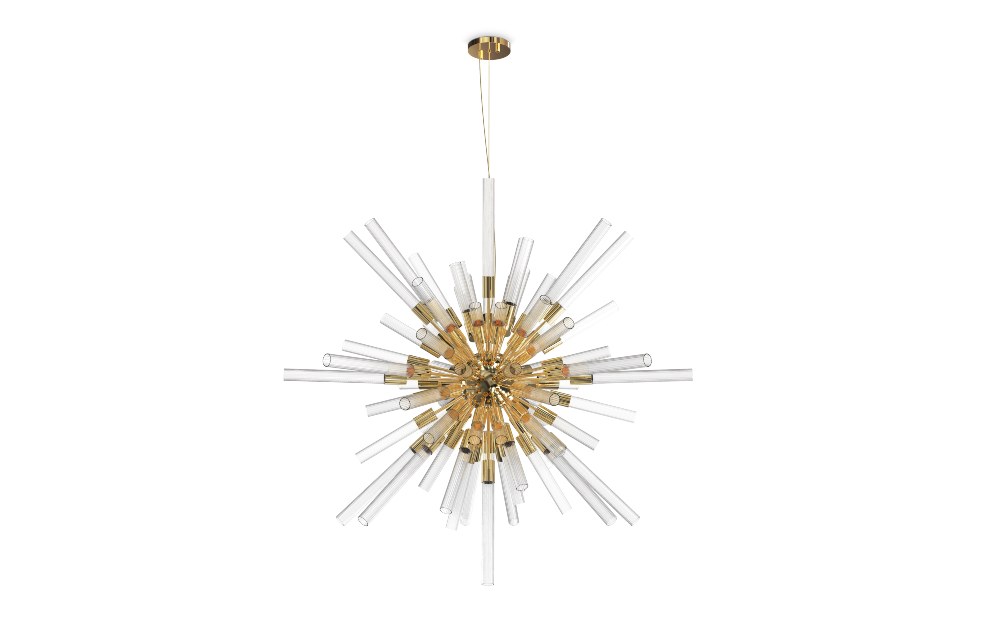 The first item is a beautiful lighting fixture, the Waterfall Sputnik! It gathers inspiration from the cosmos and features handmade ribbed tubes of crystal glass that look like they pop out of the brass sphere. A powerful creation that will fit perfectly into any type of interior and will look amazing all year-round!

And speaking of beautiful lighting, this one, the Explosion Suspension, is also a great choice! It looks a lot like a bright star, especially when on as in the photo above! Also inspired by the cosmos and mostly by the explosion of stars, the fixture is composed of several crystal arms that orbit around a brass center sphere.

This incredible collection features another item, the Explosion Mirror, a beautiful and luxurious mirror that will definitely steal all the attention in a room! It's a decorative, but also functional mirror that brings a pop to any interior and obviously adds a star-like element!

Our last suggestion for furniture pieces that look like stars is this stunning wall mirror that doubles as a wall lamp! The area around the brass rings lights up and creates a bright light focus. This mirror besides looking like the sun itself lights up and is ideal for bedrooms or bathrooms. It's a great make-up mirror as well!

You Might Also Like
Victoria's Secrets Stores Around The World