Astonishing Room By Room Inspirations by Luxxu – Luxxu Blog has hand-picked the best room-by-room inspirations for you, so get inspired for your next interior design project!
Living Room
A living area with brown tones exudes warmth and coziness. The OTTER Sofa can adapt to any environment and be an integral part of your interior design, since it is inspired by the nature of otters.

Creating a neutral decor in your entryway is a common mistake. But why not liven up your space by combining a more vibrant color scheme? The chandelier and the contrasting hue of the wall look well with this trendy grey velvet seat.
Always remember to include a gorgeous bookcase in your home for extra storage, especially if you want to display more items that will bring charm to any area.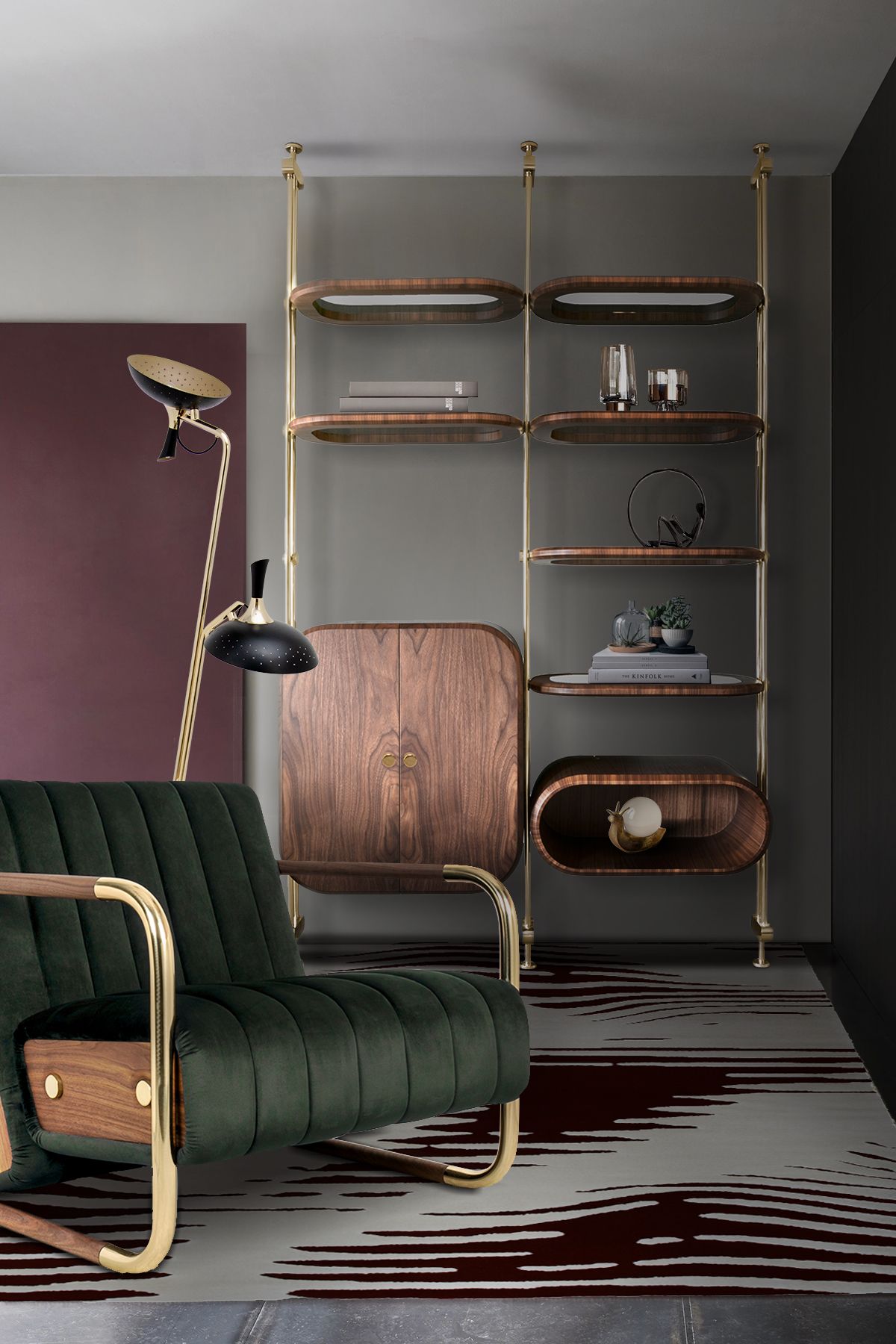 Who doesn't adore a green velvet recliner with a golden-accented oak bookcase? For any home, it's the ideal living room nook.
⇒ See Also: Modern Office Design – Contemplate This Office Statement Design By Luxxu ⇐
Astonishing Room By Room Inspirations
If you're looking for a sofa that will take up the entire soul of your living room, will be the center of attention for all of your guests, and has a strong and elegant presence, then our Fitzgerald sofa is the piece for you!
The leather and walnut armchairs in this mid-century modern living room, as well as a gorgeous velvet and marble center table, are influenced by Scandinavian design.
Dining Room
Add an item with a color that brings the whole space to life, like these dining chairs, to make your neutral design pop out. Sometimes all your decor needs is a touch of velvet.
A large walnut dining table is matched with velvet Henry dining chairs created by Studiopepe and large Diamond mirrors to create the appearance of space in this gorgeous dining room.
⇒ See Also: Empire Center Table ⇐
This dining area is simply seductive, with some of our most magnificent pieces! We adore how the white Kerr dining chairs contrast beautifully with the dark Bertoia Big dining table, resulting in an unexpectedly harmonious mix! Our Diamond Big mirrors give this space that much-needed touch of elegance!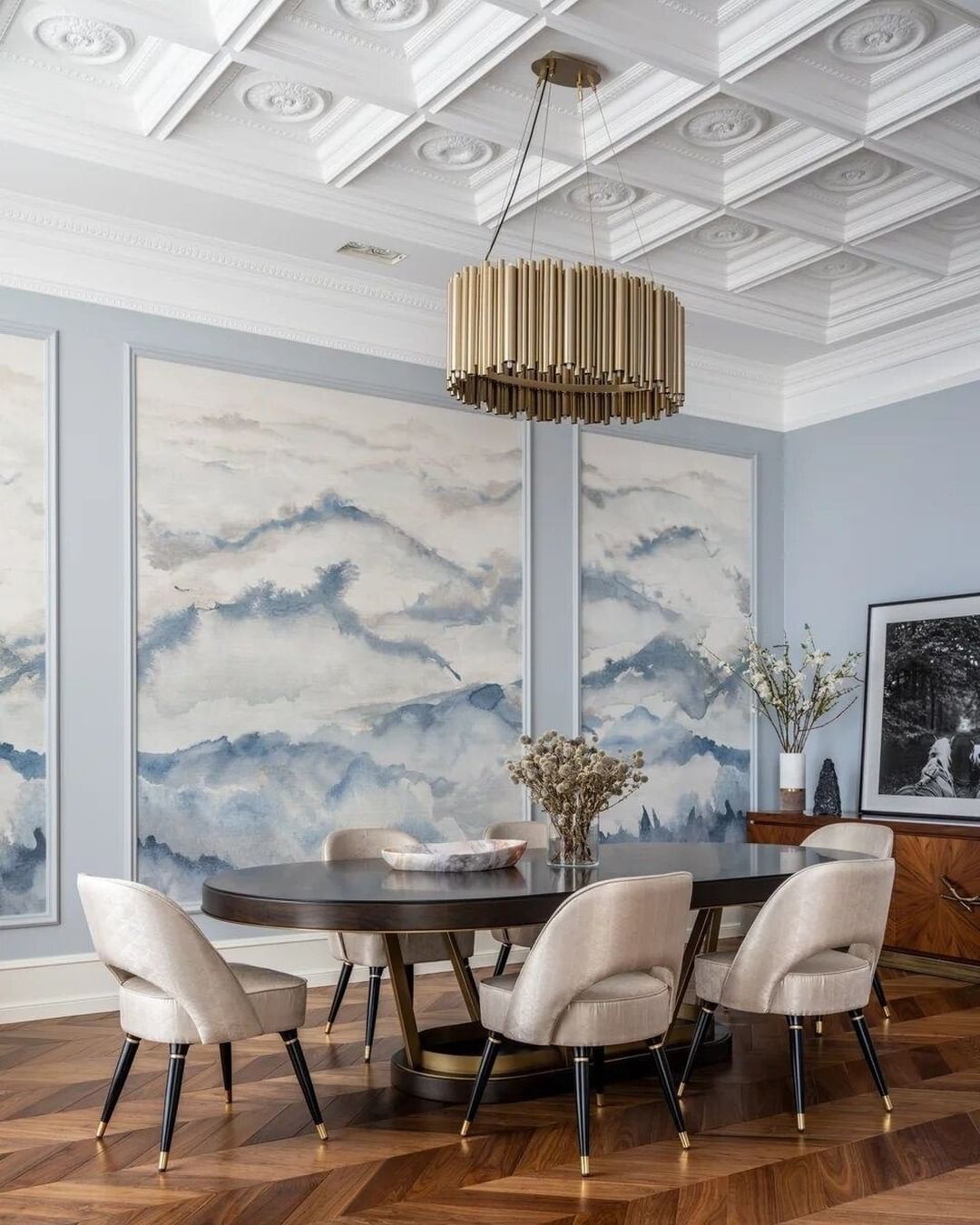 Take a look at this example of a stunning modern dining area. Collins Dining Chairs in white leather are elegantly matched with a large dining table and a stunning golden brass suspension lamp.
Get The Look:
Kitchen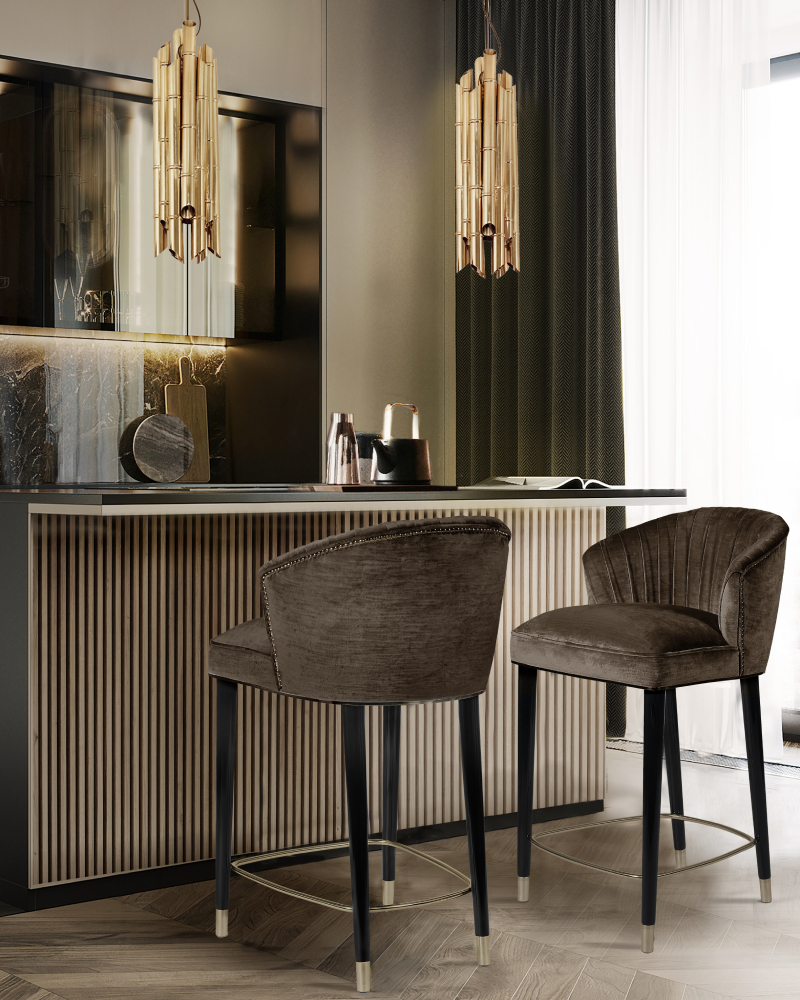 Kitchen islands are one of any design enthusiast's dreams for their home. However, in order to create a design that your guests will remember, you must select the ideal lighting element to complement the modern bar stools in the design.
The perfect golden accent bar chair for a modern kitchen, and who better to do the job than Kelly Bar Chair? They pair beautifully with the Matheny XL Pendant to complement a contemporary color scheme. The perfect touch to finish this ambiance is the Skyline hardware from PullCast.
Kelly Bar Chair is a timeless and distinctive piece that will look amazing in any kitchen. It is inspired by the carved arches from the bar in the famous film Casablanca.
Bedroom
Do you prefer a luxury and flamboyant bedroom decor or a neutral bedroom with natural tones? This stylish walnut cupboard will accentuate the elegance of the "Baraka energy" into your modern bedroom set, regardless of your style.
With the addition of paintings and accessories, this opulent bedroom exudes flair and personality. The magnificent black suspension lamp complements the huge velvet bed well.
Bathroom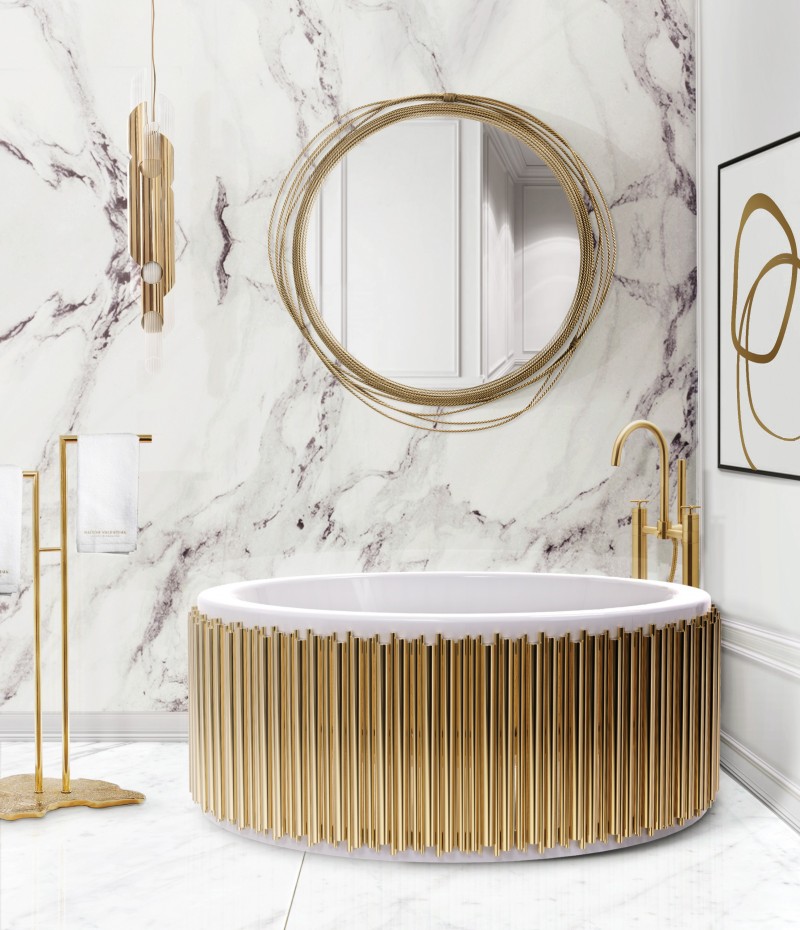 For a fresh and modern feel, nothing matches a white marble bathroom. To add some gold touches to the room, a round brass mirror and pendant lamps in the same material are combined.
Square wall mirrors over sculptured golden brass sinks are the best method to decorate for a more sophisticated and maximalist bathroom design.
Get The Look: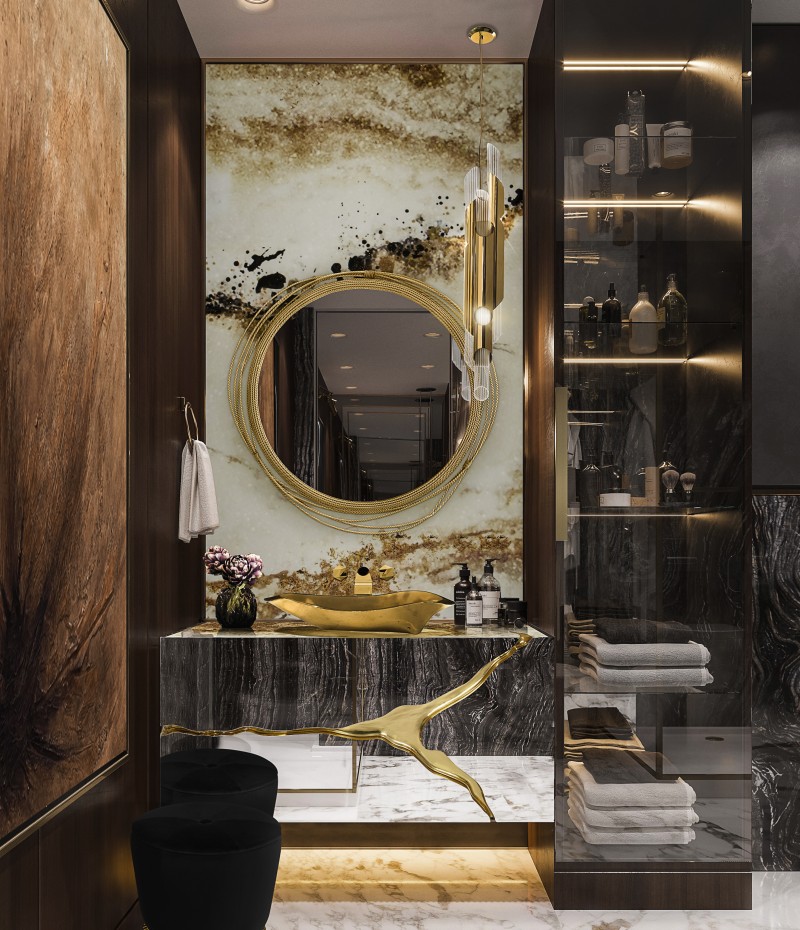 Gold and marble rule supreme in this opulent bathroom. The round mirror with golden edges and the gorgeous brass pendant lamps with touches of glass are two of our favorites.
⇒ See Also: Marvel At This Exclusive Miami Property By Luxxu ⇐
You can't go wrong with a round mirror and a velvet bench if you have an empty wall that needs to be filled.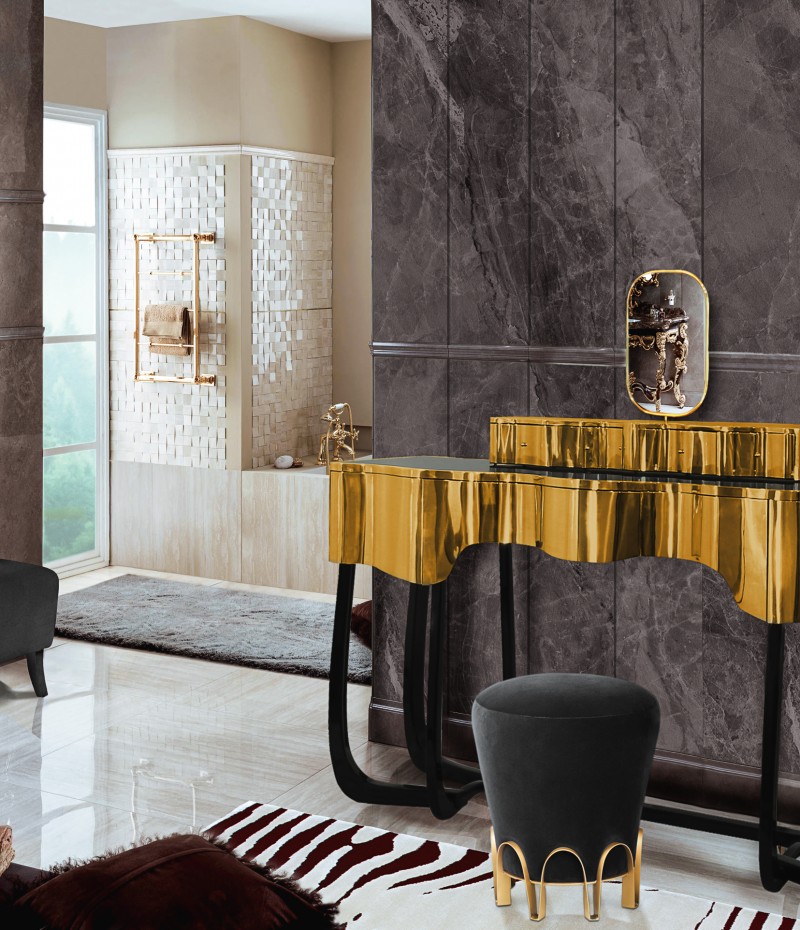 A gold vanity sculpted by Portuguese craftsmen is the ideal choice for your bathroom or bedroom if you require a corner for your beauty routine or makeup. For a stronger impression, pair it with a green velvet stool.
⇒ See Also: Modern Office Design – Contemplate This Office Statement Design By Luxxu ⇐
Reading Corner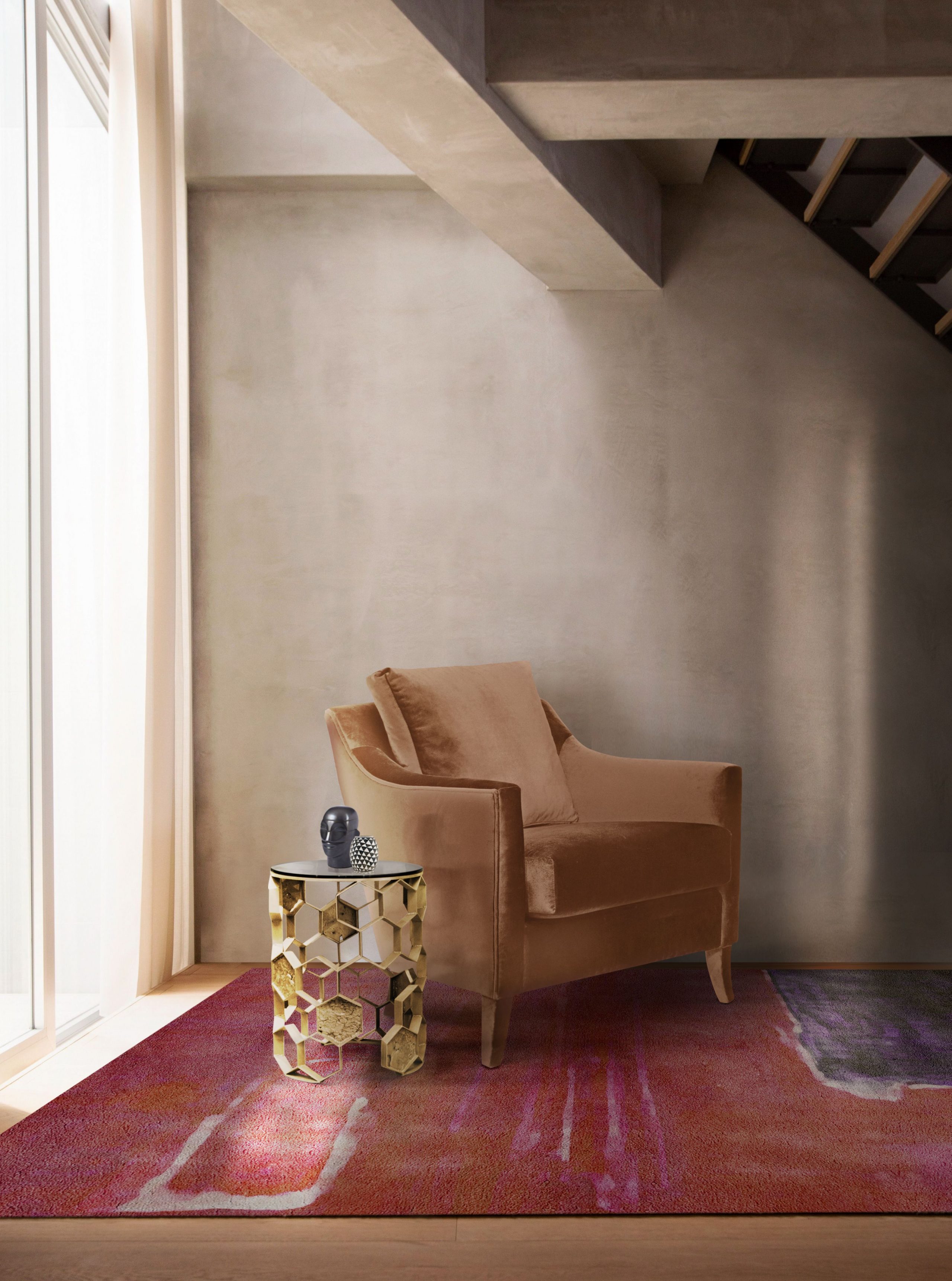 A magnificent velvet armchair that oozes comfort and a wonderfully adorned side table with gold embellishments are all you truly need for a reading corner.
For added comfort and warmth in your home, pair your favorite velvet ottoman with a lovely patterned rug. It's that personal touch you'll want to include in your home decor.
A black and white geometric rug pairs beautifully with a silver metallic side table that complements the decor and a grey velvet recliner that makes a bold statement.
Hallway
Monocles sideboard, with its solid walnut wood structures and gold plated brass feet, is a sumptuous piece for any authentic mid-century environment and is a fantastic furniture item for retro lovers and mid-century fans. Monocles, as if plucked from a Bond film, exudes charm and sophistication like no other accessory.

Office
Lasdun is a writing desk with a soulful and sleek aesthetic, with two cubic towers made of varnished walnut veneer and two doors made of Nero Marquina marble.
If you enjoyed this article regarding Astonishing Room By Room Inspirations by Luxxu then make sure to check out our socials to find news, inspirations, and more interior design ideas: Pinterest | Facebook | Instagram.
< ?php get_footer(); ?>
Astonishing Room By Room Inspirations