Best 25 Bookcases for a Luxurious Home Office⇒ The essential for any home office starts with good comfort and a good design to feel comfortable and increase productivity to achieve a good performance. A good Bookcase can help in a good organization that helps you, but you also have to use good design. Luxxu brought together the most luxurious bookcases on the market to give you good inspiration.
Luxxu as a perfect design form
Biblo Bookshelf By SMANIA
Crafted with meticulous attention to design and materials, this incredible rosewood-veneered bookcase is Italian finesse epitomized. The piece comes in a choice of luxurious finishes, including wenge, matte rosewood, and a polished rosewood, which requires a complex, repeated coating process.
Cipriani Cabinet By Eichholtz 
Drawing on the rich colors and materials of the Hollywood Regency style, the Cipriani is a combination of sleek lines and decadent finishes, executed in a striking mix of stainless steel and gold tones. The interlocking frames add a three-dimensional textured element, which both looks back to the geometry of Art Deco and forward to a very crisp, contemporary aesthetic.
Lloyd Bookcase by Luxxu
The Lloyd Bookcase is crafted with timeless and subtle lines to be able to complement any interior. This functional yet decorative bookcase will subtly be enhancing your projects.
Etagère Shelf By Selva
The circular Etagère shelving unit has a beautiful facet-like top, elegant pilasters, and is accessorized with chic silver accents. Crafted from an opulent antique walnut-hued cherry veneer, the design channels the modern traditional look perfectly. Variations in the wood grain offer a stunning ripple pattern throughout the design.
Empire Bookcase By Selva
The Empire bookcase is a melting pot of truly luxurious materials. It starts with a durable steel frame, put together by the finest Italian artisans, and consists of svelte bars that stylishly wrap around the front and back of the design.
Sorbonne Bookcase By LA FIBULE
A piece of art in its own right, the Sorbonne bookcase features a zig-zag brass frame that wraps around six deep brown rough cut oak shelves. Each shelf is finished with a slanted edge that perfectly slides into the corners of the frame. The deep brown is the perfect contrast and complement to the metallic tones of the brass, adding a glamorous edge to the contemporary lines.
Myconian Cabinet By Eichholtz 
A polished stainless steel frame features a multi-level shelving design of sleek lines and angles, evoking a sense of the Greek labyrinth in beautifully crafted contemporary forms. Four large and two small shelves of smoke glass add a dark complement to the bright stainless steel, creating an eye-catching interplay between light and dark.
Athena Bookcase By Aria Home
The design of this bookcase was made to have the wow factor. Seeped in elegance, it features a playful combination of spaces and blocks that work together to create an artful display case for your books and treasures. A sleek combination of glass, wood, and metal may seem like an unlikely trio but you can see how it works in harmony within the soul of this piece. Modern and practical, it's perfect for displaying anything from magazines to ornaments.
Waltz Bookcase by Luxxu
With an unmistakable style, this exquisite piece joins the best materials with the finest techniques of our craftsman. An anthem of sophistication and exclusive design.
Fowler Etagere By Bernhardt
There's something enchanting about this aged iron finish, which complements a hammered steel frame beautifully. Sleek and clean in its lines and angles, this modern storage solution has characterful qualities that bring it to life in any space.
Heritage Bookcase By Aria Home
A smooth velvet birch is super stylish as well as durable. A quality wood finish is enhanced with a high gloss whilst an intriguing shape will lend itself to an artistic space. It's ideal as part of an entertainment unit.
Klee Bookshelf By CASAMILANO
This magnificent modular bookshelf can be adapted to any space, whether a home office or the living room. Complete with six open shelves and a selection of supports, it's easily configured to your needs.
Mulligan Bookcase by Essential Home
A sleek mid-century modern design piece. Built around a gold plated brass structure, holding glossy black poplar doors and drawers
Minelli Bookcase by Essential Home
Part of the Minelli family, this bookcase is perfect for any mid-century lover. It's a furniture piece that definitely calls attention in the best way, providing elegance and space with its walnut wood and smoked glass shelves, as well as a whole structure built-in polished brass.
Coleccionista Bookshelf By Boca do Lobo
A versatile piece that can be used as both a divider in a large room as well as placement against a wall for a wondrous bookshelf, the Coleccionista brings a beautiful depth with a mixture of drawer designs. Merging well with an array of interior schemes including glamourous grandeur and urban industrial, the shelf has a striking appeal.
Giselle Bookcase By Capital
This practical wall addition has been crafted of metal to provide a high-quality, durable finish. The integrated panels are styled in polished brass to add a touch of metallic whilst a high gloss ebony shine completes the look. The shelves across this unit are crafted of solid wood for a reliable bookcase that doubles as something spectacular to look at. Wall fastenings make it easy to hang.
Renmin Bookcase By LuxDeco
Artisan crafted from oak, metal, and brass, the shelving unit boasts a pleasing parquet effect to the doors and top for a more informal ambiance. A palette of warm greys is enhanced by the golden metal and brass accents, making it a versatile piece perfect for mid-century modern meets chic.
Canyon Bookcase By La Fibule
Beautifully crafted in a brass finish, the frame of the bookcase is a minimalist geometric shape, with delicately curved corners adding a touch of softness and contemporary style. The rich tones of the brass are offset by deep brown rough oak shelves in a combination of colors that evokes the glamour of the classic Hollywood era.
Apotheosis Bookcase By Luxxu
The Apotheosis Bookcase is a true anthem to sophistication and design. Inspired by Greek Mythology, its' sleek, straight lines make for a magnificent creation and an exclusive design piece, the ultimate product for office spaces and luxurious living rooms.
Medea Bookcase By Bellavista
Carefully artisan-crafted from dark and delicious wood, the Medea is the ideal addition to the library or refined reading room, with a glamourous, gentrified feel to it. Boasting a bronze-finish back and touch-activated LED lights, this incomparable addition will create the feel of a luxuriously lavish lair akin to seductive spy films and elevated spaces.
Mambu Bookcase by Brabbu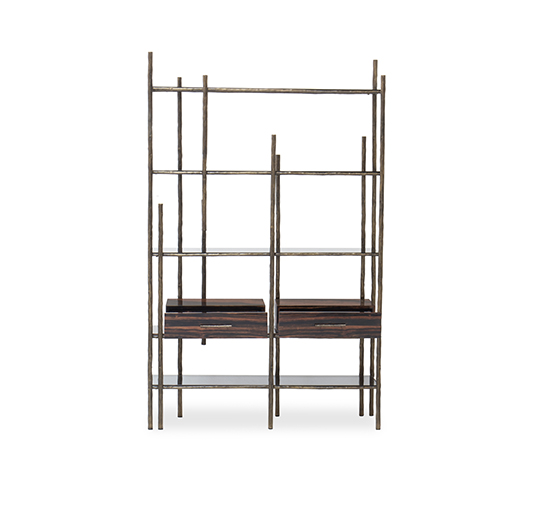 A quick look at MAMBU Bookcase and you are able to identify the inspiration behind it. Bamboo is tall woody grass and it inspired the structure of this unique bookcase made in patina casted brass. It features four spacious shelves in smoked glass and two drawers in an ebony wood veneer with a glossy varnish. MAMBU is the perfect addition to any office decor or modern living room.
Nobbu Shelving By Liang & Eimil
A stylish unit offering an unparalleled air of grace, the Nobbu is a member of a meticulously crafted collection, offering the opportunity for a themed space featuring matching pieces. Available in the color combinations of gorgeous gold or radiant silver with brooding black, the unit is the ultimate style statement when it comes to displaying your prized possessions.
Santorini Open Display Unit By Luxdeco
Devotedly designed and carefully crafted by expert artisans, the Santorini is a striking addition of metal and glass, finished in glorious gold. Offering shelves of glass perfect for the placement of worldly goods and glamourous objects, the unit is the epitome of interior splendor.
Guffy Book Shelf By Hommes
Packing an abundance of personality and a unique, contemporary character, the Guffy is a statement piece carefully crafted in metal and finished in radiant gold. Accessorized with black leather fringes, the bookcase could bring an indulgent element to gothic glamour and would work well in eclectic, exotic-inspired spaces.
Ward Bookcase By Eichholtz 
Architecturally interesting, this beautiful cabinet benefits from a vintage look that exudes a contemporary charm. With clean lines and a hardy design, the piece benefits from oak veneer shelves finished in charcoal grey.
⇒ Check our article  Top 5 Dining Chairs for a Luxurious and Comfortable Dinner⇐
If you enjoyed this article regarding Best 25 Bookcases for a Luxurious Home Office then make sure to check out our socials to find news, inspirations, and more interior design trends and ideas: Pinterest | Facebook | Instagram.