Thanksgiving décor ideas – discover 5 ideas to take your Thanksgiving dinner to the next level!

Thanksgiving is only a few days away, and if you haven't planned out your entire décor for the dinner you'll be hosting, here are a few ideas to inspire you!
Thanksgiving decorations don't need to be everything-turkey, the décor for this holiday can be stylish and elegant, turning your dinner into a refined event. From the color scheme, that can go beyond the traditional, to unique table-setting ideas.
Take a look below!
Read Also: Fall Home Décor Ideas from Designers
Fresh Greens
Skip the usual fake leaves décor and select some fresh plants or flowers to bring a wow factor to your dining table! The plants you chose are totally up to you and Pinterest will surely give you tons of inspiration on how to create beautiful arrangements. Use candles to add a cozy element.
Cozy-up
Cozy patterns and fabrics must be one of the best ways to bring coziness into the table during this holiday! A classic tartan tablecloth in autumn colors will instantly make your dining table look Thanksgiving-proof. Use the colors on the tablecloth as the color scheme and dress your room up with other elements as flowers, candles, and little pumpkins.
White color scheme
White might seem like a rather unusual color for this holiday, but it can work wonders in the color scheme. It's neutral enough to be paired with any other color of your choice, as for example golden. This pair is an effortlessly elegant combination and it's only one of the many possibilities white brings.
Outdoor Event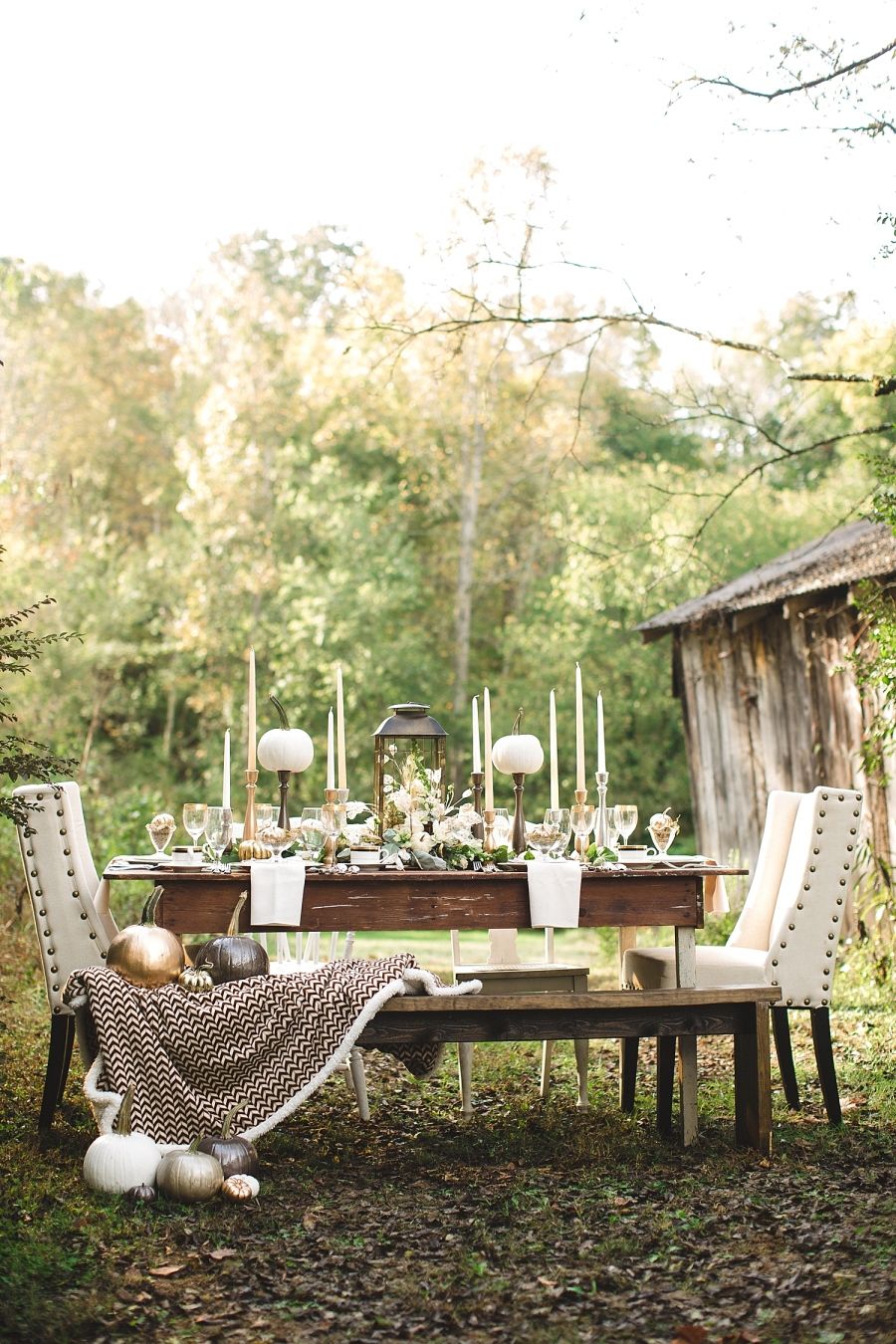 If you happen to live in a place where the weather makes this a possibility don't skip on the idea of hosting an outdoor Thanksgiving dinner. A farmhouse-style table accented with a few cozy elements as blankets, pillows, and candles and voilá, your table is ready!
Spices
Besides the obvious things, like turkey pumpkins and leaves, is there anything that we associate with Fall and Thanksgiving more than spices? All the best Fall desserts include a ton of spices, so why not incorporate these in the décor?  Besides looking incredible it will also smell incredible.
You may also like: Fall Interior Design Trends to Keep an Eye On
Don't forget to follow us on Instagram for more daily inspiration.