Italian design is known for being elegant, distinguished, and casually grand. These are some of the most striking Italian interiors.
From traditional Old World Italian interiors to vibrant Tuscan-style designs, Italian living spaces of all kinds exude charm with a style that is based on the culture of the country.
Italy is at the forefront of contemporary design, as Italian design has always blended the modern and the historical in an elegant. Italian design has always paid homage to culture and art and each region has its own influences.
Discover this selection of 5 striking interiors!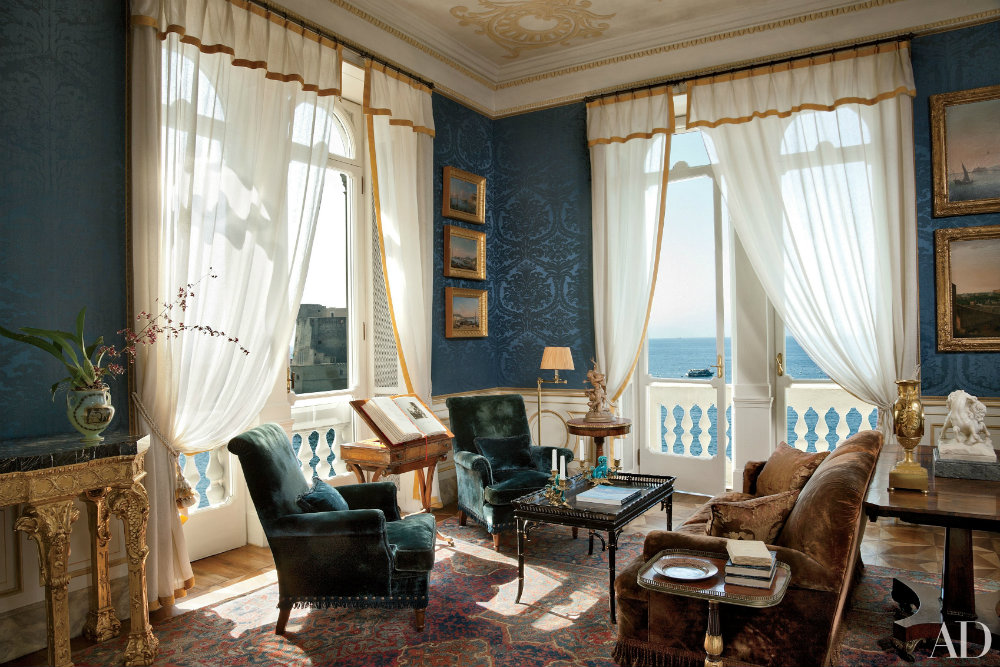 Roberto Peregalli and Laura Sartori Rimini of the Milan-based design firm Studio Peregalli designed this living room in a Naples apartment, which offers a view of Castel dell'Ovo and the Tyrrhenian Sea. Curiously, when there is a breeze, the sheer-linen curtains tremble, allowing sunlight to surge over the deep blue walls.
This was a project of the architect Domenico Minchilli and the decorator Martyn Lawrence Bullard, and it's definitely a striking design. A claw-foot tub with decadent feet and curtains are present in this bathroom inside a renovated castle in Umbria, Italy. The use of religious images and ancient sculptures makes for a very royal bathing experience, while the purple ceiling boards bring unexpected colors to the sun-drenched room.
Style leader Marella Agnelli, the owner of this country house, counted on the French decorator Stéphane Boudin to carry out this project. It is a restored space that has become this incredible hall decorated to resemble Chinese Gallery. This sumptuous room is the heart of Villar Perosa.
About 40 miles north of Venice, in the town of Oderzo, Villa Bucciol, is a house that was transformed by Studio Peregalli. In the image above we can see the living room, the armchairs are dressed in arras tapestry. In addition, the ceiling chandelier is made of 17th-century gilt-wood.
Located in a Tuscan village this is the house of Dede Pratesi.  The frescoes on the ceiling are even older than the lamp that illuminates the living room, which comes from Venice in the early 1700s. The coffee table was bought by Dede and her late husband in India. Fond of color, Dede opted for Colefax and Fowler's floral-covered armchairs, and the curtain fabric is by Rubelli from Donghia.
These were just some of the many Italian interiors, considered the most striking Italian interiors. Italian design has so much more to explore, as for example iSaloni 2019!
Source: Architectural Digest
You might also like
Top Italian Interior Designers You Need To Know
Milan Design Week 2019 – The Best Events
Furniture Designs To See At iSaloni 2019