Hospitality Design – The Lobby Of Dreams By Luxxu – Luxxu is all about bringing excellence and opulence to every type of interior. The brand's residential projects have surely been a delight to contemplate, but of course, for Luxxu that's not enough and the residential setting is not a boundary that restrains the brand's ability to provide the utmost luxury.
This hospitality project in Sydney has been one of the most recent and innovative creations by the brand and in today's article, Luxxu Blog will give you a tour of the first venue you encounter as you enter this hotel, the grandeur lobby holds many wonders that we can't wait to show you. Are you ready to enter a world of luxury designs?
---
See also: Marvel At This Exclusive Miami Property By Luxxu
---

A Luxurious Lobby With Modern Aesthetics
Upon entering this opulent Sydney hotel you will feel an entire atmosphere change, as it will feel you just entered a hospitality oasis where your each and every need will be catered to with excellence.
You will notice that this lobby ambiance will be filled with beautiful blueish tones, accompanying the tranquility and healing sensation you will be submitted to during your stay, isn't this the perfect heaven to check-in to?
As you walk down the pathway to be welcomed to the hotel, you can observe that this part is highlighted by a set of gorgeous Liberty Torch Wall Lamps that embellish the pillars that delimitate the small yet luxurious lounges filled with fabulous décor.

---
See also: Liberty Chandelier
---
The reception area stands firmly with its own essence where high-quality service will be a guarantee. The obvious wonder that will leave you breathless in this area is the awe-inspiring set of Liberty Slim Suspensions, as the Liberty collection makes yet another appearance in another Luxxu design project, this one may be the collection's most powerful statement to date.
The amount of ways in which this piece was conceived specially for this hotel lobby is what makes this ambiance truly a sight to admire, as this combination acts as a cascade of luxurious arches that through and through provide the whole lobby with stunning illumination.
Get The Look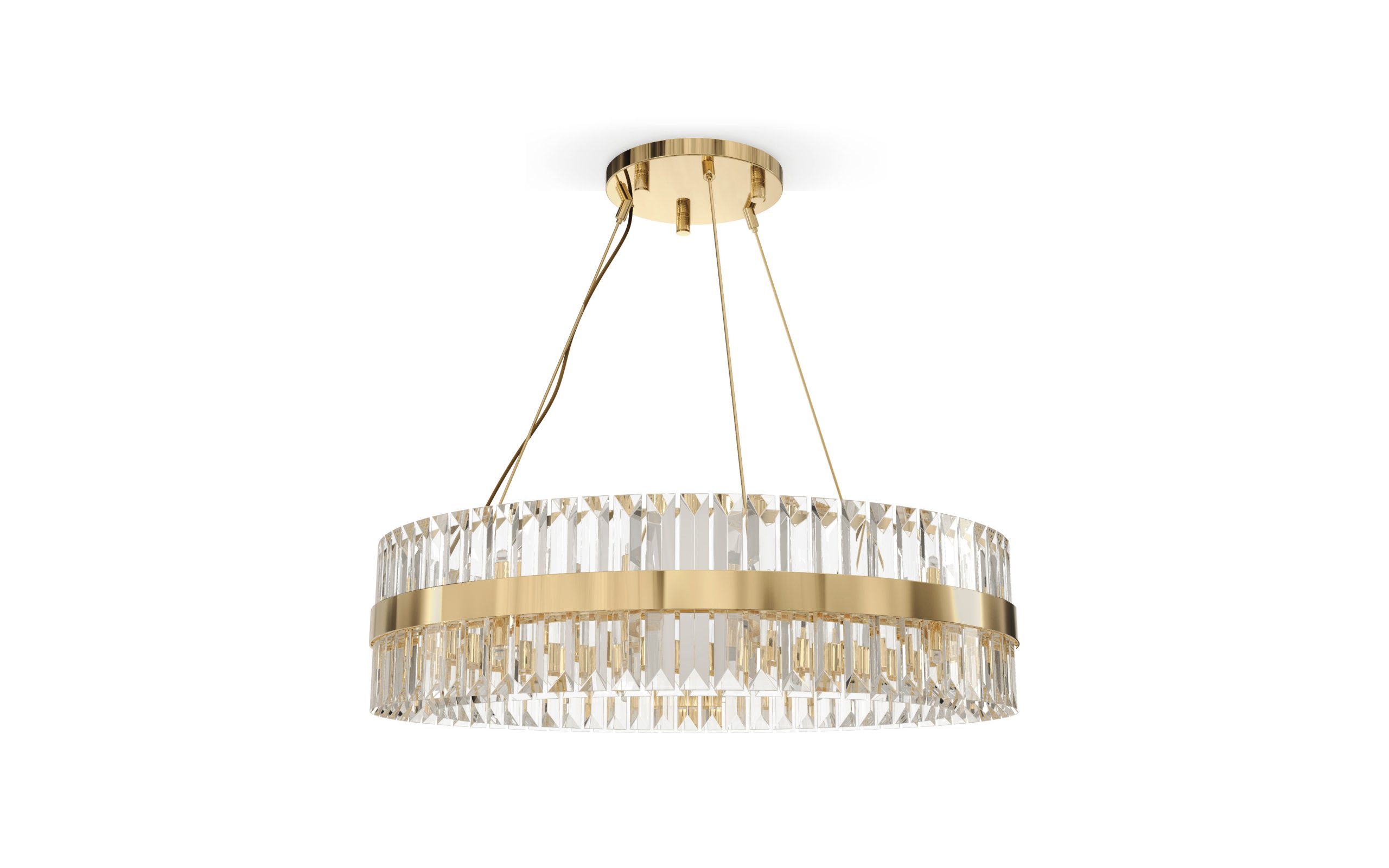 ---
See also: Galea Armchair
---
Despite the presence of these amazing suspensions, the best representation of Luxxu's bespoke mastery is the majestic counter, inspired by the shape and design of the Suspicion Console, this is a unique piece of furniture, that you surely won't be able to find anywhere else unless you choose Luxxu of course.
The already mentioned lounging areas have a truly modern decoration where richness and comfort are at a premium.
The Empire Square Plafond is the statement of these areas and its presence is imponent and eye-catching, this mesmerizing lighting piece is accompanied by sophistication and refinement starting with another member of the Empire family, the Empire Set III Center Table, a versatile item that may be adapted as a side table as you may observe in these lounging areas.
The Otto Sofa and Armchairs are the upholstery masterpieces that finish up the décor of these areas, and their color palette offers a smooth contrast to lighter tones all around the whole lobby.
To conclude this lobby tour a tower of liberties is beautifully composed between the two elevators so you may make your way to the rest o this luxurious Sydney hotel.
Get The Look
---
See also: The Prime Of Interior Design – Discover The New Charla Home By Luxxu
---
If you enjoyed this article regarding Hospitality Design – The Lobby Of Dreams By Luxxu then make sure to check out our socials to find news, inspirations, and more interior design ideas: Pinterest | Facebook | Instagram.