Design Tour: Top Showrooms to Visit While in Maison et Objet Paris

 ⇒ Experience a unique journey into the interiors of some of Paris' most outstanding design showrooms

The City of lights is regarded as one of the most cultural and historic cities in the world and it is actually one of the main stages when it comes to design and fashion. Every which street or avenue is filled with outstanding design showrooms, decorative stores, fashion luxury brands, monuments, and much more. In the occasion of one of the biggest design events taking place right now in Paris, we have decided to guide you through to a design tour regarding some of the best Parisian design showrooms you ought to visit while Maison et Objet is happening!
⇒ Related Article: The Best News & Trends Already Spotted at Maison&Objet 2020⇐
Missoni Home
Address: 242 Boulevard Saint-Germain (fond de cour à gauche), 75007 Paris, France
Located just a few steps from the Saint Germain des Prés and the intersection of Bac Saint-Germain, the Parisian showroom highlights a real "golden triangle" and it showcases an undeniable timeless essence courtesy of its Haussmannian architecture.
Boffi
Address: 234 Boulevard Saint-Germain, 75007 Paris
Boffi Paris showroom provides an 8-meter-long window display and highlights a wide variety of bath products from renowned designers such as Piero Lissoni, Keiji Takeuchi and Mikal Harrsen of MA/U Studio.
Address: 154 Rue des Rosiers, 93400 Saint-Ouen, France
Covet Paris showcases a wide range of products and the tools needed to boost an interior designer's creativity and complete the most amazing projects. In one place, more than 2000 products and 1300 inspirations represented through a curated selection of interior design sets, room by room.
Moooi Tokyo Blue Pop-up showroom
Address: 15, Rue des Beaux-Arts, 75006 Paris
During the occasion of Maison et Objet and Paris Deco Off, Moooi et Arte presented their outstanding Tokyo Blue collection, consisting of a series of innovative wall coverings, inspired by the Indigo Macaque.
Designers Guild
Address: 4 Rue Vide Gousset – 75002 Paris
Inside the Designers Guild's showroom, you will feel surrounded by an eclectic style, different ambiances, and a modern decoration. From exquisite fabrics to lighting, you are bound to have boundless design inspiration.
Hermès
Address: 20 rue Bonaparte – 75006 Paris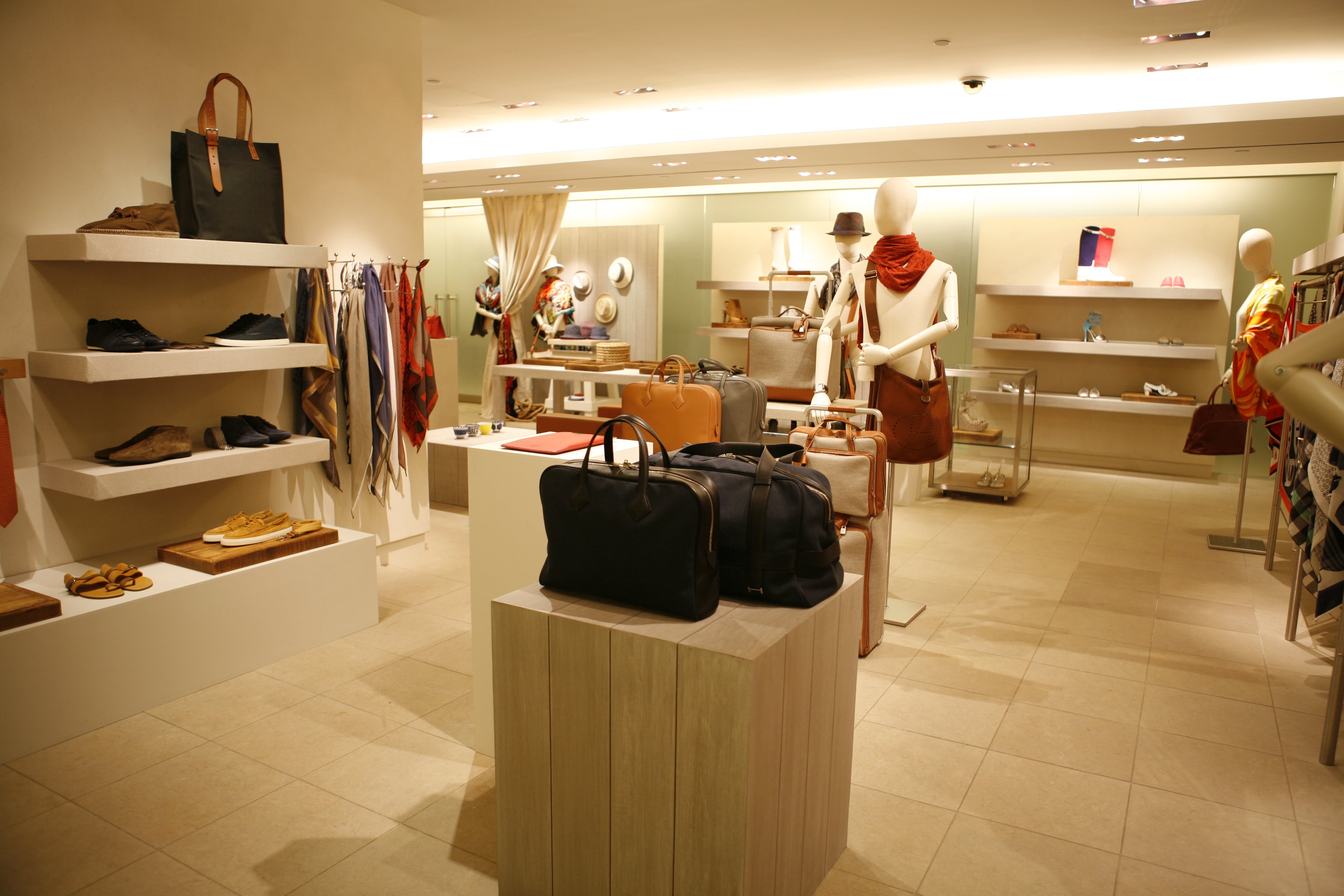 The French high fashion luxury goods has numerous showrooms and fashion stores spread around the city, one more fabulous than the other. The company specializes in leather, lifestyle accessories, home furnishings, perfumery, jewelry, watches and ready-to-wear.
Christian Liaigre
Address: 77 Rue du Faubourg Saint-Honoré, 75008 Paris
Located opposite to Hôtel Bristol and just steps away from the Elysée Palace, this outstanding Liaigre showroom created as a living space for discovery and exhibits giving the visitors the opportunity to fully immerse themselves in the astonishing Liaigre World. The showroom follows a traditional French decor mixed with rich architecture and seamless interior design, choosing different materials and creating furniture and lighting pieces.
Elitis
Rue Saint-Benoît 5, 75006 Paris
In this remarkable showroom, you can expect to see an extensive space that features a modern style decor with a classic twist. Here you will find a combination of interior design products that stand for luxury and sophistication.
Rubelli
Address: 11-13 rue de l'Abbaye – 75006 Paris
The firm Rubelli, founded in 1858, produces hand-made fabrics using traditional techniques as well as highly sophisticated textiles.
India Mahdavi showroom
Address: 3 Rue las Cases, 75007 Paris
The showroom of the renowned designer is located in the 7th arrondissement and in it you can find a comprehensive selection of eclectic furnishings that are simply out of this world, from colorful cane-back folding chairs to Murano-glass lamps.
Below, you can find a list of other design studios you can pay a visit in Paris:
Alberto Pinto Studio (11, Rue d'Aboukir, 75002 Paris, France)
Jean-Louis Deniot (39, Rue de Verneuil, 75007 Paris 07, France)
Chahan Minassian (12, Rue de Beaune, 75007 Paris, France)
Patrick Jouin (8, Passage de la Bonne Graine 75011 Paris, France)
Pierre-Yves Rochon (9, Avenue Matignon, 75008 Paris, France)
Jacques Grange (21, rue du Bouloi, 75001 Paris, France)
Gilles & Boissier (10, Rue Portalis, 75008 Paris, France)
Sarah Lavoine (9, Rue Saint-Roch, 75001 Paris, France)
Tino Zervudachi & Associes (44, Rue Sainte Anne, 75002 Paris, France)
Luis Laplace (32, Place Saint-Georges, 75009 Paris, France)
Joseph Dirand (51, Rue Saint-Georges, 75009 Paris, France)
Pierre Yovanovitch (6, Rue Beauregard, 75002 Paris, France)
Romeo by Claude Dalle (208, Rue du Faubourg Saint-Antoine, 75012 Paris, France)
Jacques Garcia (212, Rue de Rivoli, 75001 Paris, France)
Créateurs d'Intérieur / Akram Ben Abderrazak (27, Boulevard Henri IV, 75004 Paris, France)
Champeau & Wilde (2, Avenue de Ségur 75007 Paris, France)
Jean Philippe Nuel (21, Boulevard de Bonne Nouvelle, 75002 Paris, France)
Didier Gomez (73, Boulevard de Sébastopol, 75002 Paris, France)
Franz Potisek (5, Rue Manuel, 75009 Paris, France)
Véronique Cotrel (9b, Rue Turgot, 75009 Paris, France)
Benny Benlolo (30, Rue de Saint-Pétersbourg, 75008 Paris, France)
François Joseph Graf (100, Rue de L'Université, 75007 Paris, France)
Charles Zana (13, Rue de Seine, 75006 Paris, France)
Vincent Darré (47, rue de Bellechasse, 75007 Paris, France)
All of these design showrooms, stores and studios are a prime example of how contemporaneity and traditionality can come together astoundingly and also show clever use of color, textures, and materials.
⇒ See Also: Maison&Objet 2020 – Take a Sneak Peek at LUXXU's Latest Novelties⇐
If you enjoyed this article about this design tour one should do while at Maison et Objet, then make sure to check out our socials to find more interior design trends and ideas:   Pinterest | Facebook | Instagram.