Maison et Objet 2020: Take a Sneak Peek at LUXXU's Latest Novelties

 ⇒ Experience a daring living sensation by taking a look at the modern brand's newest luxury designs

Maison et Objet 2020 is finally upon us and the design community is about to receive a daily dose of outstanding interior design solutions from some of the world's leading brands and designers. To start everything off, in this article, you will get to discover numerous lustrous design novelties from the modern luxury brand, LUXXU, who promises to deliver a daring living sensation at the prestigious Parisian trade show.
⇒ Related Article: Learn What to Expect from Maison et Objet's Designer of the Year ⇐
Located in Hall 8, Stand A16, the brand's stand was designed taking into consideration almost every division of a home. You can find lighting and furniture inspiration for the living and dining room areas, master bedroom and walk-in closets and even for the outdoors. Get ready to see, feel and live the luxury sensation with LUXXU's latest novelties!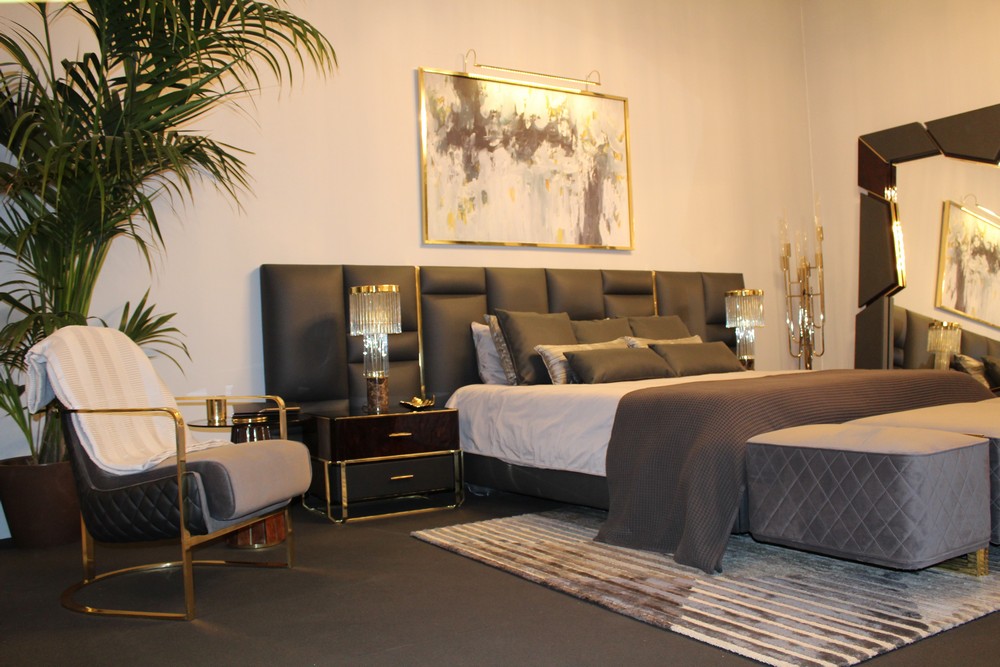 The design of the Château bed was inspired by the walls of French Castles and unveils a magnificent headboard – made of leather and gold-plated brass bars – that makes quite a modern statement.
The richness and versatility of materials (black lacquer, polished brass, and Emperador marble) seen in this remarkably designed dining table offer a sumptuous and modern look to a dining room.
Vertigo mirror & Pharo pendant 
Mirrors and lighting go hand in hand, and in this set, the Pharo pendant lends a unique glow to the decorative Vertigo mirror. Both designs present a delicate form with gold plated details.
Inspired by the namesake island where one of the most lighthouses stood in ancient Alexandria, Pharo is an exceptionally curated piece made of gold-plated brass and crystal glass. All in all, it is a beacon of light to rupture the darkness.
The highly crafted and oversized mirror highlights a leather and brass frame and brings unmatched elegance to any type of master bedroom or walk-in closet. The same can be said about the Waltz valet stand, which was designed as a sophisticated and smart solution to simplify one's daily routine.
Merging together beautifully, the Ocadia armchair and the Waltz closet are made of the finest materials and provide comfort and style like no other.
The Opera single sofa highlights a lavish and comfy character through simple lines and soft velvet upholstery as well as a leather panel in the back.
The Charla Chaise Longue brings a modern and timeless twist and it is the ultimate expression of luxury and comfort, courtesy of its leather-covered body.
In an outstanding collaboration, LUXXU is showcasing a series of outdoor furniture and upholsteries designed by the brand-new luxury brand, Mysa. The Hamptons lounge chaise, the Suspicious side table, and the Vertigo center table are bound to create a unique outdoor experience as you can see in the depiction above.
LUXXU is pleased to invite you to experience a daring living sensation, pay a visit to the brand's stand (Hall 8, Stand A16) and discover the feeling of true luxury. Stay tuned for more articles regarding Maison et Objet Paris news and trends!
⇒ See Also: IMM Cologne 2020 – Discover the Best Interior Moments Found So Far⇐
If you enjoyed this article Maison et Objet 2020, then make sure to check out our socials to find more interior design trends and ideas:   Pinterest | Facebook | Instagram.