Christmas Trends – A Holiday to remember⇒ Winter has come and with it, one of the most anticipated holidays. Christmas is the time to put it all on display, from the warm hues of gold to the elegant accents of black and grey, and never losing the sight of textures with soft wools and leathers. It is the best time of the year to have the best interior design to welcome the whole family and share the warmth of a good fireplace while we wait for the present to be opened.

.
LUXXU compiled some curated interior design inspirations for a luxurious and delighted Christmas eve.
.
.
The amalgamation of elegance and winter trends
.
.
Color and texture
The snow-white look is beautiful although it can be hard to master even with Christmas decorations, it needs to have a perfect balance with darker shades and warm colors. With an amazing golden finish, The Waterfall Suspension gives a beautiful contrast to the lighter tones of this interior, making it the highlight. Add a lovely rug that not only keeps your feet warm but also brings in some texture to an overall outstanding design for your holiday

.
Dark wood and light leather details
Black is a wonderful color, a powerful neutral that is often used in small doses, however, it can be used as the main color for a room if all other shades are based on it. It's also a trend for leather furniture, as shown by the beautiful Charla Dining chair, it looks sleek and timeless in a luxurious living room especially when teamed with the amazing Babel Snooker that although the inspiration of this suspension is still a myth the elegance present in every detail is very real. Brought to life through the combination of lush crystals and high-quality gold plated brass, the Babel is the perfect fixture for bars, hotels, or private dining rooms. Its shape allows the creation of exquisite lighting installations through the combination of multiple suspensions. Together this interior brings the perfect Christmas ambiance to your home with a perfect fusion of luxury design and winter trends.
.
Connection between Colors and Textures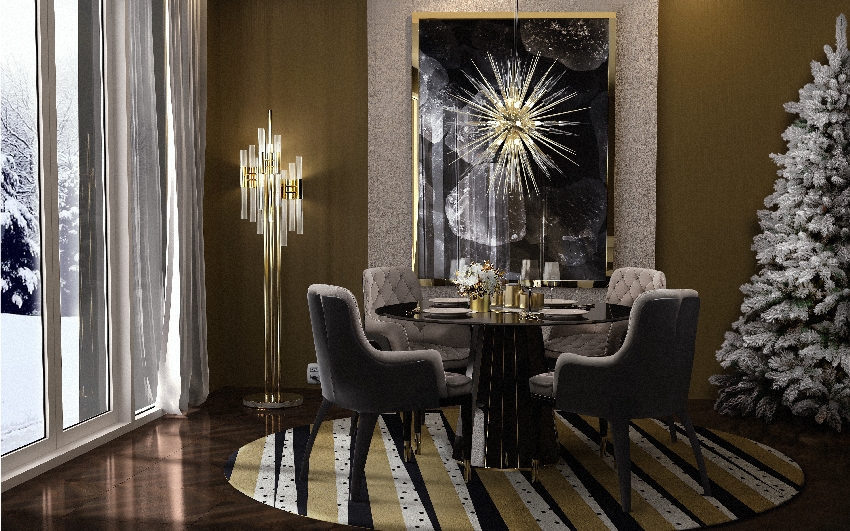 This interior is elegant and sophisticated, yet it's not teeming with color. Both the floor lamp and the suspension offer a cohesive look making the lighting the focal point. With a mixture of dark wood tones paired with soft grey leather, the complete dining set transpires a warm feeling. The beautiful Waterfall Floor Lamp with a series of ripped fine tubes of handmade crystal glass flowing over the tubular shapes in gold plated brass. An impressive presence in every ambiance made by master craftsman. A new glamorous expression of Waterfall light is given to accomplish a wider and complete range that will light your space. The magnificent Explosion Suspension is reminiscent of the vast cosmos of modern lighting designs. With a high prestige and a revivalist attitude, this suspension salutes the Sputnik. Strong attention to mighty and luxury detail are reflected in the numerous slim gold plated brass and crystal arms which orbit around a center sphere. The perfect place to have a wonderful diner with the family while watching the snowfall during this holiday.
"Everything we create, we believe in redesigning your definition of art"
.
.
Crystal Glass Surfaces
The entryway is the first room that your guest stumbles upon, and the first impression is everlasting. The Trump Chandelier, a large gold crystal chandelier with connected gold-plated brass structures that serve as the main base for an opulent crystal glass masterpiece placed underneath. Each one of these sublime glass tears was designed with high attention to detail and traditional craftsmanship techniques. The perfect luxury chandelier for a refined ambiance, without a doubt, is the centerpiece in this beautiful interior, stunningly embedded into the staircase. The amazing checkered patterned floor that in turn contrast with the Christmas decorations in shades of green, all coming together in fantastic design inspiration for your holiday.
.
.
Dark Interiors
Glamorous meets Bohemian in this incredible interior filled with pops of color. Golden lamps stand out beautifully against dark walls, creating a timeless and effortlessly chic ambiance. The Babel Suspension with its uneven shaped crystal gives unique lighting refraction while the Gala Torch Wall is a symbol of luxury and elegance capable of adding gracefulness to any room, especially during this holiday Christmas
.
⇒ Check our article regarding  Trend alert: home bars⇐
.
.
Eye-Cathing Fireplace
One of the home's best places to gather in Winter is around the fireplace, especially with your family during Christmas. Beautiful focal points for kinetic lighting, these add a special ambiance to a room. Let your fireplace make a statement with interesting screens that show off patterns and style. Musa, historically known as the richest individual to have set foot on Earth, was an emperor of the Mali Empire. The Musa fireplace by Foogo takes after all the wealth and boldness of his empire. The way this fireplace conquers the space with its brass arrangement together with the strength present in its flames. The best place to be on a Christmas holiday.
.
Brass Everything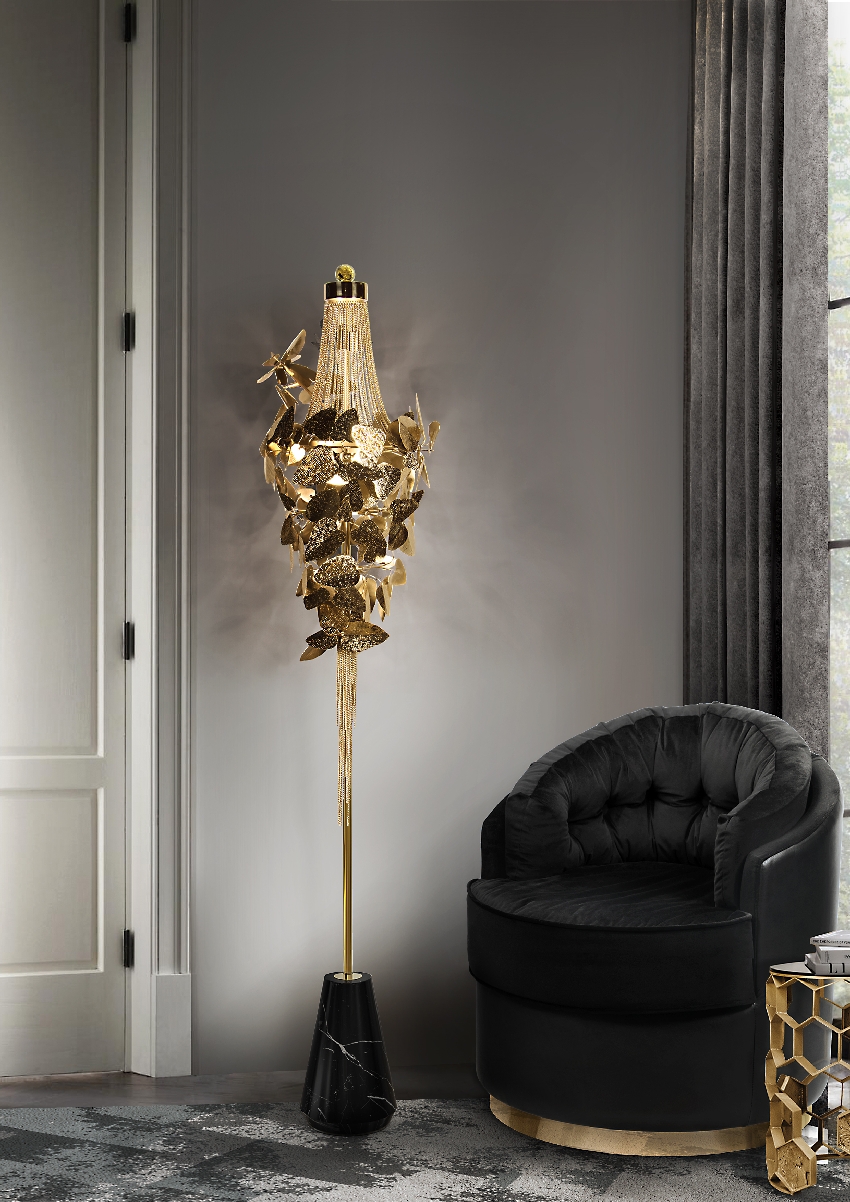 Gone are the days when brass was out. It's amazing how such a simple material can make your interiors shiny and luxurious following the trend. Celebrating one of the trendiest colors for the Winter, gold, the McQueen Floor Lamp will certainly brighten everything around it. The perfect and complex combination of gold plated hammered leaves with amber Swarovski crystals. Or the Otto Armchair  Made with noble materials, such as velvet and leather, the brass detail elevates this armchair into a masterpiece. Meaning greatness and fortune, this armchair is a statement in every imperial ambiance. Both are great additions to any Christmas setting
.
.
.

.
.
⇒ Check our article  Empire your Home – Decorate like Royalty⇐
.
If you enjoyed this article regarding Christmas Trends – A Holiday to remember then make sure to check out our socials to find news, inspirations, and more interior design trends and ideas: Pinterest | Facebook | Instagram.
.