Trend Alert: Home Bar⇒ Going bar hopping is fun for a while, but then there comes a time in life when a person prefers the comfort of their home while at the same time enjoying a cocktail. Especially in this pandemic phase, it is natural for everyone to try to reinforce the qualities of their own home. Combining the need with elegance, LUXXU selected the most luxurious products without neglecting the usefulness and simplicity that a home bar should have.
.
Our top picks from bar cabinets to the best bar chairs
.
.
Bar Cabinets
.
Even if you turn an entire room into a bar, the bar cabinets are always essential to complement its luxurious design with its usefulness. What would be the best place to exhibit your valuable collection of wine from the 90's harvest?
.
Nura and Lloyd bar cabinets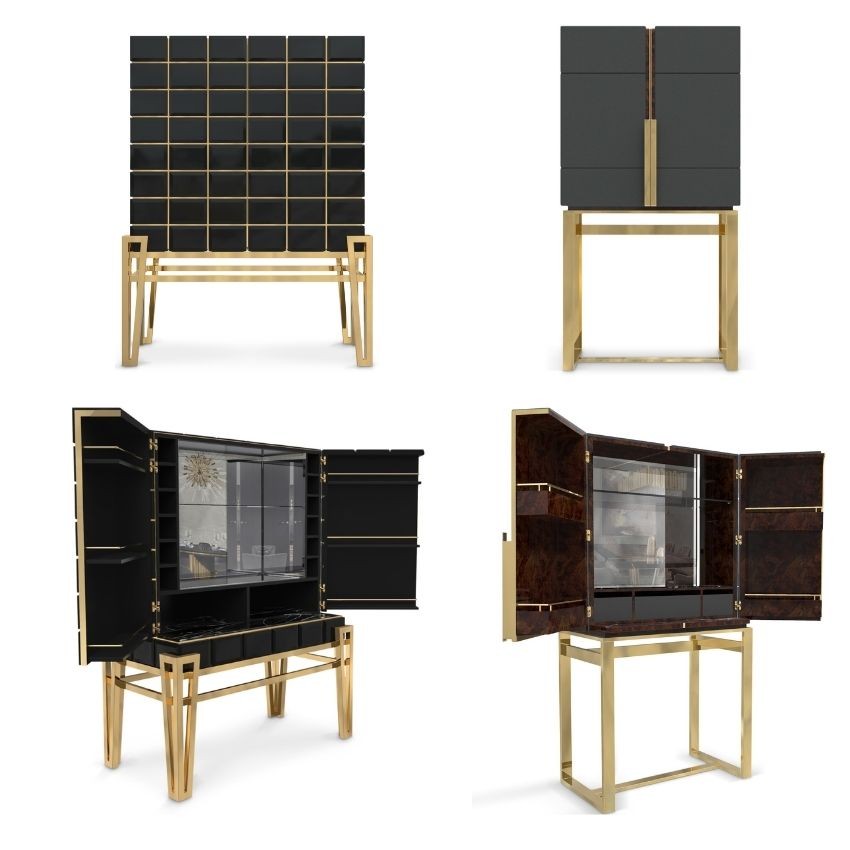 A bar cabinet should be considered essential in any interior related to the bar. The satisfaction of being able to drink a glass of whiskey without having to leave your house, for any adult is an advantage, even more so if with this utility it also brings a beautiful and sophisticated design. The Nubian Bar Cabinet is inspired by the geometric Nubian pyramids, it presents a daring design and shape. Made of brass, glass, marble, wood and with a mirrored interior, this piece is both functional and decorative, a true piece of art that will elevate your designs. And the Lloyd Bar Cabinet provides not only a classic storage option but an accent piece that will become the focal point of your interiors.

.
Bar Chairs
When people think of bar chairs, they usually picture them in the kitchen lined along the worktop or breakfast bar. Whilst they're ideal for home usage, bar chairs are incredibly versatile designs that can be used in a myriad of different areas. Though originally intended as seating around the bar in public houses, their adaptable styling means they can now be found in a lot more places than before especially in a home bar.
.
Nura Bar Chair
With an uniquely shaped backrest, Nura Bar Chair is the ultimate expression of comfortable luxury. Shaped like an U to grant maximum comfort and provide an embracing feeling, this chair is made of leather, brass, and wood. It's ideal for high-end bars with a glam yet cozy vibe.
.
Saboteur Bar Chair
Evoking the old glamour of noir movies, the Saboteur is a classy velvet bar chair for stylish kitchens, bars, bistros, or lounge areas. With an integrated brass footrest, it's a high chair that joins luxury and comfort, and thanks to a simple and timeless design it fits into every type of style in every home bar.
.
.
Charla Bar Chair
Part of the timeless Charla Collection, this elegant piece is made of high-quality materials, providing excellent comfort and an attractive design that is sure to become the center of attention. Available as both a bar chair and counter stool, this piece will be the perfect complement to your project.
.
.
Galea Bar Chair
An elegant bar chair that fuses modern and ancient. Inspired by an helmet worn by warriors in the Roman Empire, Galea is a velvet and leather modern bar chair with a body made of wood and brass. Its elegant silhouette, yet strong presence, ensures it's the perfect piece for upscale bars.
.
⇒ Check our article regarding  Dining Room Design Ideas to Host The Perfect Meal⇐
.
Kitchen counter can be your home bar
If you are not available to use a section of your home exclusively for a home bar, you can choose to reuse part of your kitchen as one. Using part of your kitchen counter you get a utility space for a sophisticated and elegant bar without spending a lot of expenses, taking advantage of some bar chairs to give more meaning and the result is a combination of utility and beauty
.
Defining the Bar and the kitchen
In this interior, we use the center island of the kitchen as a minibar where we can serve our guests without ever leaving the comfort zone during the preparation of dinner. With the addition of the Nura Bar chair, the intention of a bar is further affirmed, a fusion of comfort, utility, and elegance.
pose
In this project we find a kitchen directly incorporated in the living room, in an open space concept. By giving up part of the counter, we got a zone specifically for a home bar, with the advantage of crossing two other divisions. A small highlight for the beautiful bar chairs and the fantastic Harpia Suspension
.
.
If you enjoyed this article regarding Trend Alert: Home Bar then make sure to check out our socials to find news, inspirations, and more interior design trends and ideas: Pinterest | Facebook | Instagram.
.
.