Transform Your Workplace Decor With Luxury => Let yourself be inspired by our luxurious selection of the most stunning office decor inspirations for your next interior design project and discover some amazing ambiances and ideas for an office decoration or a reading corner.

Reading Corner
A comfortable, well-lit living area with all neutral and white tones. Doesn't it sound ideal? Daydream no longer, since the ESSEX Mid-Century Armchair makes it possible. This plush and velvet-upholstered armchair, along with the LURAY Side Table and Rug'Society's fluffy KOTTA Rug, will make all of your fantasies come true.
This contemporary living room is the epitome of cosmopolitan and modern style. The stunning GEORGE Sofa in cotton velvet, along with the ethereal AGRA Coffee table, will make the ideal home design combo for any activity.
See also: Where To Shop – The Best Luxury Showrooms In Basel
There are only a few things that are better than reading a book on a cloudy afternoon. Your reading corner deserves nothing but the best and a simple yet elegant piece such as the air geometric rug will bring a wonderful subtlety that every reading corner needs.
Immerse yourself in a gratifying reading experience with nothing but the best décor for your reading corner. A neutral color palette in your floor décor solution will improve your ambiance greatly and a piece such as the Eye Neutral Rug can bring together whole the elements you need for a relaxing reading session.
See also: Mayer Black Center Table
Office
This beautiful office offers a space where you may travel the world without leaving your house. The reading nook is made up of two swivel velvet ESSEX Armchairs, which allow you to rest or recharge your batteries. An aged brass KOI side table with a forest green marble countertop and an aged brass CYRUS floor lamp. To finish the office, it was added a custom-made built-in open bookshelf inspired by the BARAKA series, which offers storage and organization to space.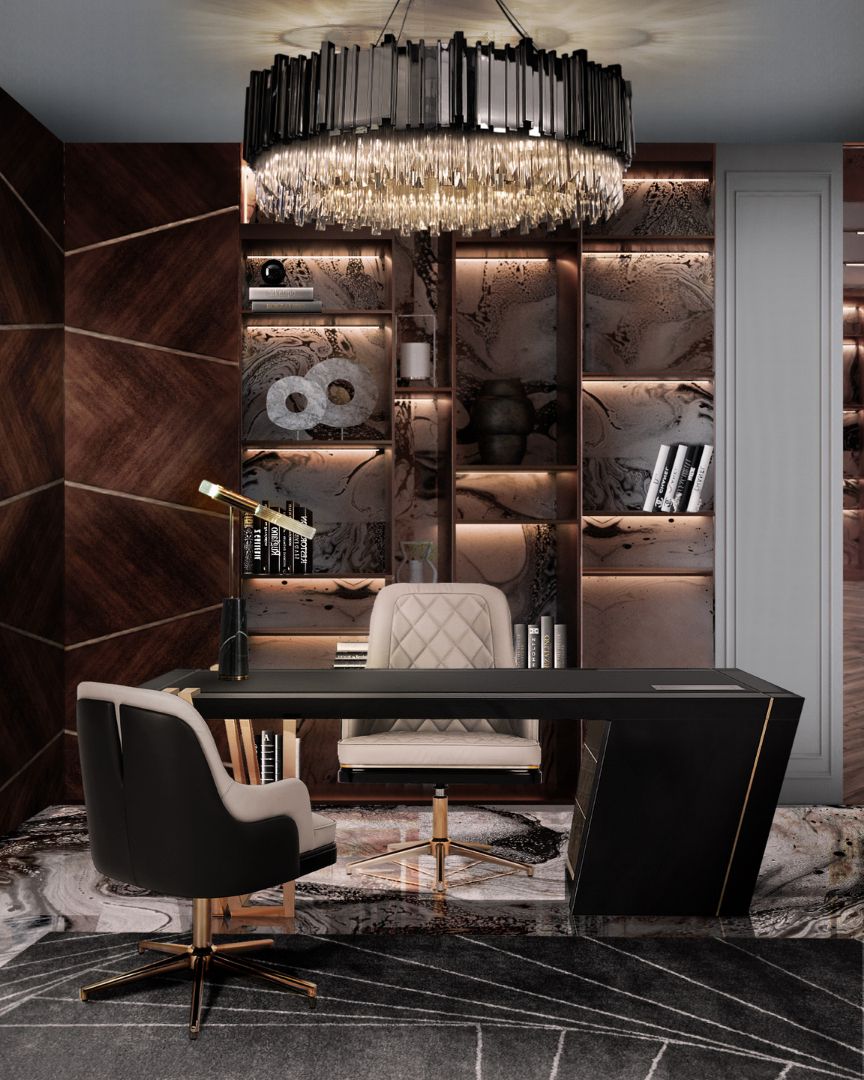 Decorating a luxurious home office demands much more than luxurious pieces. The manner in which all kinds of elements blend together is extremely important, after all, this is where you will be to take care of business, therefore, harmonious and non-distracting pieces are a must, the Gama Table lamp is a great choice for subtlety and functionality all in one piece.
Get The Look:
Having the perfect ambiance in a home office perfect is crucial to increase your productivity. In this modern home office, the Tycho Rectangular Suspension by Luxxu sets the perfect mood by brightening beautifully the Apotheosis Desk, a luxurious statement piece!
Get The Look:
⇨ APOTHEOSIS DESK ⇦
See also: Best Interior Design Projects In Basel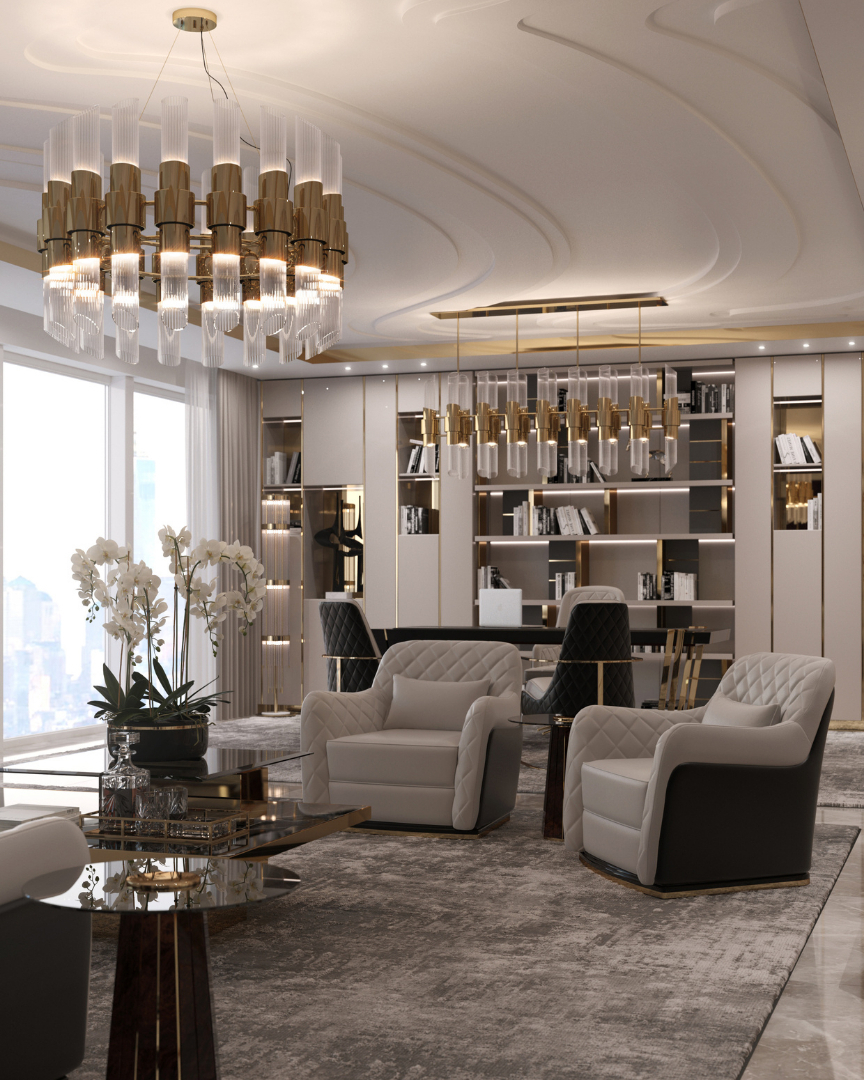 Decorating a home office space today is no easy task. That is why Luxxu brought to the life the beauty and elegance of this workplace with Darian Side Table while still considering comfort and functionality with Charla Single Sofa. Luxury is the anchor point of all Luxxu environments and this office. is no exception with the stunning Tycho Round Suspension turning giving a powerful statement to this room.
Get The Look:
If you enjoyed this article regarding Transform Your Workplace Decor With Luxury then make sure to check out our socials to find news, inspirations, and more interior design ideas: Pinterest | Facebook | Instagram.