The Most Iconic Suspension Lighting – a curated selection ⇒ Suspension fixtures are designed to illuminate a broader area than a single Pendant Light, but they usually end up has a statement piece in every room. Luxxu selected the most iconic lighting masterpieces that every designer should look for in their projects.
.
.
Suspensions in Dining Room Designs
Dining Rooms usually transpire the moment where someone relaxes while enjoying their favorite meals, but sitting down to have diner together is something that should always care a sense of ceremony. This daily activity with the added shine of luxury in it means that every meal can feel special.
.
One Empire to Rule them All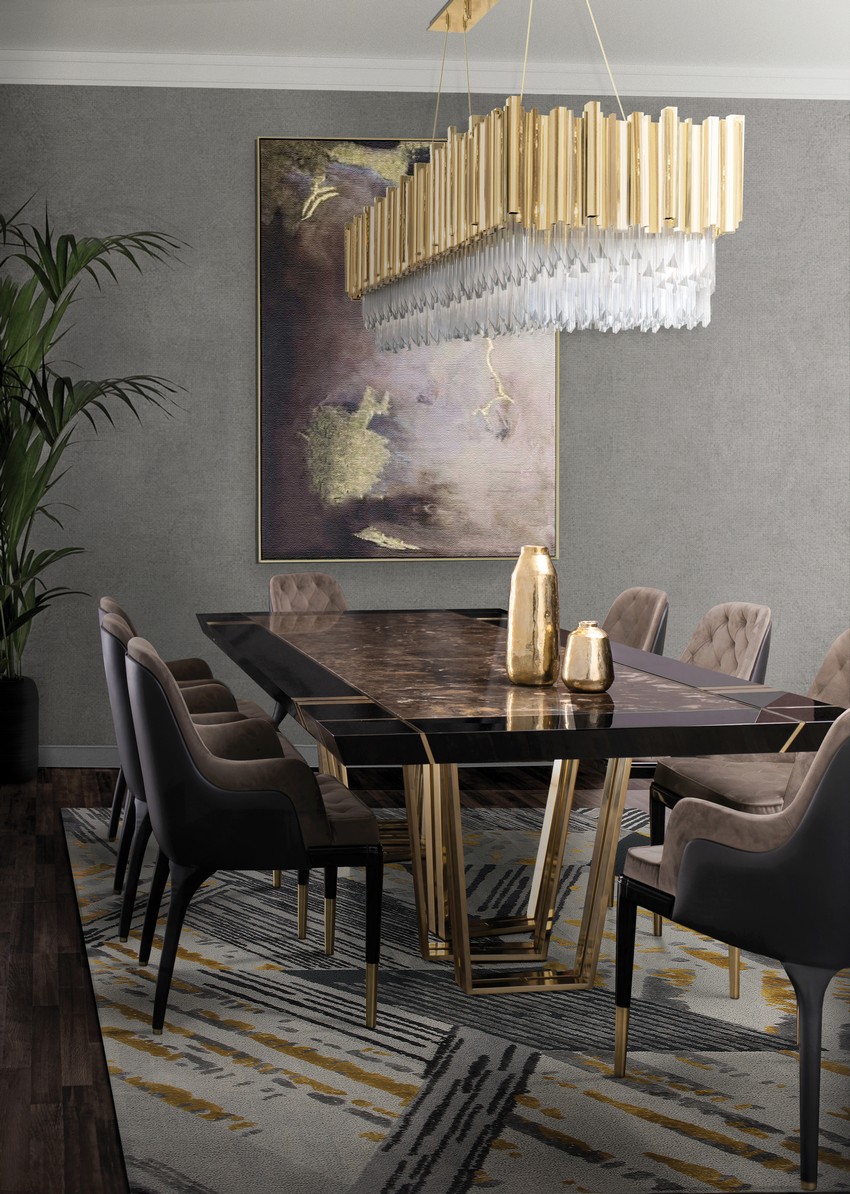 Let's start off our selection with a Suspension that comes from one of the most iconic collections of LUXXU, the Empire Collection. The Empire Square Snooker Suspension is a glamorous and extravagant crystal lamp that is the ultimate blend of classic and modern design. A masterpiece made with layers of gold plated brass and vintage-inspired crystal glass. With its imposing presence, this piece alone is capable of transforming every space into a stunning scenario.

.
Jewelry Piece Suspension
Pearl is an extravagant shape full of refinement that can produce a special atmosphere by itself. It's not just a metamorphosis of a jewelry piece formed within the shell, but also a transform into an exceptional piece of craftsman. Its essence is made of pearls and gold plated brass.
.
The Shard London Bridge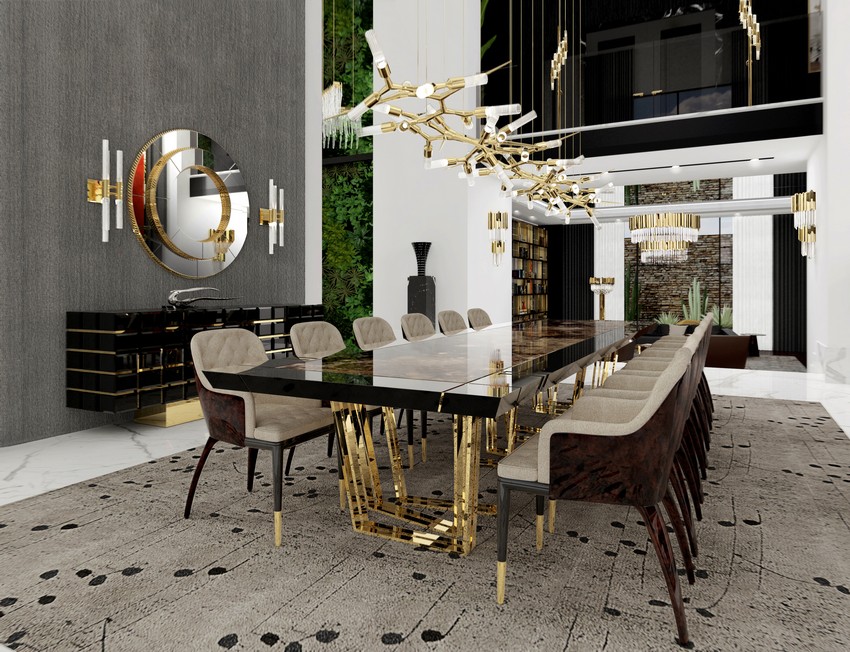 Drawing inspiration from the iconic Shard London Bridge building, the Shard Suspension Lamp is an iconic, unique lighting fixture with a strong presence and character. Suitable for living and dining areas, this piece will grab all the attention in the room. A must-have for any interior project that wants to stand out with creativity in mind.
.
Old School Wonder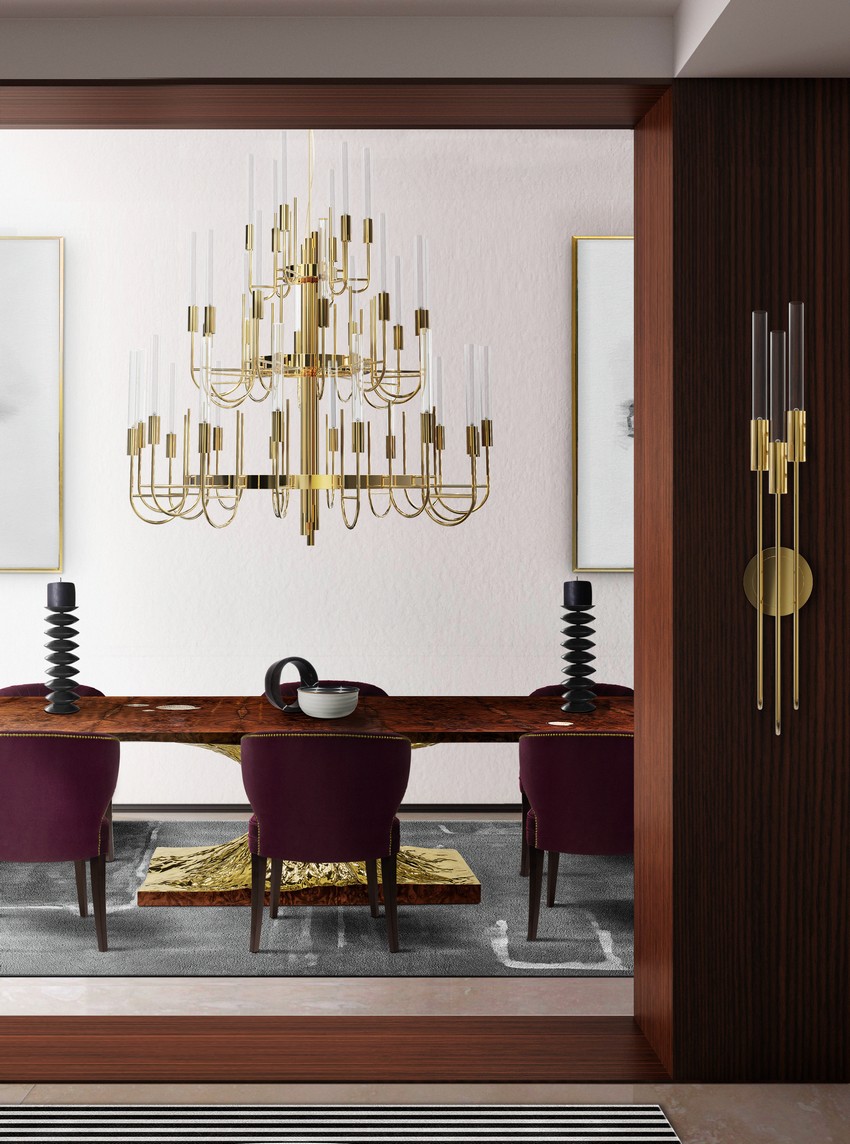 Designed from the soft blend of emotional yet beautiful lines the Gala Suspension is a revival experience from the palatial apogee. Is the perfect outcome of brass and crystal glass. A superb piece for entryways and magnificent ballrooms/ dining rooms.
.
.
Water flowing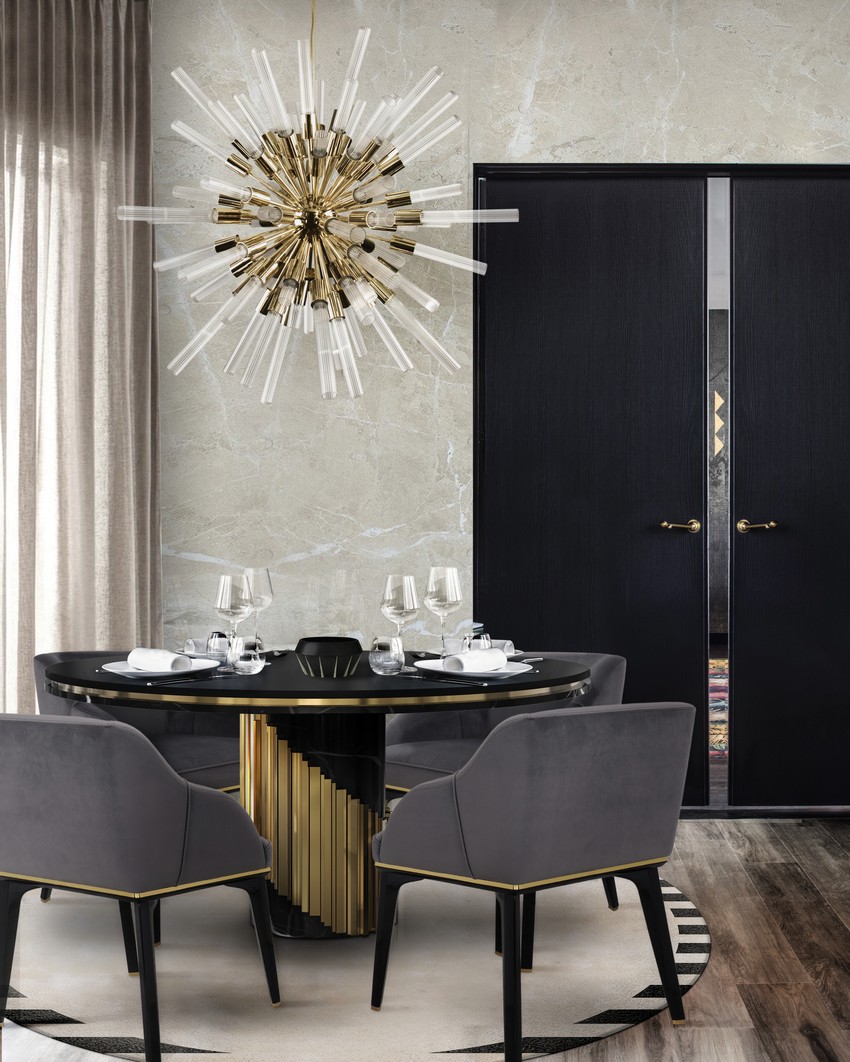 This dramatic waterfall shaped suspension is the embodiment of motion, where luxury and nature come together, this unique piece was born to complete the superb Waterfall Collection. Made with high-quality brass and beautifully handmade ribbed tubes of crystal glass, its irreverent shape will make this powerful creation fit perfectly in a bold and distinguished dining room.
.
An explosion of luxury design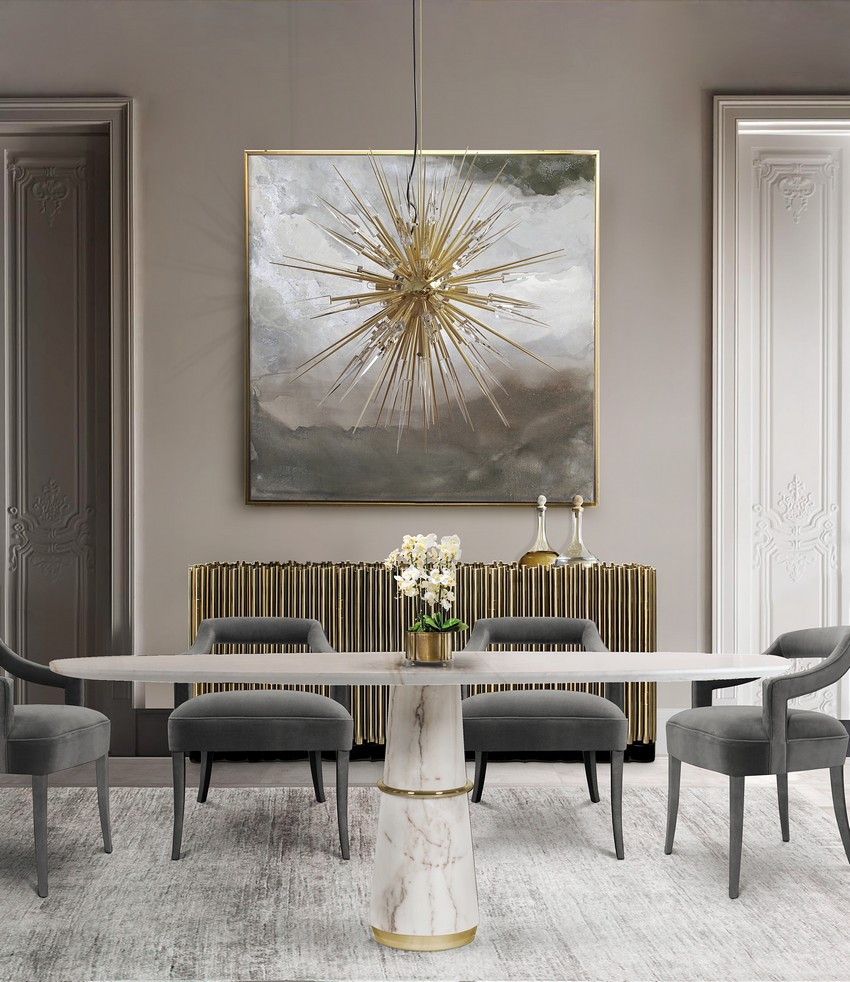 The Explosion Suspension is reminiscent of the vast cosmos of modern lighting designs. With a high prestige and a revivalist attitude, this suspension salutes the Sputnik. Strong attention to mighty and luxury detail are reflected in the numerous slim gold plated brass and crystal arms which orbit around a center sphere. A fundamentally beautiful piece that will make everyone who sees it explode in a set of emotions.
The dining room is in fact one of the most important places to have redefined luxury and beauty. A room that should lead to conversations among your guests, and with a beautiful suspension in the center it's halfway.
.
⇒ Check our article regarding  Dining Room Design Ideas to Host The Perfect Meal⇐
.
Suspension Lighting in Bathrooms
Bathrooms are like sanctuaries in your daily routines, it should be a room where you can escape your daily life, and a beautiful design helps your mind soak in the relaxation that a bathroom should provide. It's not easy to redesign a room that brings comfort and luxury together, but a bold suspension could make the difference in redefining the concept of a luxury bathroom.
.
Marvelous Crystal Work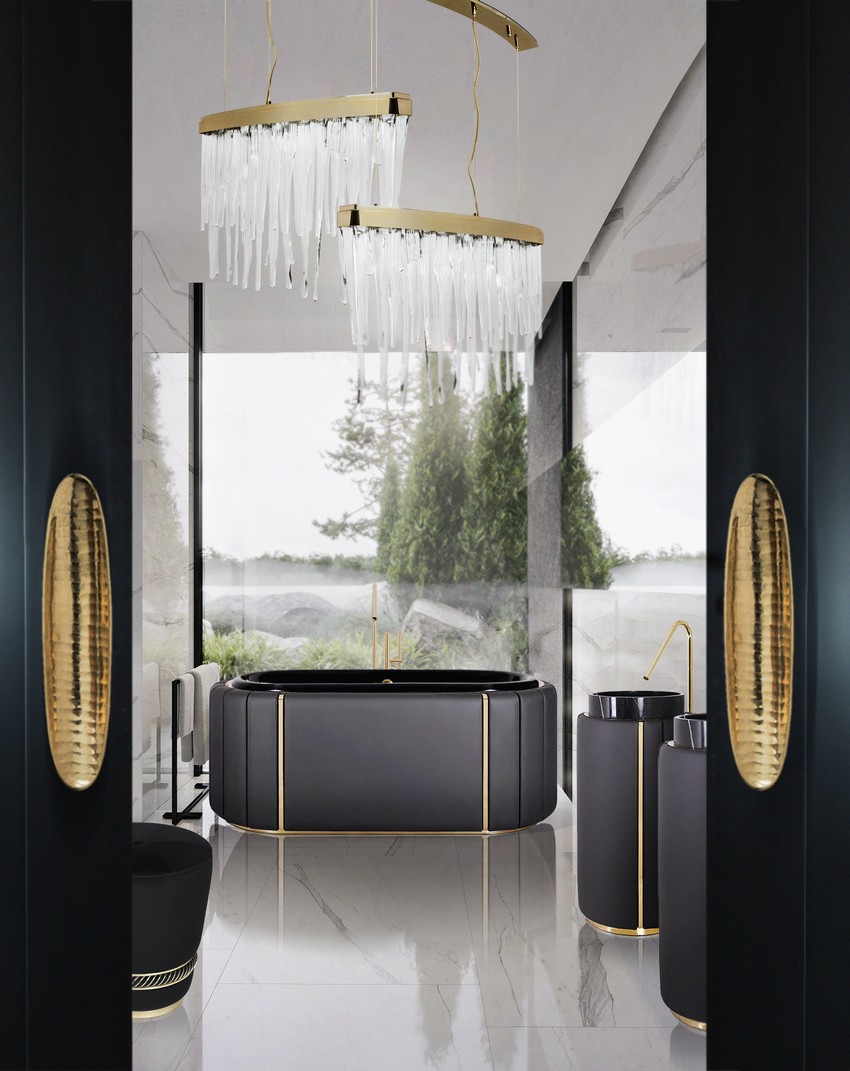 Although the inspiration for this suspension is still a myth the elegance present in every detail is very real. Brought to life through the combination of lush crystals and high-quality gold plated brass, The Babel II is the perfect fixture for bars, hotels, or even bathrooms. In this interior project, the suspension in soft gold finished makes a beautiful contrast with the Darian bathtub by Maison Valentina. A bold and luxurious design that results in an outstanding combination of colors.
.
Beautifully Round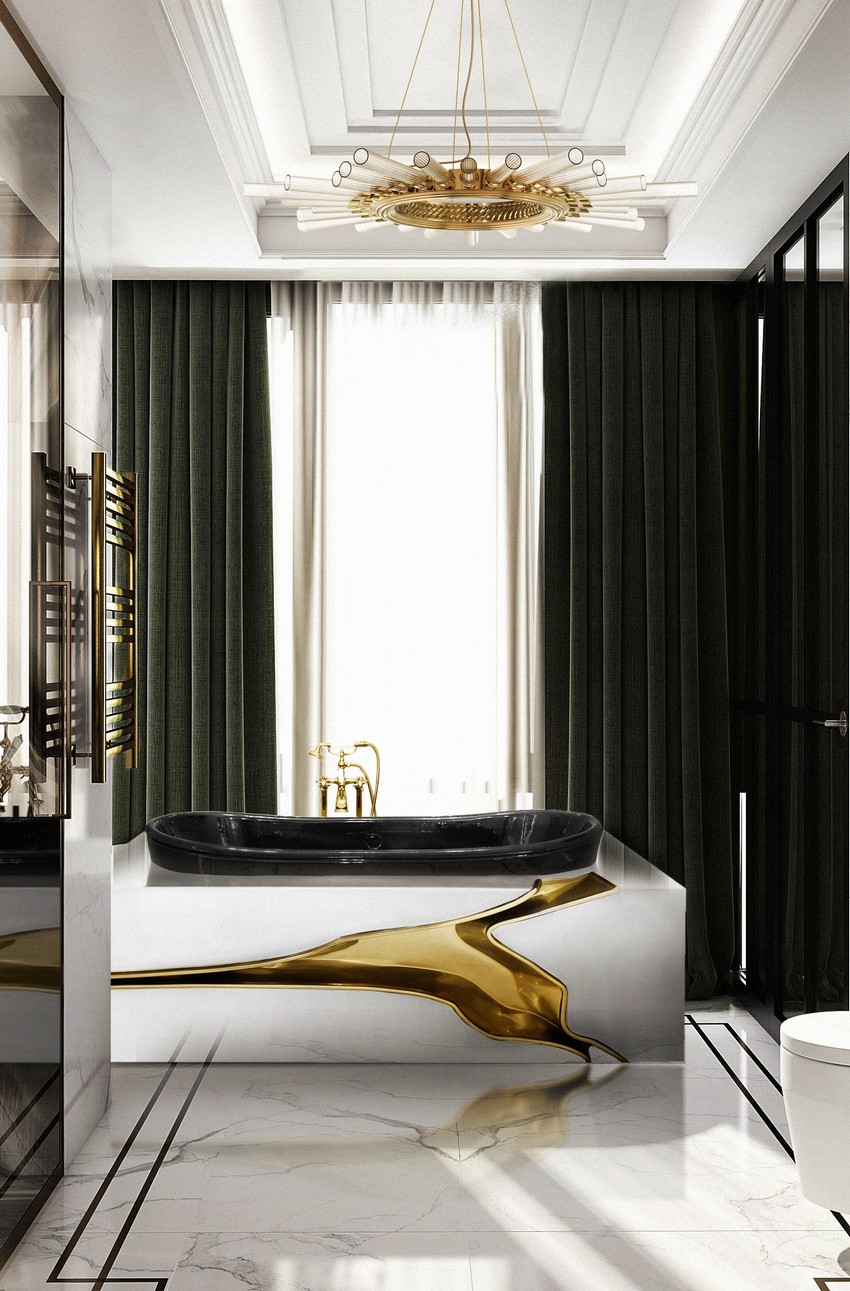 The recreation of the Majestic acquires another level, with bonhomie emancipation of lighting, the glow takes the form of a golden plated brass circle. Made with the finest material, each ribbed crystal glass cylinder creates an atmosphere of irresistible exposure and exclusivity. The very definition of a majestic design and one of the most iconic suspension lighting by Luxxu
To build the perfect luxury bathroom, it's not only necessary to choose incredible furniture designs but also a dazzling lighting piece. Placing a big Lighting fixture it's a bit of a controversial design trend in some ways due to certain requirements that need to be met but if the final project comes true then we have a unique and incredible luxurious result.
.
Suspension Lighting in Living Rooms
The Living Room is considered by many interior designers has the new Heart of the House, where families gather and joyful moments are built. Every detail matters in a Living Room design, from the comfortable and luxurious sofa to the well-crafted center table, and whether its an open plan space or a smaller, cozier spot, every luxury design needs the perfect suspension fixture.
The Waterfall Combination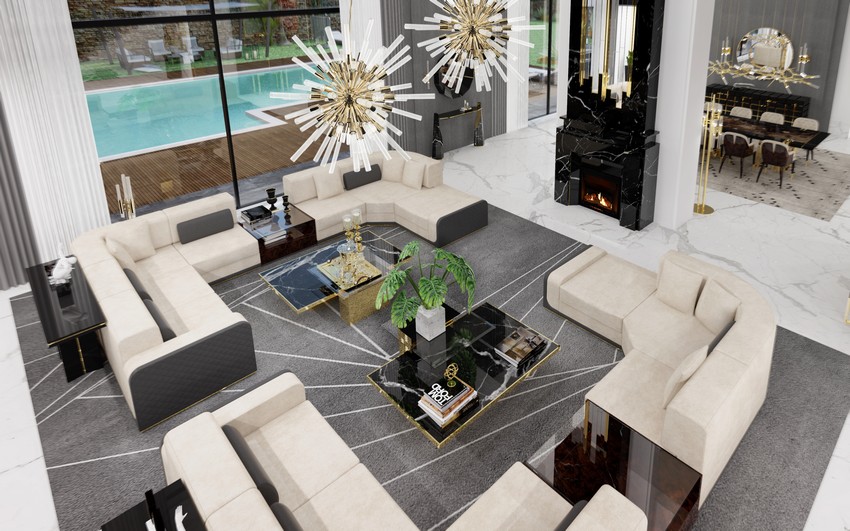 Has seen before in our dining room projects the Waterfall Sputnik Suspension can be used in a variety of ways. In this Living Room, In this living room, both suspensions come together in an intrinsic way for a luxurious design, and they quickly become the center of attention for the entire project.
The Golden Ring of Crystal Glass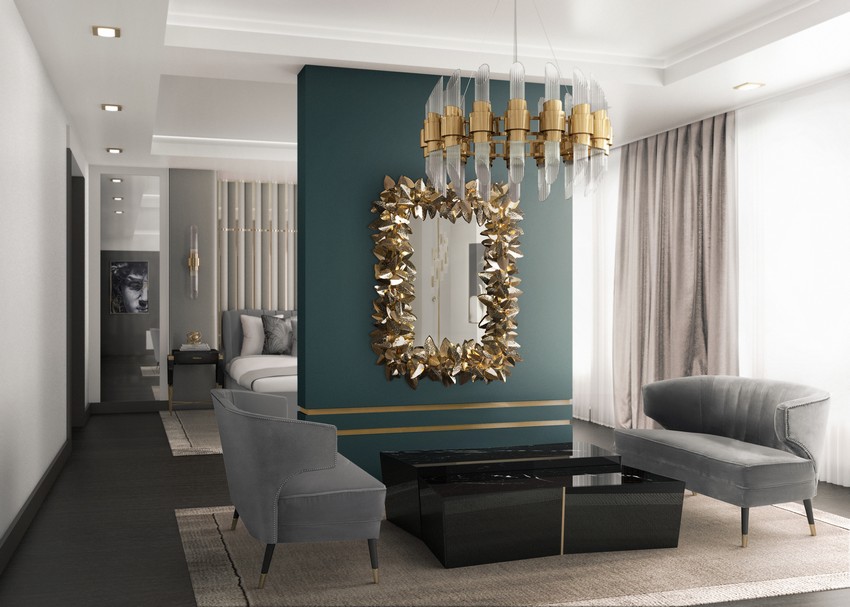 The Tycho combines unique artistry and magnificence with the power of the reflection. Centrally gathered and held by a ring of gold plated brass, the luminous evocation of its design, is reflected in its ribbed crystal glass cylinders and its building of inspiration, the most unusual planetarium in the world. Use to create an elegant and highly decorative ambiance in modern lounges such as this interior, it is without a doubt one of the most iconic Suspension Lighting.
Greek Traces in Suspension Fixture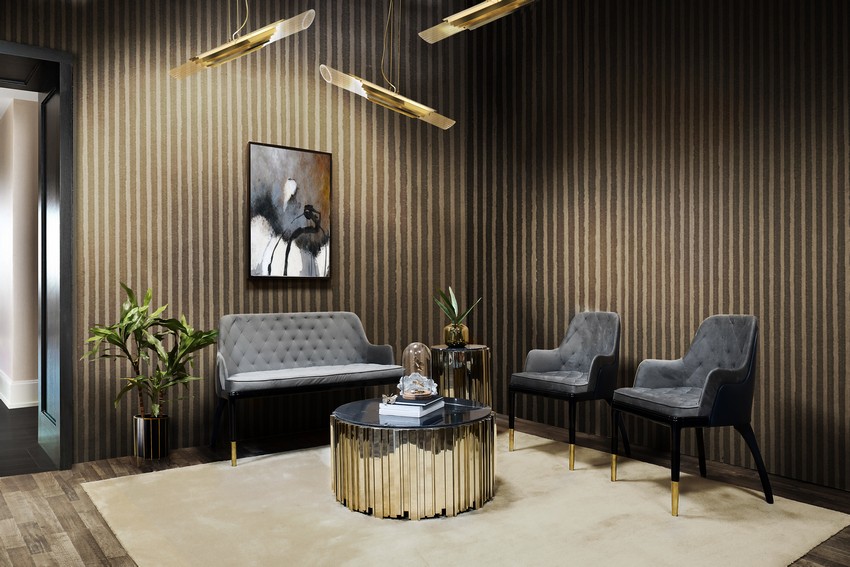 Harpia Suspension takes every environment back to ancient Greece where power was a way of living. The vigorous eagle is emphasized by the razor-sharp crystal glass yet the sumptuous gold plated brass steals all the attentions of the room. A superb opportunity to create a harmonious lighting installation by using more than one composition.
.
.

.
.
⇒ Check our article regarding Wall Lighting Designs⇐
.
If you enjoyed this article regarding The Most Iconic Suspension Lighting then make sure to check out our socials to find news, inspirations, and more interior design trends and ideas: Pinterest | Facebook | Instagram.