The Luxury Bedrooms You Can Not Miss – Whether you want a serene and relaxing refuge or a glamorous hotel-style bedroom, these bedroom designs include professional advice on everything you need to know before you start, from deciding on a color scheme to selecting the appropriate furniture to go with it. Yes, this is the stuff that wonderful dreams are made of!
See also: Modern Bedroom Design – Contemporary Comfort In The Big Apple

The Luxury Bedroom Designs
Marvel These Opulent Bedrooms
Ferris Rafauli is an award-winning and internationally famous master designer and artist who conceptualizes, constructs, and builds ultra-luxury residences and lifestyle creations for affluent clients worldwide. Ferris Rafauli considers houses to be complete pieces of art.
Do you ever dream of those fairy tales that take us back to our sweetest childhood memories? If so, India Mahdavi is the name you must know about. Mahdavi's work is a mixture of elegance and cartoonish color. She credits her heritage, worldly upbringing, and design study to her notable design style.
See also: Charla Bed
A grey-toned bedroom for a sophisticated rest, with Luxxu's Chateau Bed that blends perfectly with the same-colored rug by rug society. With Small touches of gold for a luxury feel, this room is the ultimate escape from reality.
The luxury bedroom by luxxu designs
Another small detail that's easy to change is the hardware of your master bedroom. Pieces such as PullCast's Kesya Drawer Handle make hardware seem like a decor item and can help you personalize your bedroom to your taste.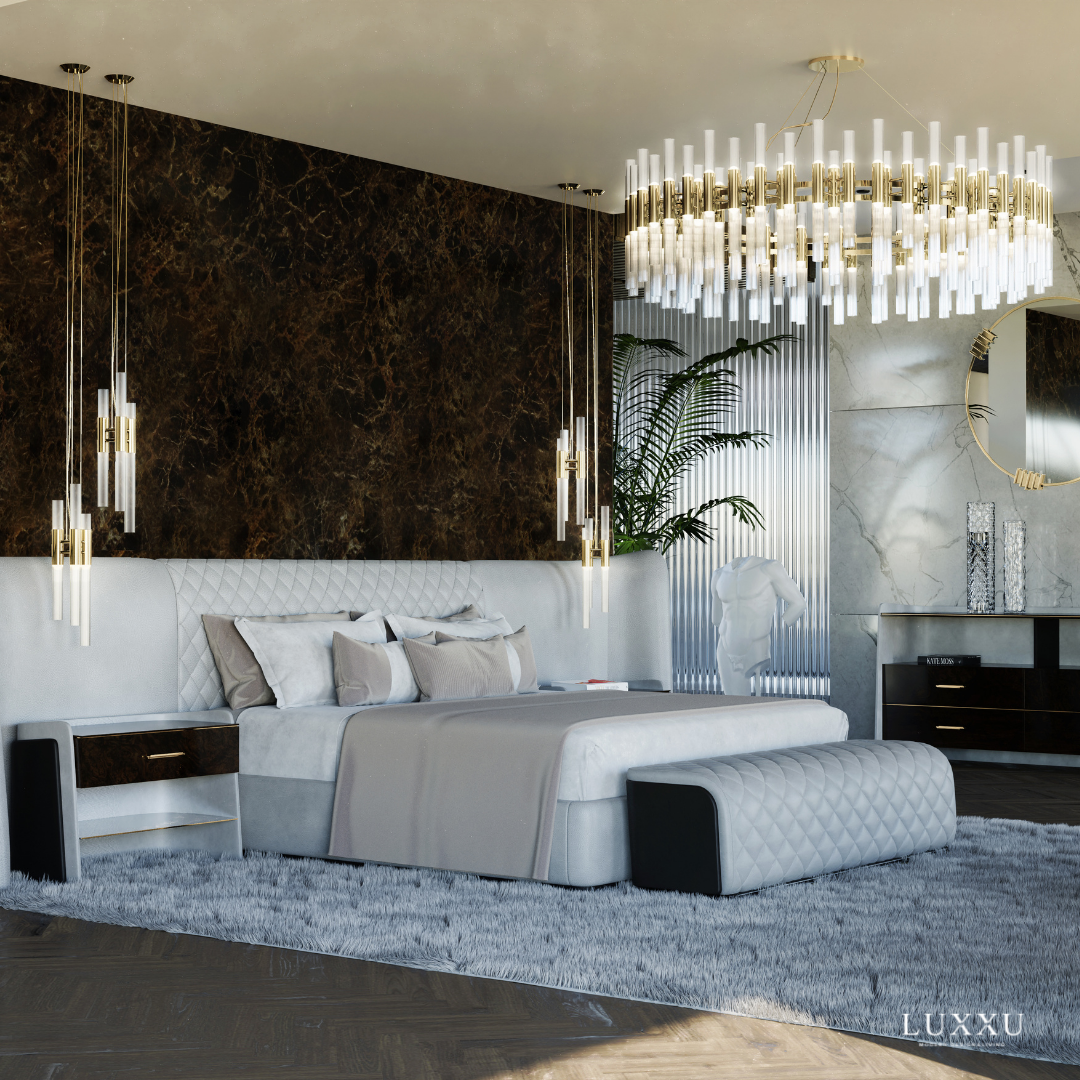 One of the most essential rooms in the house is the bedroom. Decorate yours with luxury furnishings such as this and combine some magnificent lights to create a much more spectacular ambiance while maintaining comfort.
See also: Charla Nightstand
Sometimes all we need is a burst of color in otherwise neutral carpeting. It's all about breaking rules and creating new languages, much like the Valencia Rug. Luxury also implies not being vulgar, and if you're seeking designs that are out of the ordinary, go no further.
This luxury bedroom has been designed to make everyone feel as comfortable and tranquil as possible. Neutral tones provide a sense of tranquility for you to rest during those chilly Winter days that just scream for a stay-at-home weekend spent just appreciating your luxury interior design.
See also: Master Bedroom Design – A Perfect Aesthetic Creation By Luxxu
If you enjoyed this article regarding The Luxury Bedrooms You Can Not Miss then make sure to check out our socials to find news, inspirations, and more interior design ideas: Pinterest | Facebook | Instagram.
< ?php get_footer(); ?>