The Best Essentials for a Glamorous Dining Room⇒ The dining room is one of the most important spaces in your home. It is essential to feel comfortable and happy because, in fact, it is one of those rooms where you spend part of your daily time, be it breakfast, lunch, dinner, and most of that time is spent with your family or friends. Taking everything into account it is important that it is a space full of beauty, luxury, and an inspiring design so that you can feel rejuvenated.
.
LUXXU decided that all selected items are considered essential for any luxurious dining room design, and will inspire you to make this article one of your Must-have guides.
.
Dining Room Essential
.
Dining Tables
.
Apotheosis Dining Table XL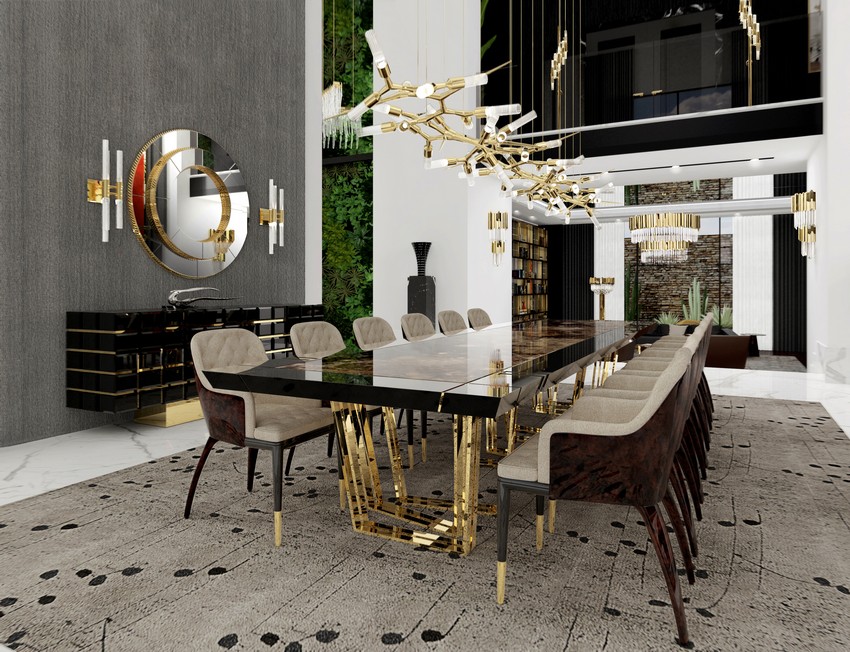 Absolutely without a doubt, the dining table is the most important piece of the dining room. It needs to stand out with its elegant design. This project made by LUXXU and entitled has the "LUXXU HOME" we choose the Apotheosis dining table XL, the larger option to the original Apotheosis Dining Table, this piece maintains an air of sophistication and indulgence in its 4-meter design. Its inspiration derived from Greek Mythology will add a strong presence to any dining room and elevate it to a truly luxurious and chic space.

.
Littus Dining Table
Round dining tables are usually a better choice if your space is limited. Still having a smaller size doesn't need to be smaller in beauty. The creation of the Littus Dining Table was made in order to strengthen a unique concept. This luxury dining table has come to symbolize the spiral, which runs around a center in a special way like the great decisions are taken around powerful tables among determined minds. With a quality signature, Littus Dining Table embodies handmade techniques such as marble cutting, gold plated brass, executed by some of the best craftsmen.
.
Darian Dining Table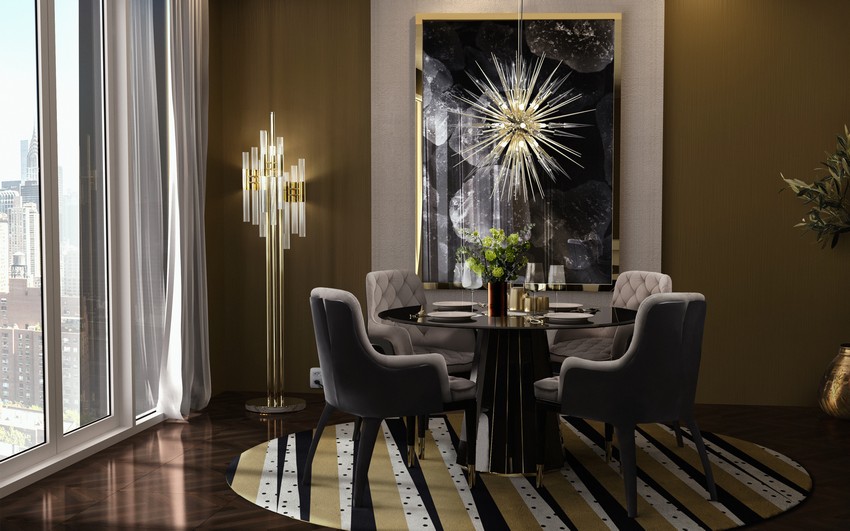 Following the same example as the previous table, a more discrete yet beautiful dining room, the Darian dining table gets its inspiration from our prodigious Darian sideboard. This stunning handcraft table is made of round smoked glass placed on top of a wooden structure in black lacquer touched by gold plated brass bars. It combines perfectly with the round rug and the monochromatic tones of black always transpire elegance.
.
.
Algerone Dining Table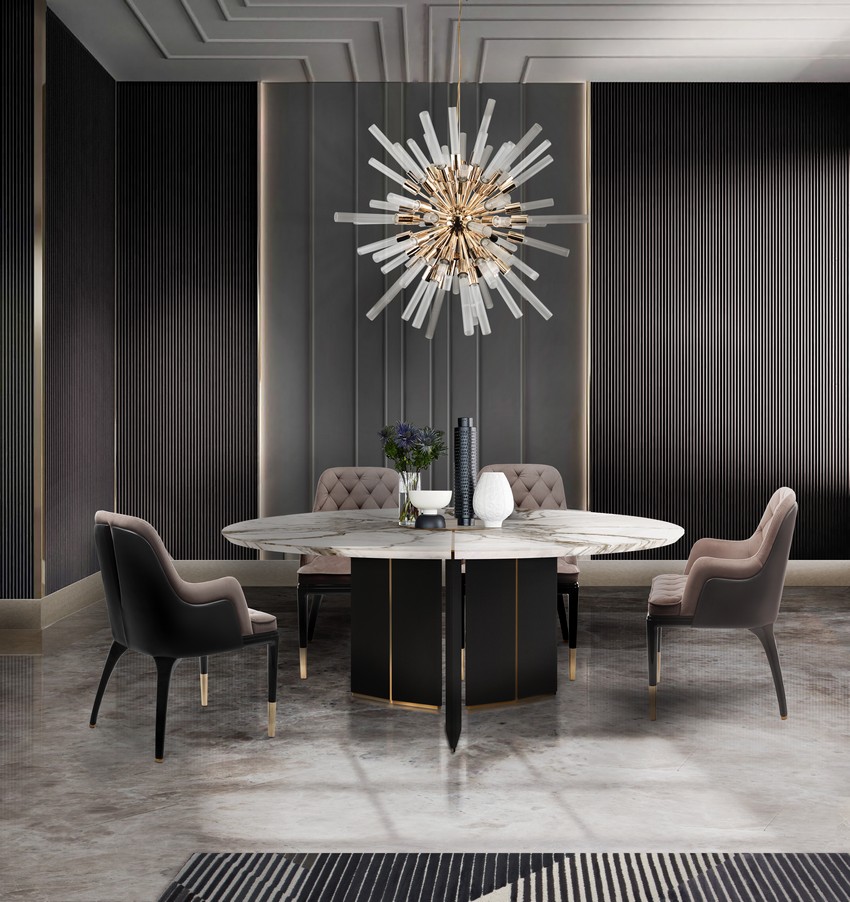 A perfect fusion of elegance and design, in this dining room The Algerone dining table, inspired by architectural elements, it was designed to remind us of the unique strength and class that only marble has. The Carrara marble circular top is supported by a sleek base adorned with black leather and polished brass detailing. A design that will redefine the way you perceive dining tables and all dining room interiors.
.
.
Beyond Dining Table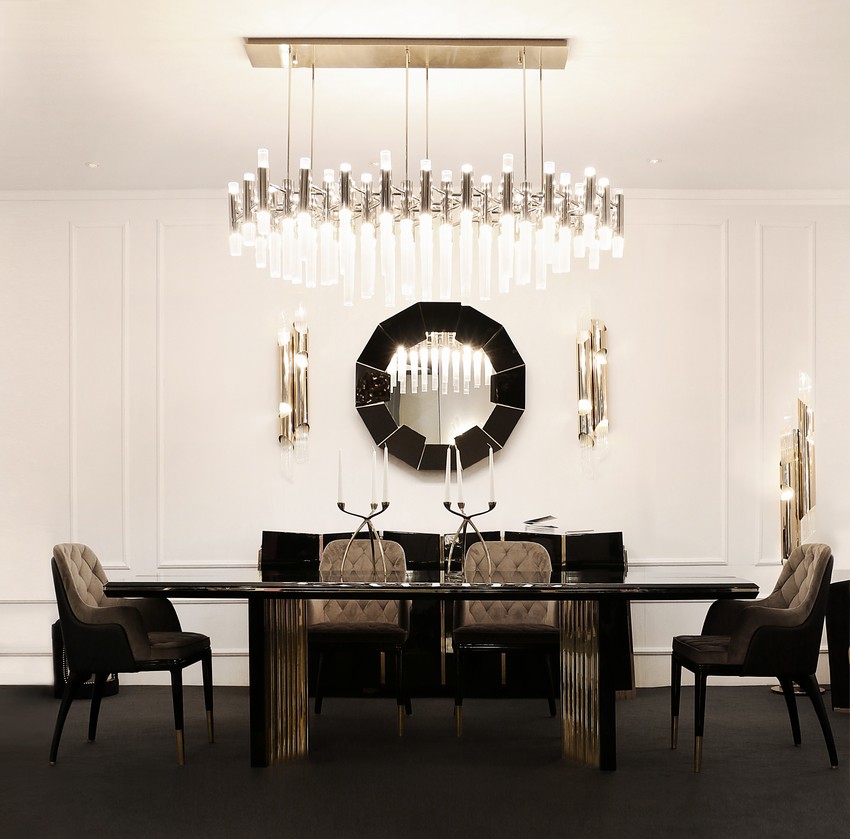 Going back to the giant dining table as the centerpiece, having a large table means more people to enjoy every meal and conversation that it can happen. In The Beyond dining table, the distinctive details make a delicate adjustment between, the best hand-worked wood with touches of brass and the warm and golden tones on its polished surface. Created in an outstanding moment of inspiration, this luxury statement table makes the perfect center point of any dining setting.
.
⇒ Check our article regarding  Empire your Home – Decorate Like Royalty⇐
.
Bar Cabinets
.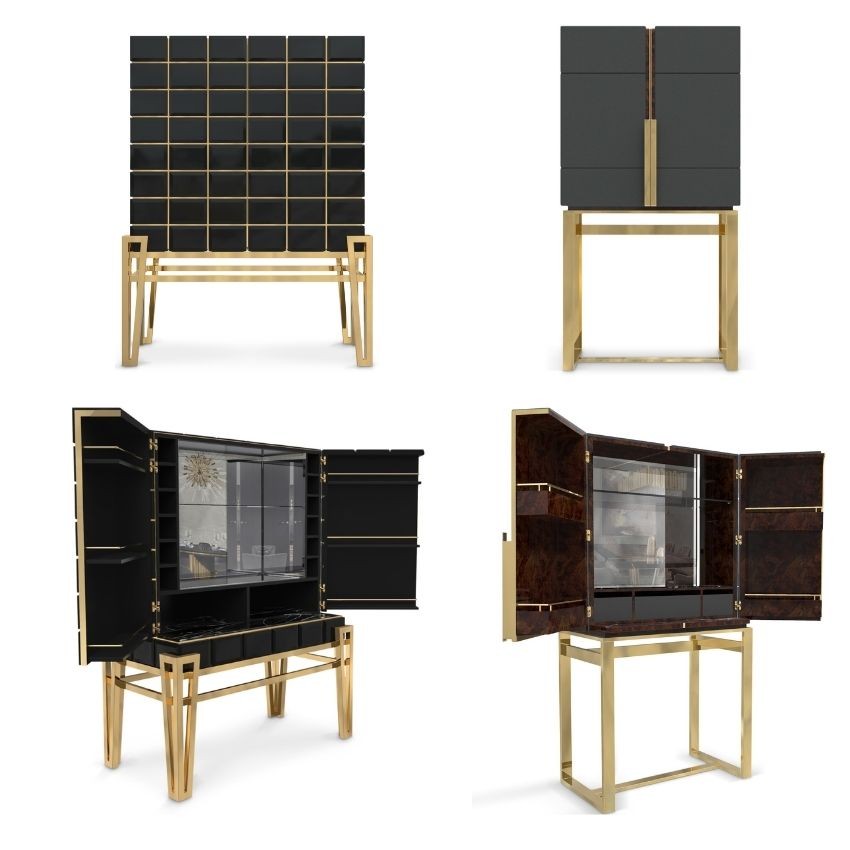 A bar cabinet should be considered essential in any interior related to the dining room. The satisfaction of being able to drink a glass of whiskey without having to leave your room, for any adult is an advantage, even more so if with this utility it also brings a beautiful and sophisticated design. The Nubian Bar Cabinet is inspired by the geometric Nubian pyramids, it presents a daring design and shape. Made of brass, glass, marble, wood and with a mirrored interior, this piece is both functional and decorative, a true piece of art that will elevate your designs. And the Lloyd Bar Cabinet provides not only a classic storage option but an accent piece that will become the focal point of your interiors.
.
Sideboards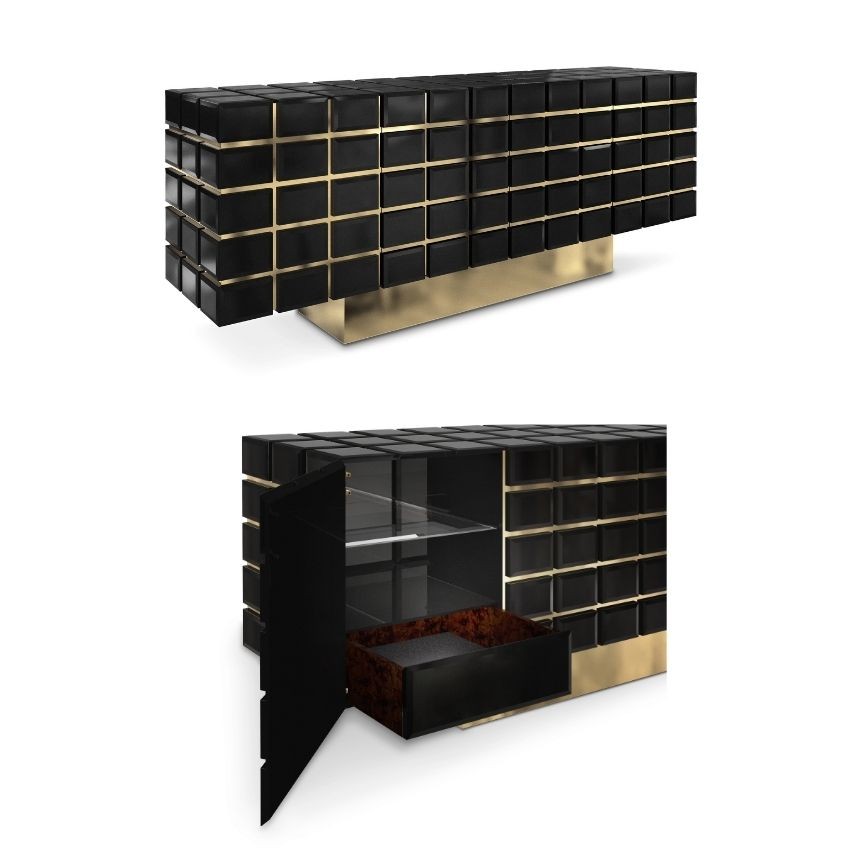 Sideboards are a fusion between the extreme of utility and the complexity of the simple design. Sometimes overlooked they can be the finishing touch that was missing in any interior, in addition to the storage for contents that you do not want to be visible, bring a continuation to the concept of the entire dining room. Drawing inspiration from the geometrical feat of the Nubian pyramids, like his cousin the Nubian Bar Cabinet, the Nubian Sideboard is a versatile piece fit for living rooms and elegant dining rooms or elegant. Made with high-quality wood and gold brass, it is the embodiment of luxury and an auspicious highlight in any ambiance.
.
.
Other Furniture Essential Decor
Matching Chairs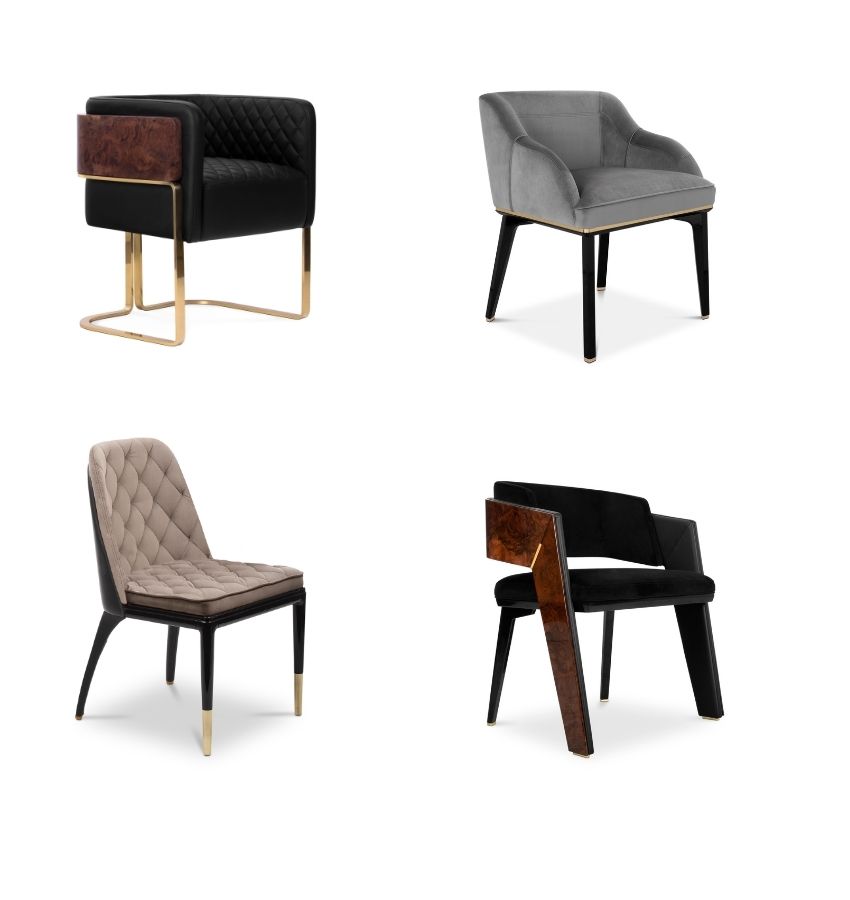 The design of the table will seriously determine the design of the matching chairs. If you want to go the easiest way, you can always choose a complete set without looking for matching items separately. In this selection, we see 4 different dining chairs, each with its unique style.
The Nura dining chair, featuring a uniquely shaped backrest, is the ultimate expression of cozy luxury. Shaped like a U, Nura is made of leather, brass, and wood and provides an embracing comfort only found in armchairs with the same shape. Ideal for cozy yet glamorous dining rooms and restaurants.
The Saboteur dining chair is here to bring that old noir movie scene vibe into any modern dining spaces, whether private or commercial. Made with the finest materials, velvet, and brass, the modern dining chair is a perfect blend of luxury and comfort.
The Charla II dining chair, designed in brass, leather, and wood featuring a soft velvet seat, this chair is a timeless piece of boundless elegance, ideal for a lavish dining room. Blending luxury and comfort into one, it is a focal piece in the Charla family collection.
The Galea dining chair is a glamorous dining chair that blends ancient with modern. It draws inspiration from a helmet worn by warriors in the Roman Empire and is brought to life through traditional production techniques. The result is a velvet and leather modern armchair, which elegant silhouette ensures it's perfect for upscale restaurants and modern dining rooms.
…………..
Mirrors
You can do a lot with mirrors in your dining room. A mirror is commonly placed above your buffet or console table or right next to the dining room table. In this image, a selected few mirrors from the large collection of Luxxu.
The Crown mirror more than just a simple piece of art represents a living tribute to beauty. The breathtaking combination of smoked black mirror and gold plated brass, challenges the notion of exquisiteness and breaks all the creative boundaries.
The Vertigo is a round mirror with a gold-plated brass frame. With a sleek design, the details on the framing grant Vertigo a classy appeal. It looks perfect when placed in a bedroom, over a vanity, or in a dining room.
The Orbis mirror was inspired by ancient times in history, adopting the same simplicity of the golden era. Creates an atmosphere of irresistible exposure and exclusivity, this creation aims to total immersion in sumptuously glamorous interiors and the gold color enhances the luxurious details present in its design.
The Empire mirror found its inspiration in the extravagant and vigorous Empire Collection. With its will to keep up with the Empire family high standards on exquisite and exceptional design, the Empire mirror's powerful lines are the result of an extraordinary precision of handmade techniques. Adequate to transform any space into a luxurious atmosphere.
.
.

.
.
.
⇒ Check our article  Living Room Essentials⇐
.
If you enjoyed this article regarding The Best Essentials for a glamorous dining room then make sure to check out our socials to find news, inspirations, and more interior design trends and ideas: Pinterest | Facebook | Instagram.
.
.