Penha Long Resort: Portugal's Relaxing And Luxurious Retreat – Penha Longa Resort is a one-of-a-kind hotel located in the heart of the Sintra-Cascais Natural Reserve. Not only for the natural beauty that surrounds it but also for its history, which dates back to the 14th century, LUXXU Blog decided to invite you to know more about this gorgeous resort in today's article!
---
See also: A New Era Set In Stone – LUXXU's Groundbreaking New Collections!

---
Come Discover More About Penha Long Resort!
The offer at this luxury resort is carefully thought out for the most diverse types of guests and types of stay, and luxury is experienced in a variety of ways. From accommodation to gastronomy, golf to wellness activities, there is a common denominator: excellent service, always with the ultimate goal of transforming all experiences lived there into one-of-a-kind moments.
Penha Longa Resort is a truly chameleonic five-star hotel located 45 minutes from Lisbon and 15 minutes from both the sophisticated town of Cascais and the romantic village of Sintra. With over 25 years of experience, it adapts and reinvents itself year after year, providing versatile and adaptable stays for a variety of audiences. If it is a popular destination for family vacations with children in the summer, it is the ideal setting for corporate events, conferences, and product launches in the winter. Autumn and spring are ideal seasons for golf enthusiasts, but any time is suitable for a romantic getaway.
The past and the present coexist at Penha Longa Resort: there are 220 hectares of a true historic sanctuary of European natural inspiration, where seven centuries of history, including that of Portugal, intersect. The property that now serves as the home of this five-star hotel dates back to 1355 and was once a refuge for religious orders, a land considered miraculous during the Black Plague, a holiday home for Portuguese royalty, the scene of hunts and summer vacations for dukes and duchesses, an agricultural estate of aristocrats, and even home to a Japanese family.
---
---
Penha Long Resort Is Ideal For Nature Lovers With The Best Of Luxury And Comfort Combined!
Aqueducts, fountains, gardens, walls, water mills, boulders, chapels, a 16th-century palace, and even a 14th-century monastery are just a few of the historical relics left by the various inhabitants who passed through. Without forgetting the protected fauna and flora that live there and are part of its more than 600-year history.
There are 196 luxury rooms with views of nature, two multi-award-winning golf courses, a spa with over 1500m2, four swimming pools, 25 event rooms (with capacities ranging from 10 to 600 people), a kid's club, activities for all tastes, and hundreds of hectares of gardens and mountains to explore. Openly a gastronomic resort, Penha Longa is also a true foodie's paradise, with nine restaurants serving a variety of cuisines, three of which have been awarded a Michelin star.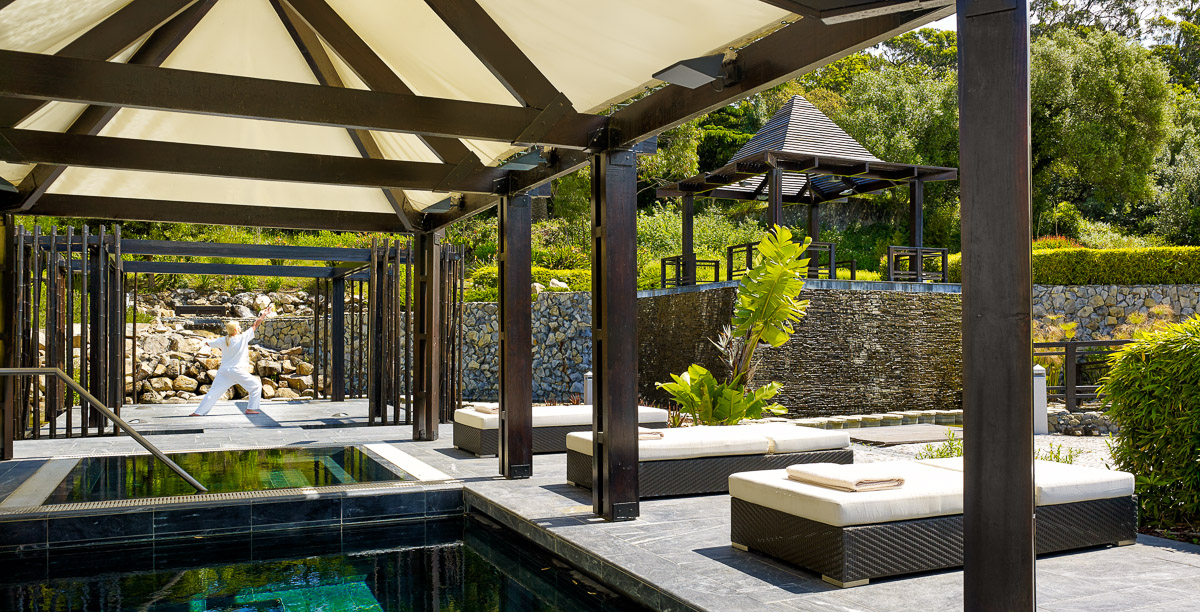 It is not an exaggeration to say that Penha Longa Spa is a haven of peace for the body and mind. Its 1500m2 physical structure was designed in accordance with Zen philosophy teachings. Natura Bissé, the prestigious luxury brand, ensures all personalized signature treatments and experiences focused on relaxation and well-being. Aside from the nine exquisite treatment rooms, the spa also has a relaxation room, a Jacuzzi, and a private outdoor contrast pool for spa clients, as well as gazebos and a contemplation garden to help you relax and enjoy the tranquillity of the space. Outside, there is also a meditation labyrinth made of Portuguese pavement and surrounded by water, which is unique in Europe.
Penha Longa is Portugal's only hotel with three Michelin-starred restaurants, establishing itself as a gastronomic resort. There are nine restaurants in total, seven on the property and two in Lisbon, offering everything from light snacks to Michelin-starred dining experiences. Lab BY Sergi Arola, Midori, Spices, Penha Longa Mercatto, Aqua, B. Lounge, Eneko Lisboa & Basque, The Chocolate by Penha Longa, and the Penha Longa Catering are among the options.
---
See also: Salone Del Mobile 2022: Get Ready For Modern Design Living's Novelties!
---
If you enjoyed this article regarding Penha Long Resort: Portugal's Relaxing And Luxurious Retreat then make sure to check out our socials to find news, inspirations, and more interior design ideas: Pinterest | Facebook | Instagram.