Hotel Zoo Berlin: A High-End Bundle Of Luxury And History – The former pride of Berlin's Kurfürstendamm, the Hotel Zoo Berlin, has been restored to its former majesty and splendor. If you're visiting this lovely city, this magnificent, historic hotel is without a doubt the best option. LUXXU Blog invites you to know more about this unique and luxurious hotel by reading today's article!
---
See also: A New Era Set In Stone – LUXXU's Groundbreaking New Collections!

---
Hotel Zoo Berlin Is One Of The Top-Picks If You're Visiting The City!
An extremely rare old gem that has been polished, re-creating the glamour of twentieth-century Berlin with the spirit of tomorrow. With 141 rooms and suites in the heart of West Berlin, Hotel Zoo Berlin combines history and modernity. Dayna Lee, a well-known designer based in New York and Los Angeles, designed the interiors of the hotels. LUXXU was smitten by such an awe-inspiring and jaw-dropping service and design experience.
The hotel is on a busy promenade in Berlin's City West. The hotel's new look was created by renowned American designer Dayna Lee of Powerstrip Studios. They have been recognized for their outstanding design work and have been involved in major projects all over the world.
She created a townhouse feeling that honors Berlin's traditions while conveying a sense of New York and London elegance by paying close attention to detail and preserving historic elements of the building. The goal was to preserve the building's historic features while maintaining the hotel's ancient charm because details make all the difference in an interior design project like Hotel Zoo Berlin.
---
---
Hotel Zoo Berlin Is The Perfect Experience For Those Who Love History And Luxury!
As a result, an already excellent hotel has acquired a distinct townhouse vibe, preserving Berlin's legacy while incorporating elements of New York and London elegance. This 1889 structure survived the WWII bombing. Visitors can enjoy beautifully restored high ceilings and original brick and steelwork, but its historical opulence was never lost, and it was perfectly immersed in a strong sense of modernity.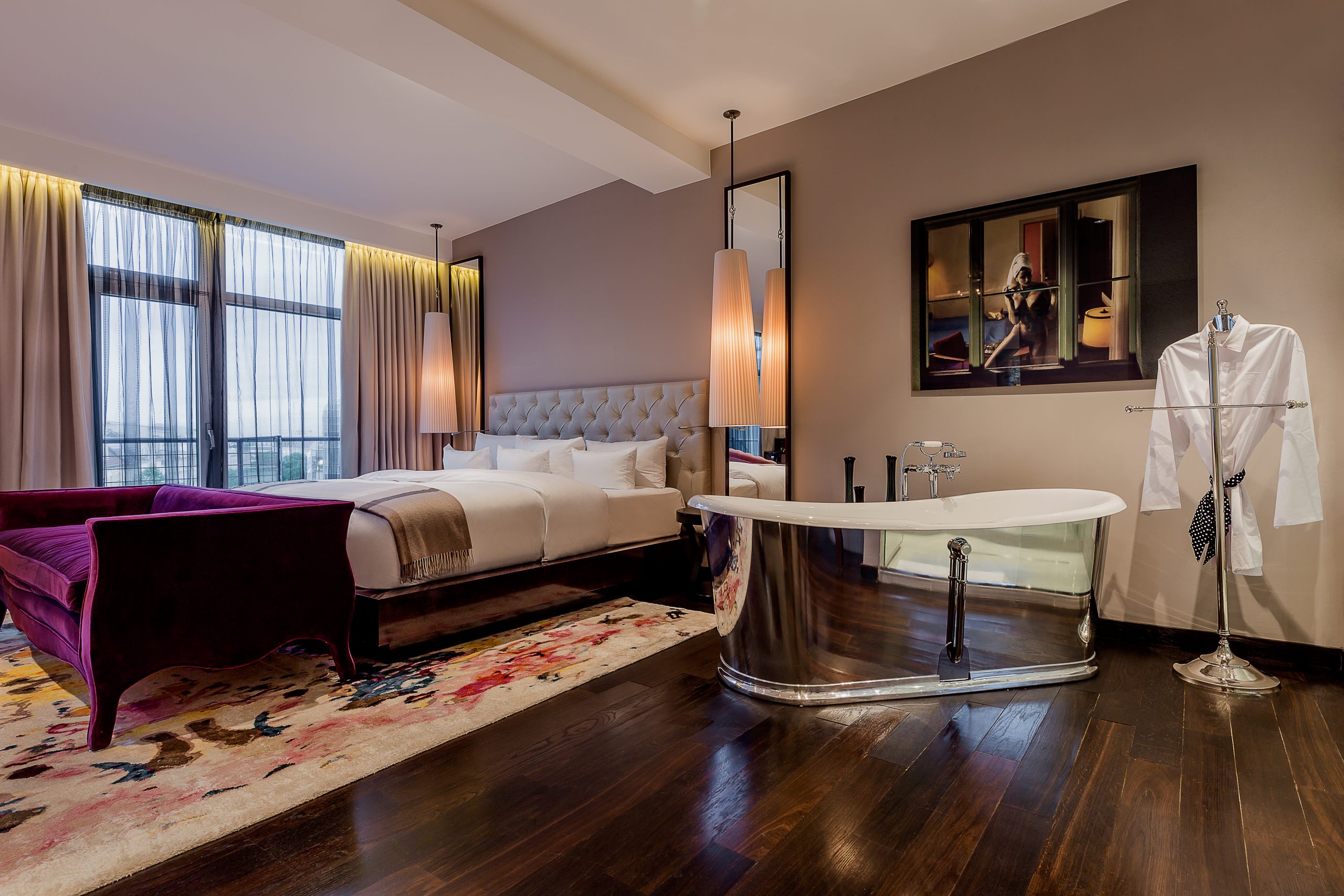 The 141 spacious rooms and suites feature customized furniture and a vibrant Berliner attitude, resulting in a quirky fairy-tale world within. With plush, thick drapes, exquisite carpets, George Smith couches, and large platform beds, contemporary and traditional elements are combined in magnificent harmony, creating a glittering atmosphere befitting of 1920s Berlin.
Among the classics at Bruhn's, such as the creamy rock shrimp and the out-of-this-world Maine lobster, the Wagyu beef with black truffle, soy, and sesame is one of Berlin's most memorable steaks. These dishes reflect the Chef's influences from international cuisine, resulting in marvelous, rich, and flavorful delicacies. Along with these classics, Bruhn is constantly inventing new dishes, so you'll be able to try something new with each visit.
The rooftop is the ideal spot for summer night lovers to enjoy a drink while admiring the most stunning views of southwest Berlin. LUXXU is blown away by the thoughtfulness and attention to detail, where design and architecture blend in magnificent luxury service.
---
See also: Salone Del Mobile 2022: Get Ready For Modern Design Living's Novelties!
---
If you enjoyed this article regarding Hotel Zoo Berlin: A High-End Bundle Of Luxury And History then make sure to check out our socials to find news, inspirations, and more interior design ideas: Pinterest | Facebook | Instagram.