To celebrate the release of the 2012 Grange, Penfolds asked the collaboration of the prestigious french glassmaker Saint-Louis to create a bespoke decanter worthy of the wine. As an acknowledgment of the service ritual long associated with its flagship Grange, the wine producer launched a six-liter imperial bottling of the 2012 Grange along with a crystal "service vessel": The Penfolds Aevum Imperial Service Ritual.
Designed exclusively for the only five 2012 Grange Imperial existent in the world, the hand-made crystal statuesque decanter precisely balances and elevates the property of the wine that stands as Penfolds most powerful expression. This is the first time Saint-Louis, who has been making handcrafted crystal objects in France since 1586, has collaborated with a global brand outside of Europe.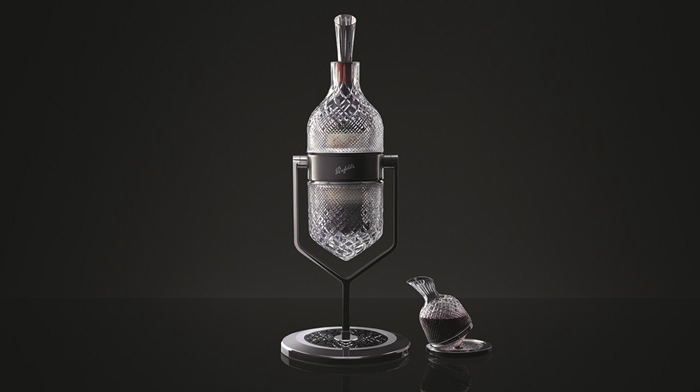 Delivering the ultimate service ritual is part of the renowned Australian wine producer culture and etiquette. The luxury "service vessel" collection pretends to celebrate the majestic theatre and tradition of decanting, by offering an unforgettable visual experience and sense of occasion.
A limited edition of smaller sculptured Penfolds Aevum Crystal Decanter, projected for the 750ml 2012 Grange, are also available. Each hand crafted decanter features the striking diamond cut signature of Saint-Louis.
The Penfolds Collection 2016 is already available globally and can be found at selected fine wine stores and Penfolds Cellar Doors. Treasure Wine Estates says that the pearl of the collection, the 2012 Grange, unfolds "layers of allure, plushness and character" and is "stylistically akin to the 1963 Grange, with a contemporary '2012' personality".
The Collection can be "opened and enjoyed now, or potentially over the next four or more decades", says Peter Gago Penfolds Chief Winemaker.
Make sure to never miss our lastest articles on luxury lifestyle by following us on Facebook and Twitter!
Covet on Tour by Covet House