Spanish architecture, like other European architectures, is very influenced by the arts and the rich history and past.

Spain
is home to some of the most stunning
architecture
in Europe. Which comes as no surprise considering the rich culture and history of the Iberian country. Its monuments and buildings are very unique and distinguishable and some are even considered historical monuments which are recognized all over the world. From the Romans to the Moors, and from Baroque to Renaissance,
architecture in Spain
differs a lot from
city to city
. But even cities have a wide range of influences, like Barcelona for example, with
Modernist buildings
and
gothic cathedrals
. Let's take a look at 5 very unique buildings that define this blend of styles in Spanish architecture!
See also: Top Inspiring Interior Design Projects in Barcelona
Santiago de Compostela Cathedral
Santiago de Compostela
Located in Galicia, in the North of Spain, this cathedral was built in 1211. The structure was built in Romanesque structure with later additions of Gothic and Baroque elements. The details on this building are insane and it's no wonder it's a
UNESCO World Heritage Site
.

Alhambra
Granada
The Alhambra is a palace and fortress complex located in the Andalusia region. It was originally built in AD 889 as a fortress and converted to a palace later in 1333. It was built during the Muslim rule of Spain and is the reflection of the culture of the last centuries of this rule.
See also: Top Diseñadores de Interiores En Madrid
La Sagrada Familia
Barcelona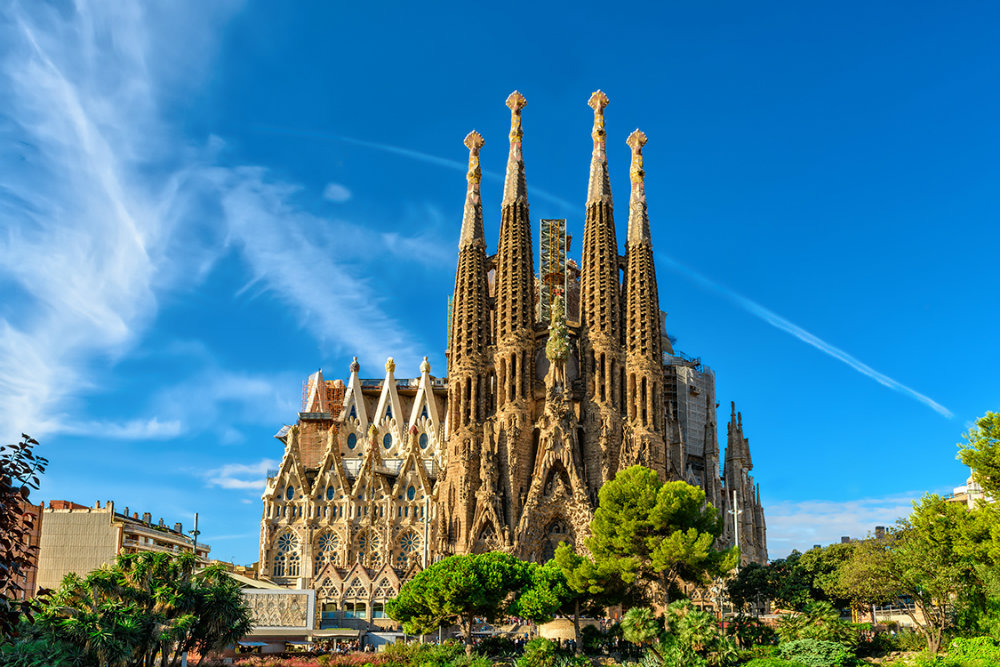 The most visited place in Spain, which attracts millions of visitors every year, had to be included in this list.
La Sagrada Familia
by Antoni Gaudí is one of the
most iconic buildings in Spain
that represents
Barcelona
, a city with some of the most unique architecture in the world, as the Casa Batló.
Plaza de España
Sevilla
The Plaza de España designed by Caidon Foz was built to showcase Spain's industry and technology exhibits. The architectural masterpiece is a mix of 1920s Art Deco, Spanish Renaissance Revival, Baroque Revival, and Neo-Mudéjar styles. The half-circle complex is accessible by numerous bridges, representing the four ancient Spanish Kingdoms.
See also: Best Interior Design Showrooms in Madrid
Guggenheim Museum
Bilbao
The
Guggenheim
Museum in Bilbao is one of the nine worldwide museums belonging to the Solomon R. Guggenheim Foundation. It's also one of the most admired works of
contemporary
Spanish architecture, demonstrating perfectly the blend of styles felt in the country.
See also: Bedroom Design – Wake Up Luxuriously In The City Of Lights
If you enjoyed this article regarding
5 Outstanding Buildings in Spanish Architecture
then make sure to check out our socials to find news, inspirations, and more interior design ideas: 
Pinterest | Facebook | Instagram.