Modern Luxury Sofas with High-end Design=> In today's article, we have gathered a series of modern luxury sofas that were curated by our modern design brand, LUXXU. With elegant sculpture sofas and upmost contemporary comfort designs, take a look at a series of inspirations that will certainly give you an idea on how you can modernize and upgrade your livingroom decoration, and ultimately create the perfect interior design!

Seccional Luxury Sofas
Sofas are the focal point of the living room and are the most essential pieces of a living room design and as such one ought to be careful when selecting, not only when it comes to style but also functionality and comfort. There are many shapes and sizes to choose from, but the key to choosing the best is when comfort and elegance are combined, through the best materials and finishes for a longlasting and always in style sofa.
The Thomson Sofa Living represents Luxxu's with a sophisticated design, with refreshing details, and above all bringing a luxurious and sensual atmosphere to the living room spaces.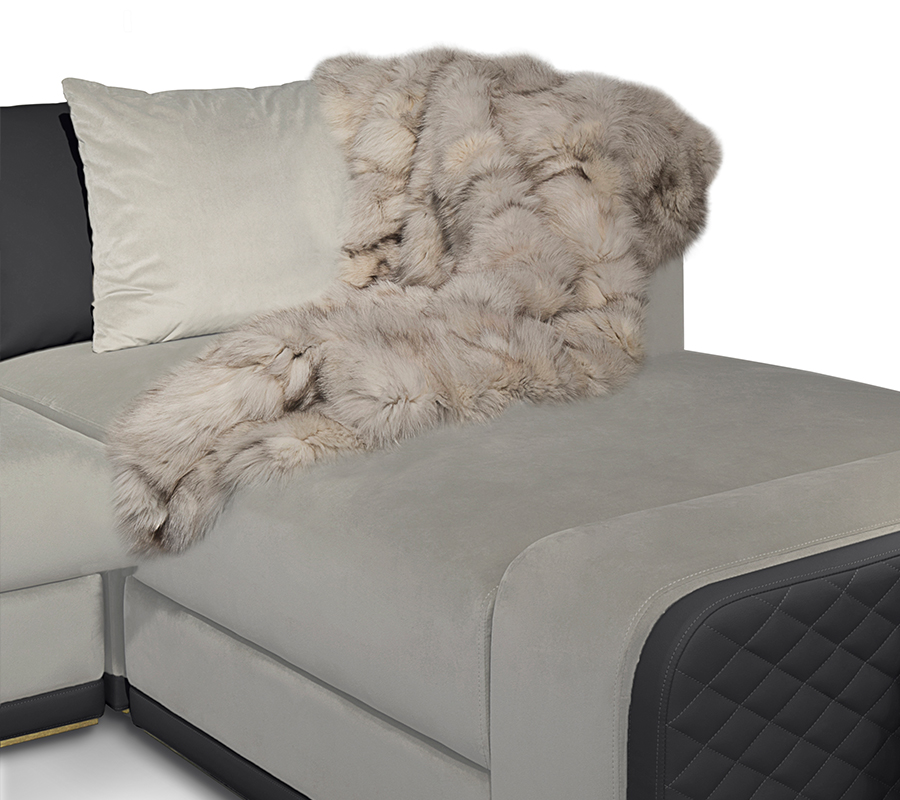 The mix of high end materials like leather Velvet, Brass, Glass & Wood chosen for Thomson Sofa is in fact what makes the sofa a unique option for any project.
Inspired by its peculiar shape, the Anguis sofa is a modular and adaptable Sofa, built to take a variety of profiles without losing its comfortable and luxurious facet.
The skin that covers it reflects the refinement of its manufacture and ensures high levels of strength and durability, while the lacquered wood conveys a sense of refinement in the details. A timeless piece built using manual processes, and high-quality materials, able to adapt to the most varied ambiances.
Sofa So Good by Marcel Wanders studio is a modular sofa system made of generous proportions and feather-like softness. It's made from the highest quality materials and combines smart design and ultimate comfort.
Designed by Vincent Van Duysen for Molteni C, Octave is a system of modular sofas featuring rigorous shapes. The source of Vincent Van Duysen's inspiration for his new project are those wide skyscraper windows that offer breathtaking views over cosmopolitan megacities while comfortably seated on inviting sofas and armchairs.

Fitzgerald Modular Sofa by brabbu is a furniture piece of your dreams, rounded and oversized, with a low backrest and a cockpit structure Inspired by the shapes of Italian architecture, this piece proves art and interior design come together once you have the right eye for it.
Contemporary Sofas
Contemporary Sofas are bound to set the mood and provide an elegant touch to the overall living room design.
Navis Sofa brings with itself the strength of an era. A symbol of courage and daring. The design meets comfort creating a strong but elegant piece.
This sofa puts together velvet, leather and a touch of polished brass in order to offer a discreet but sumptuous contrast.
Designed in leather with a brass and lacquered wood base, Charla Sofa is an item of boundless elegance. Timeless with a modern twist this comfortable sofa is ideal for living rooms, dressing rooms, or commercial spaces as boutiques.
The attention to detail is what makes Luxxu's sofas special and trully high-end. The craftsmanship behind every piece is outstanding.
Continuing the elegant Saboteur line, this sofa was created with the perfect combination between velvet and brass, merging into a true luxury symbiosis. Made with the best handmade techniques, this masterpiece gives the best comfortable touch to any exquisite look.
Evoking the old glamour of noir movies, the Saboteur is a classy velvet sofa for stylish living rooms or lounge areas.
George Sofa By Brabbu is a time travel to George Island, where the first church of Antarctica was proudly raised. A celebration of history through a distinctive piece.
The shapes of the Gogan sofa by Moroso are reminiscent of soft stones sculpted by the wind and water, massive but at the same time soft, on which to rest. As in the stone sculptures, where the stones are balanced by virtue of the joints and position, in the sofa the balance between the elements is given by the shape, not too regular: thanks to a play of gravity and balances, shapes that should be heavy can be light.
Nau Sofa by Brabbu was inspired on the first ships that crossed the Atlantic, it's a furniture piece that will bring the feeling of adventure and discovery to your living room set. Upholstered in cotton velvet, this fabric sofa features a unique and memorable design.
Koket's artisans have masterfully captured the alluring essence of an enchanted forest with this sofa. Its antique gilded branch like structure can't help but mesmerize the beholder. Fully upholstered in lux velvet, complimenting a cast brass oxidized gold plated frame.
Outstanding comfort was designed right into the Asolo sofa's DNA From Flexform. Its generous yet well-balanced proportions, couture upholstery tailoring and attention to even the smallest construction details are all unmistakable signs of the quintessential Flexform style, imbued with informal elegance.
Sherman by Essencial Home is a homage to the mid-century sofas, a touch of modernity, style, and the same high-quality materials and craftsmanship that are bound to make this a bestseller. Mid-century is the timeless trend to have in your home and this sofa brings it to you with polished brass and incredible velvet, delivering a journey through time straight to your home.
The Sunset Sofa is a modern and sculptural upholstered seating design with relaxed comfort in mind. Two knife-edge seat cushions wrapped in feather/down fill sit below matching knife-edge back and arm cushions. The bold and geometric silhouette features gently sloping arms and a high seat rail.
Odette Sofa tells the story of a princess turned into a swan by an evil sorcerer's curse, inspired by the Swan Lake Op. 20, ballet composed by Pyotr Ilyich Tchaikovsky. Its sweeping silhouette is accentuated with a polished brass structure and an asymmetric back offers a sophisticated design and timeless appeal.
Part of the Marco collection from Essential Home, Marco Sofa brings you the elegance of mid-century with the sophistication of modern techniques and stunning materials. Made for the most luxurious of living rooms, Marco never disappoints with stunning polished brass and glossy black feet and incredible upholstery that is easily customizable. It's the accent arms and beautiful unique design that make this a piece that is sure to become a bestseller.
The Soho sofa by Fendi Casa is characterized by an elegant structure that wraps around the maxi cushions, conveying a unique atmosphere of comfort and refinement. The leather buckle straps are aesthetic details yet functional connectors between the elements, celebrating the FENDI's highest expertise in leather workmanship.
⇒ Check our article  Empire your Home – Decorate like Royalty⇐
Two Seat Sofa
Inspired by the lavish seats in opera houses, the Opera Sofa encapsulates luxurious modern living. Upholstered in velvet with a leather panel in the back, this contemporary two seater brings a sophisticated touch to any stylish ambiance.  The smooth velvet finish ensure it's as comfortable as beautiful. It's available in a wide range of colors.
A mid-century modern design has never looked so posh as the Sofia sofa. Her two-seat, vintage shape is modernly revamped by KOKET with her plush curves being cupped by a lustrous, linear metal base.
Rainbow Sofa will bring magic to any kid's room corner. With its round and simple shape, this sofa is the perfect seating option to add to your room design.
Ether Cloud Settee has a simple genesis story: Jonathan Adler wanted to create a settee that looks and feels like heaven. The chic cloud silhouette and lozenge-like form are enveloping and inviting while gleaming brass stiletto legs add lift and polish fit for a formal parlor. Finished in luxe Olympus Ivory bouclé, it's ethereal, edgy, and oozing elegance.
Made by Circu, Inspired by the critically acclaimed Pixar's short animated film Partly Cloudy, this collection aims to reflect children's imaginary world. With it, you can expect your child to look upon it and travel across the threshold between reality and imagination.
A modern sofa that encourages confidence, taken from Dalí's compositions for Jean Michel Frank. A typical surreal interpretation of a piece of furniture extremely bourgeois and conventional.
The creativity and rich decoration of the Versailles Palace contributed to the inspiration for the creation of one of the most exuberant modern sofas, VERSAILLES by Boca do Lobo.
If you enjoyed this article regarding Modern Luxury Sofas with High-end Design then make sure to check out our socials to find news, inspirations, and more interior design trends and ideas: Pinterest | Facebook | Instagram.