Modern Dining Rooms: Take A Look At The New Luxury Book! – LUXXU is proud to present you with a book filled with luxurious dining rooms that exude the unique charm that only modern design can provide. Are you eager to learn about the art of dining while being surrounded by unique pieces and high-quality materials? Then start reading this insightful article by LUXXU Blog!
---
See also: Meraki Palace In Qatar: Feel The Modern Design With An Arabian Touch

---
Get Marvelled By These Modern Dining Rooms!
This modern dining area has a decidedly French feel, with conventional and antique-looking furniture ranging from baroque to rococo, and especially from the Louis XV period! The natural theme continues on the walls with a piece of fresh contemporary wallpaper that pairs wonderfully with Boca do Lobo's antique-looking Nº11 Dining Chairs.
Despite its prominent presence, the unique Beyond Dining Table integrates harmoniously with the rest of the room thanks to the white lacquer. Because an audacious customer demands an audacious piece of lighting, the Babel II Suspension's metallic sheen blends in with the ceiling.
---
We are immediately captivated by the dining room's exquisite and detailed decorations as soon as we walk in. The use of marble and darker tones like brown and gray contrasts beautifully with the gold embellishments that can be found throughout the pieces that were selected to feature in this room.
Any modern dining room is only as strong as its dining table, which is the room's center point. The Apotheosis XL Dining Table, which is huge in size and form, is paired with the Galea Dining Chair, an upholstery solution that balances a streamlined shape with dark hues. Because it is a striking and distinctive sculpture, the Pharo Snooker Suspension was chosen for lighting.
---
A stunning modern dining room that reminds us of the private rooms at Los Angeles' finest restaurants. 14 Charla Dining Chairs surround the spectacular handcrafted Littus Oval Dining Table with unlimited elegance, giving the entire area a Hollywood vibe!
The design of the walls and the overall environment features an amazing combination of marble and gold elements. The lighting, on the other hand, is more daring, with three Shard Suspension Lamps suspended from the ceiling above the eating area and two Shard Wall Lamps placed alongside the door to keep everything cohesive.
---
---
These Modern Dining Rooms Just Keep Getting Better And Better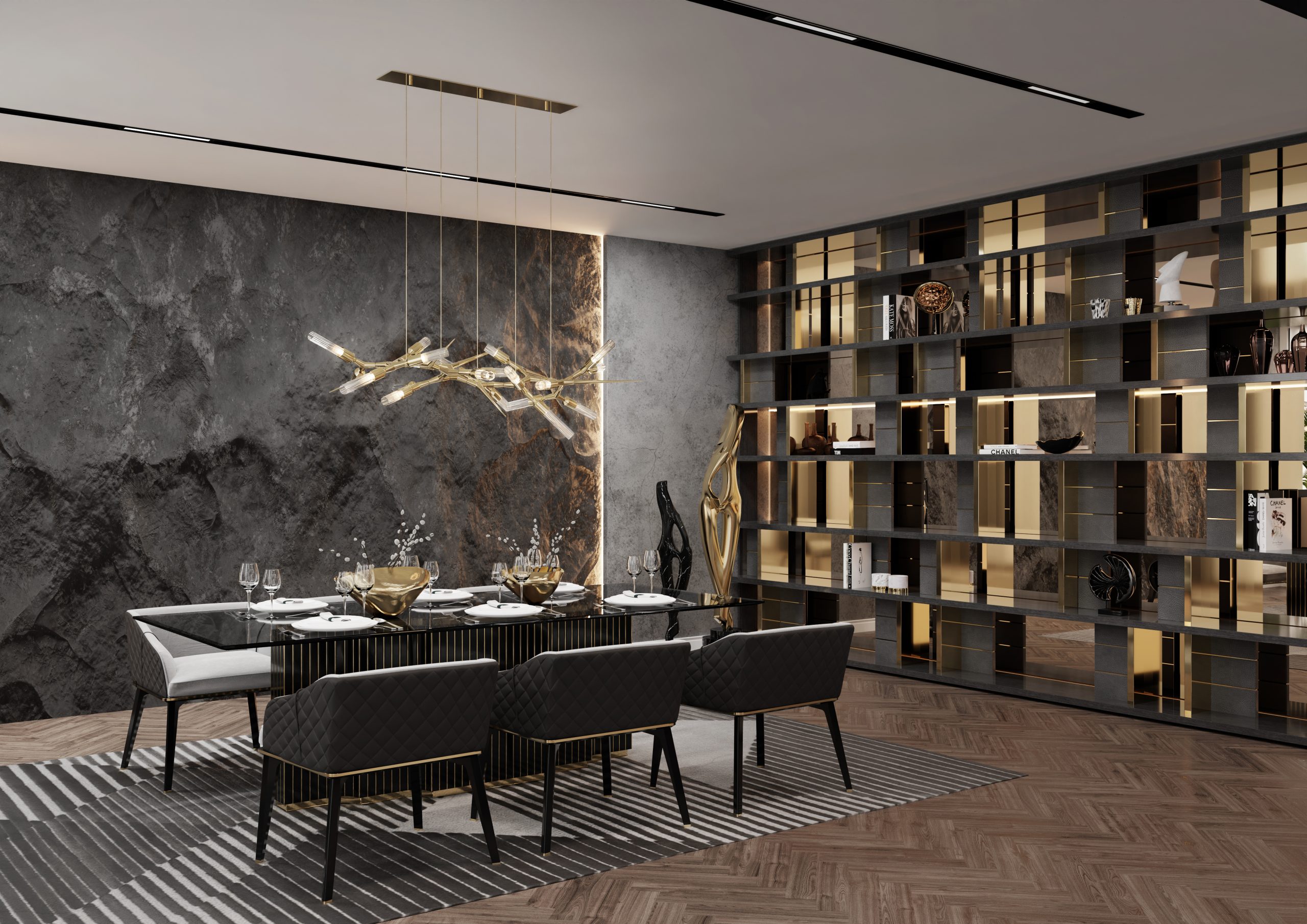 The Bellagio Dining Table is the perfect way to start off this modern dining room. This table was designed to be the ideal solution for any eating room, since it combines business and pleasure in a beautiful environment, and was inspired by one of Las Vegas' most recognized hotels.
When the Saboteur Dining Chair is put in any dining area, it quickly adds that classic noir movie scene ambiance and pulls the entire appearance together, making us feel as if we've stepped onto a stage, ready to take it all in.
---
This modern dining room has the most lavish and high-end furnishings to appropriately bring out the best of this property and convey the emotion to anyone who uses or visits it!
The Beyond Dining Table is the ideal dining table to pair with one-of-a-kind lighting like the Guggenheim Chandelier because of its distinct aesthetic and high-quality materials; this combination fully illustrates the amazing attractiveness of modern design.
In the background of this dining set, the Empire II Wall Lamp, a piece that provides the best illumination with maximum richness, and the Darian Sideboard, a design that blends functionality and elegance, add that extra touch of luxury.
---
---
See also: A New Era Set In Stone – LUXXU's Groundbreaking New Collections!
---
If you enjoyed this article regarding Modern Dining Rooms: Take A Look At The New Luxury Book! then make sure to check out our socials to find news, inspirations, and more interior design ideas: Pinterest | Facebook | Instagram.