Modern Bedroom Ideas You'll Fall In Love With! – We've gathered a collection of modern bedroom ideas for you in today's LUXXU Blog article! Take a look at a range of inspirations, ranging from rich furnishings and upholsteries to exquisite lighting designs, for ideas on modernizing and enhancing your bedroom decor, and eventually creating the perfect bedroom design!
---
See also: Magna Collection: The Elegance Of Natural And Raw Lines
---
Starting With Modern Bedroom Ideas By Incredible Interior Designers!
Give your trendy bedroom a foundation like this one from Iqosa. Low-slung platform beds have become a popular item of modern bedroom furniture, and they are available in a variety of styles and finishes. This one has an eye-catching red fabric covering the base and a low-level headboard attached. The russet tones are complemented by a copper and grey paneled feature wall making this one of the most trendy modern bedroom ideas ever!
Taking a look at these modern bedroom ideas by Spaces Architects, you too can make your way to a good night's sleep by coloring. In this bedroom, we are greeted by a sea of blue. a color that is relaxing and peaceful and that may help immensely in sleep and relaxation.
Install floor-to-ceiling wood paneling to make a tiny bedroom feel larger. Because of the great quality of the materials and the color palette chosen, the space appears larger and more elegant.
---
Some More Modern Bedroom Ideas By LUXXU!
For serious interior design enthusiasts, this is a wonderful bedroom. The gold accents dispersed across the space are gorgeous and combine perfectly with the collection of furniture inside it!
Inside the same bedroom, you can find a wonderful living space with well-matched colors. Because all of the pieces match, this area is very stunning and makes you want your own space inside your bedroom! Modern bedroom ideas like this one, are always welcome!
---
---
Ready For More Modern Bedroom Ideas By Other Luxurious Brands?
This piece's drawer handles are gorgeous and perfectly complement the room's golden tones! The colors go together beautifully!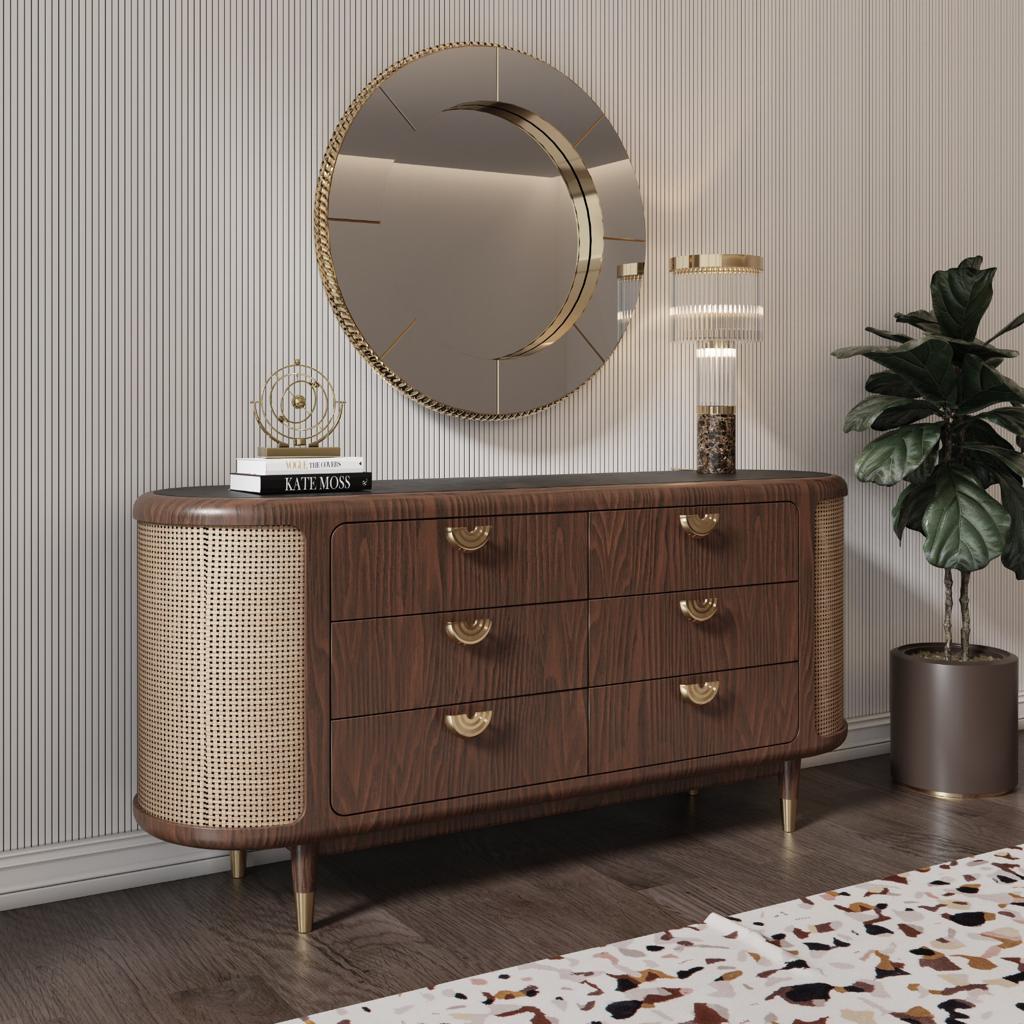 This ambiance shows the value of meticulous attention to detail. The drawer handles utilized in this artwork are incredible and it's the perfect example of how modern bedroom ideas can be unique!
The wall lamps within this bedroom match incredibly well with the unique bed. The piece's straight lines and colors compliment one another beautifully and make this room one of the best modern bedroom ideas out there!
The neutral color scheme is great for creating a relaxing and lovely bedroom. When you look for modern bedroom ideas, these are the perfect ones to look out for if you need a calming atmosphere.
With the gold embellishments, any space will look beautiful! What are your thoughts on the intricacy on this nightstand, which is topped with a lovely table lamp?
---
See also: A New Era Set In Stone – LUXXU's Groundbreaking New Collections!
---
If you enjoyed this article regarding Modern Bedroom Ideas You'll Fall In Love With! then make sure to check out our socials to find news, inspirations, and more interior design ideas: Pinterest | Facebook | Instagram.