We are back on track with 7 brand new designs in our Lighting Collection! Meet them.
With the reborn of a new concept in the beginning of this year, LUXXU turned its head towards furniture design with the launch of over 30 luxury items. Yet, the brand's successful lighting collection of crystal glass chandeliers and fixtures remained "untouched" for a few months in order to let the new image grow on its way.
This month we decided to go back to our roots. LUXXU's team of creative thinkers and designers, after many efforts, research and brainstorming, opt to return to the luxury lighting industry with 7 brand new designs.
All of these encompass new perceptions of previous lighting collections, adding a more contemporary appeal. Get to know each one of these masterpieces down below.
GALA FLOOR LAMP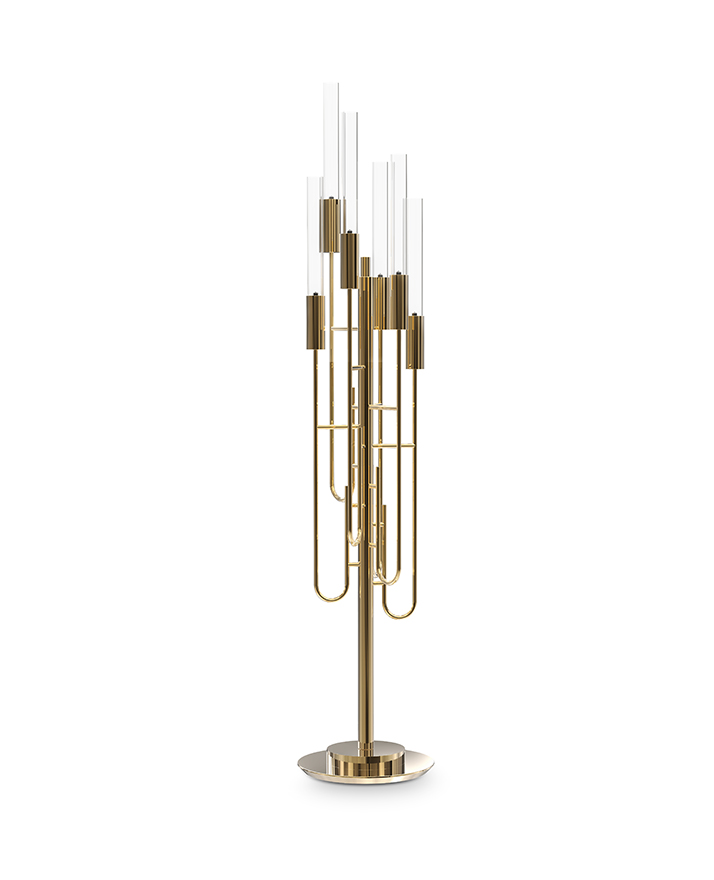 Gala is unique on its own, and the only one in its concept. Its irregular sleek shape includes a gold-plated brass base which supports a set of 6 elegant crystal glass cylinders. A luxurious floor lamp that promises to take a step further in interior design.
It is perfect to be exposed in a living room, lounge, office or hallway.
BURJ TORCH
Another addition to the Burj Collection is this charming wall lamp. A gold-plated brass circle supports three different structures. Each one of them is designed within a linear silhouette and features a single crystal glass cylinder on top. The middle structure is placed on a lower level to create an elegant outlook.
EMPIRE OVAL
The Empire Collection welcomes a new form. Empire Oval was designed to offer a stunning blend between classic and modern design. The top structure consists of gold-plated brass structures which are interconnected in an oval shape, supporting a set of crystal glass placed underneath. The result is a delicate contrast between these two finishes and materials.
BABEL SUSPENSION
The Babel Suspension encompasses three circular rings made in gold plated brass, all placed in three different levels. These rings function as support for a set of uneven-shaped crystal glass structures that follow its elegant aesthetic.
An exclusive lighting suspension that brings elegance to any luxurious ambiance.
WATERFALL FLOOR LAMP
The Waterfall Floor lamp features a series of tube-shaped crystal glass structures that create the illusion and fluidity of water falling. The body consists of three sleek gold-plated brass bars which are supported by a circular base platform made in Carrara Marble.
An impressive luxury item made by our most experienced craftsmen.
LIBERTY SUSPENSION
The elegant and sublime lines of the Liberty family are now encompassed in this luxurious lighting suspension. Its complexity and richness blends harmoniously, and is perfect for the ones who love attention to detail. Made in brass and crystal glass, this blending is a promise to enlighten any project with its superb elegance.
EMPIRE FLOOR LAMP
A statement floor lamp that will light up every room with its exuberant shape. An addition to our Empire Collection that is made in crystal glass and complemented by a gold plated brass standing base.
Read also: Lighting Brands to Watch For at Maison et Objet Paris 2017