Maison et Objet 2020: Discover LUXXU's Most Iconic Modern Designs

⇒ Take a look at some of the most extraordinary design products that will be exhibited by modern design brand, LUXXU

Maison et Objet Paris is the ultimate lifestyle and design event and we are just on the heels of a new edition. Taking place from 17-21 January 2019, the trade show will bring industry professionals and design enthusiasts alike in a grand celebration of design. This year, M&O Paris will be all about exploring new interior design trends in consumer behavior driven by the generations Y and Z.
Under the theme, "(RE) Generation" will break down their desires and expectations taking into consideration all the social and economic factors that these generations had to face. In this article, we are going to display a series of lighting and furniture designs that will be exhibited by LUXXU, Hall 8 Stand A16, promising to show everyone a daring living sensation and modern design at its finest.
---
⇒ See Also: Best Luxury Suites in Paris ⇐
---
LUXXU offers timeless furniture designs made from the noblest materials where an imperial sense becomes quite evident to the eye of its beholder. Below, you can find a cluster of pieces that will be exhibited at the prestigious trade show:
If you want to transform your living or dining room into a luxurious haven, then you desperately need to check out these glamorous pieces. Featuring a neutral tone, the Charla and Ocadia armchairs blend elegance and comfort to new heights. Galea, Nura, and Saboteur are some of the brand's finest dining chairs that will be showcased. Velvet and leather give a smooth yet upscale touch to any interior.
Charla armchair
Ocadia armchair
Nura dining chair
Prisma, Noir, and Armour will provide an extra layer of luxury, all of which highlight geometric shapes covered in soft black velvet and with gold plated brass finishes.
Prisma stool
Noir stool
In order for a living room to be complete, one must have exquisite side tables. This year, LUXXU will present a series of options, including Imperium, Vertigo, and Crackle. The first one was inspired by the classical lines of dramatic castles and great city walls, it has a lacquered wood structure embellished with gold plated brass and Nero Marquina marble. Vertigo is best characterized by its cohesive combination of marble, polished brass and smoked glass whereas Crackle has refined lines and unique use of geometric forms where opulence is the key.
Vertigo side table
Imperium side table
Crackle side table
Opera single seat sofa
Anguis sofa
Opera is one of the brand's main sofas that will be showcased alongside Anguis. The former has simple lines, soft velvet upholstery and a leather panel in the back that gives a lavish character to it. The latter is a modular and adaptable design dressed in synthetic leather and lacquered wood which conveys a sense of unmatched refinement. Lastly, the Tenor ottoman will appear in grey velvet and polished brass accents resulting in a highly stylish and elegant piece.
Tenor ottoman
⇒ Mirrors
In regards to wall mirrors, LUXXU always shows up with various extraordinary designs that are simply indescribable. Set to make an appearance are Vertigo, Scala, Athos, Empire, Majestic wall light, and Darian Gold just to name a few. All of these mirrors have their own characteristics, nevertheless, they do share one in particular: strong attention to detail.
Empire mirror
Vertigo mirror
Darian Gold mirror
Suspicion console
Made from the best handmade techniques the Suspicion and Beyond consoles are bound to be an impressive display of elegance. In addition, the Darian sideboard highlights an irregular shape with wooden and gold plated brass details.
Darian sideboard
What best defines the brand's lighting pieces is an unrivaled sense of luxury as well as a classic style with a modern twist. Here are a series of marvelous lighting fixtures and novelties that are bound to create a beautiful symphony in one's interior set.
Inspired by the stunning architecture of the Empire State Building, this series of lighting masterpieces feature an extravagant shape enhanced by gold and crystal details.
Brought to life through the combination of lush crystals and high-quality gold plated brass, the Babel II is the perfect fixture for bars, hotels or private dining rooms.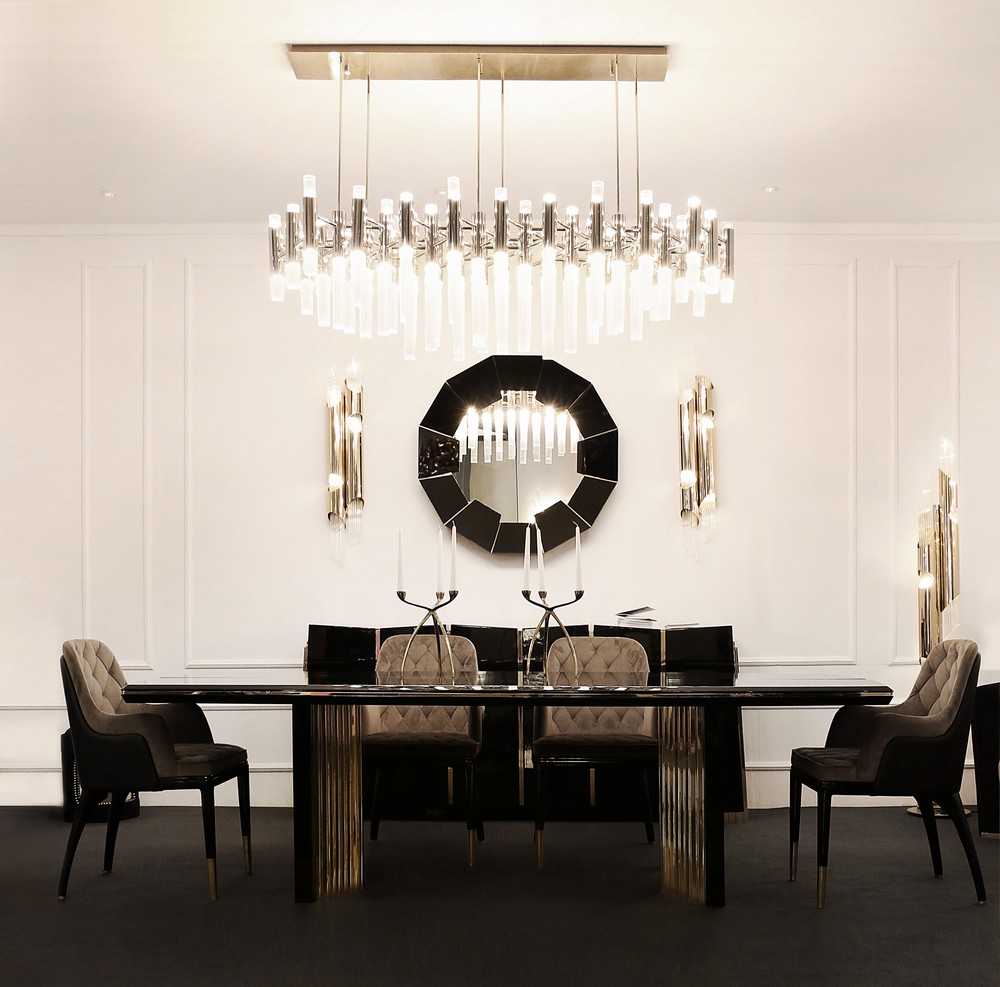 Waterfall is one of LUXXU's most superb collections. It was inspired by the natural sensation of waterfalls and each design is made of high-quality brass and handmade ribbed tubes of crystal glass.
This modern creation was designed as a new take on adjustable table lamps. It features a marble base as well as a crystal glass and gold-plated brass body.
Tycho Wall creates a cosmopolitan luxury environment that conveys an intimate mood.
This masterpiece is the touch of luxury needed to create a prestigious ambiance whether it is exposed in a lounge or a hallway.
The Majestic Suspension takes the form of two delicate lighting fixtures whose golden plated brass and crystal glass cylinders create an outstanding and exclusive design.
The Pharo series could be best described as a representation of the architectural lines of lighthouses. The particular lighting design depicted above features a marble base that supports delicate crystals topped with a brass plate.
Inspired by one of the most iconic hotels in the world, the Burj Al Arab, this piece is a combination of modern age and luxury with a highly decorative purpose.
Made of brass and crystal glass, this harmonious wall fixture features a decorative brass frame and accents that grant it a modern touch.
As a whole, if you pay a visit to LUXXU's stand you are bound to find some of the most versatile collections of furniture and lighting designs. Make sure to attend the luxury lifestyle and design event, Maison et Objet 2020 and be marveled by the greatest interior design ideas.
---
⇒ Related Article: Best Restaurants To Try in Paris in 2020 ⇐
---
♦♦ If you enjoyed this article about Maison et Objet, you can find more interior design inspiration in our Pinterest boards, Facebook and Instagram pages. ♦♦