Discover what to expect from LUXXU at Euroluce! The luxury lighting brand will be participating in the 58th edition of iSaloni Milan with a unique exhibition.

Salone del Mobile, or iSaloni, is an annual event that happens in Milan. This year is also the year of Euroluce, an exhibition that happens every other year and brings the best of lighting design to Milan and to the most important event in the interior design world.
LUXXU will be participating in both events, iSaloni, and Euroluce with two different locations. Find the sumptuous lighting collection at Hall 11 – Stand G22 and a luxury furniture collection at Hall 4 – Stand E08|E12|D07|D21.
What to Expect from LUXXU?
For the first time, we are going to exhibit our entire lighting collection in a tradeshow – which means that we'll be taking most of our chandeliers to exhibit at Euroluce! Granting visitors a 360º experience in a booth that will stand out thanks to its central piece, a crystal chandelier that stands 4 meters tall.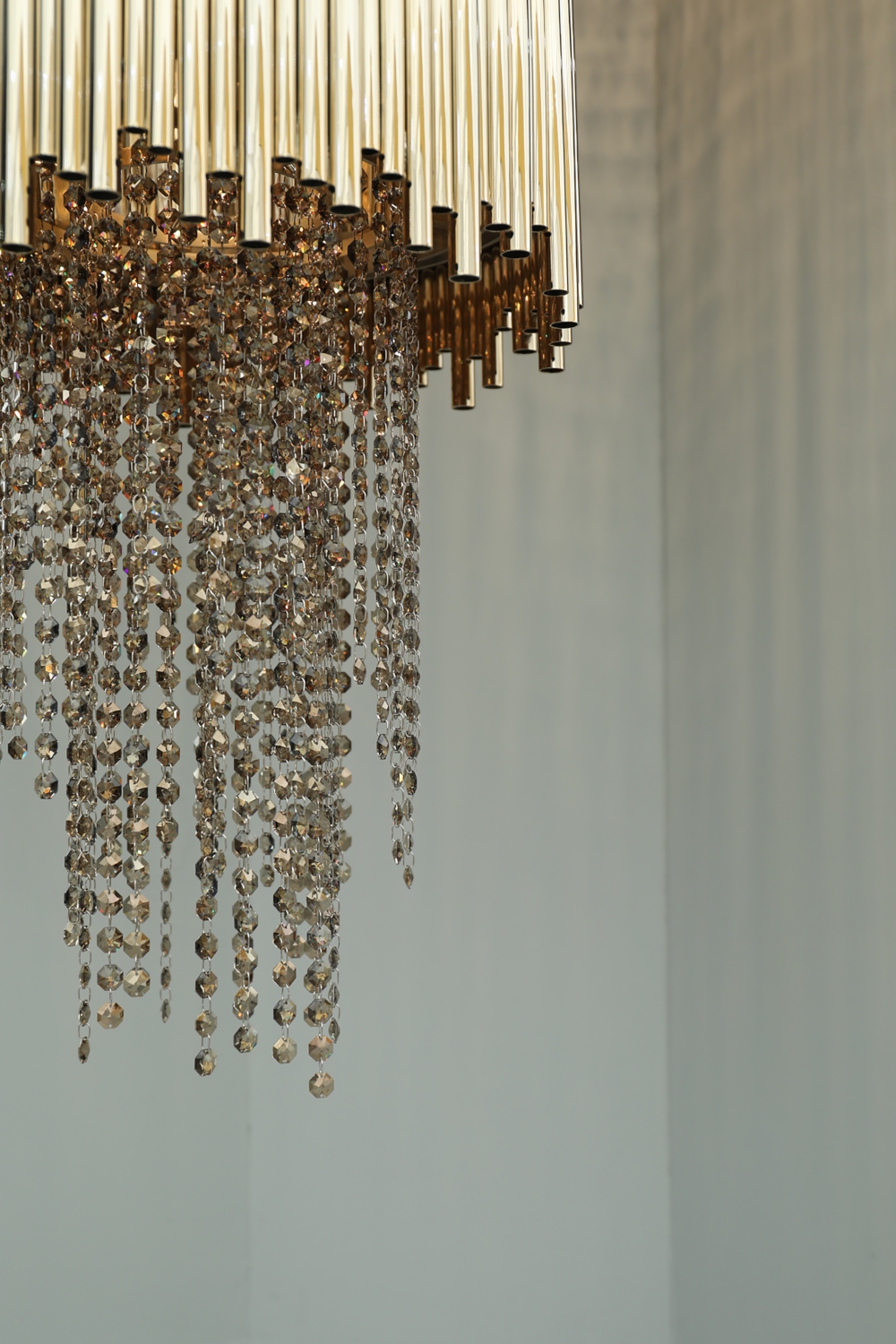 Bringing both new lighting designs and the iconic fixtures that have defined the brand in its five years of existence, LUXXU will once again evoke its mission – redesign the definition of art through modern and exceptional design.
McQueen II Chandelier

As dramatic as ever, the McQueen II is born from nature's elements that have always inspired the collection. An homage to the late fashion designer and his bold statements, the brass chandelier features handmade brass leaves and is finished with Swarovski crystals, A savage beauty that is the ultimate expression of luxury.
Pharo Collection

Presented to the world during Maison et Objet 2019, the Pharo collection is an interpretation of the robust yet simple architecture of modern lighthouses. Made with crystal and brass in tube shape this collection's lighting fixtures (chandeliers, suspension, floor lamps, table lamps, wall lamps) are a beacon of light to rupture of the darkness.
Empire Collection

As the most iconic collection, the Empire never fails to impress. Inspired by one of the most famous buildings in the world, the Empire State Building. This exuberant collection presents the lighting world with extravagant shapes, with layers of brass and vintage-inspired crystal glass. The ultimate expression of luxury and style in the lighting design world
Did you know?

Since its release, the Empire XL has never been presented in a tradeshow. This year's edition of Euroluce marks the first time the 4 meters crystal chandelier is being exhibited.
Now you know what you can expect from LUXXU at Euroluce.
However, LUXXU will also be exhibiting at Hall 4. There we'll be displaying not only our best sellers but also many novelties that together create a unique concept of a penthouse decorated by LUXXU and LUXXU Home.
You Might Also Like
Discover The Best Lighting Exhibitors At iSaloni 2019