Luxury Décor Pieces To Complement Your Luxury Interior Project⇒ All interior designers look for that special piece that finishes off any project they are developing. In a luxurious space such as a living room entryway or even a luxury store, that extra touch of creativity and functionality comes with some extra luxury decor pieces. That's where complement pieces like tv cabinets, screens, and even displays come in to make an extravagant design useful. In today's article, LUXXU Blog showcases 25 complementary pieces for living areas!
An anthem of sophistication and exclusive design. The Apotheosis TV Cabinet is a defining presence and will change any room it is part of, creating a glorious atmosphere around it. A daring, yet elegant balance between the finest materials, Nero Marquina marble, gold plated brass, and black lacquered wood.
Possession of furniture with gold and silver leafing symbolizes wealth and prosperity. It was a status symbol in those ancient times that inspired our present furniture makers who adopted the concept of gold leafing. Boca do Lobo's talented designers and master artisans created this highly desirable statement piece that is jewelry for the home.
DIAMOND SCREEN BY MARCEL WANDERS FOR LOUIS VUITTON
A part of Louis Vuitton's Objets Nomades, the 'Diamond Screen' (2017) is a room divider that combines geometric leather modules that can form versatile open, closed or see-through partitions.
The elegant lines of the Vertigo Collection are the proof of ultimate design. The column display strikes a pose and becomes the perfect luxury display for collector items, art, or watches. Made of gold plated brass with a marble top, Vertigo exhales luxury.
Koi carp is a recurring symbol of Japanese culture. Its natural colour mutations reveal their capacity to adapt, just like the KOI Folding Screen which fits in any modern home decor. The KOI scales from the sides of the folding screen shine and reflect the sun on its brass surface. KOI means love and affection so the carp is also a symbol of love and friendship which will be conveyed into a modern home decor.
For more Luxury Décor Pieces click Here.
Produced in solid walnut wood, this refined 3-panel room divider is accentuated by a polished brass frame and brass holes that let you glimpse into the other side.
SEATTRAL SCREEN BY PORUS STUDIO
Inspired by Seattle's Public Library, this indulgent addition channels a divine decadence and is evocative of art deco as well as Hollywood regency styles.
Inspired by Empire State Building's architecture, the Empire column display takes the same empowering and passionate aesthetics in its design. A luxury item capable of providing a classic yet modern feel to any space with its stunning gold plated brass and Nero Marquina marble. Perfect for classic entrance halls and livings rooms.
PARAVENTO BALLA BY CASSINA
This wooden screen is based on an original tempera and pencil sketch on paper by artist Giacomo Balla. Today, Cassina revives this brightly colored accessory to divide and complete the various areas of the house with real artistic touch.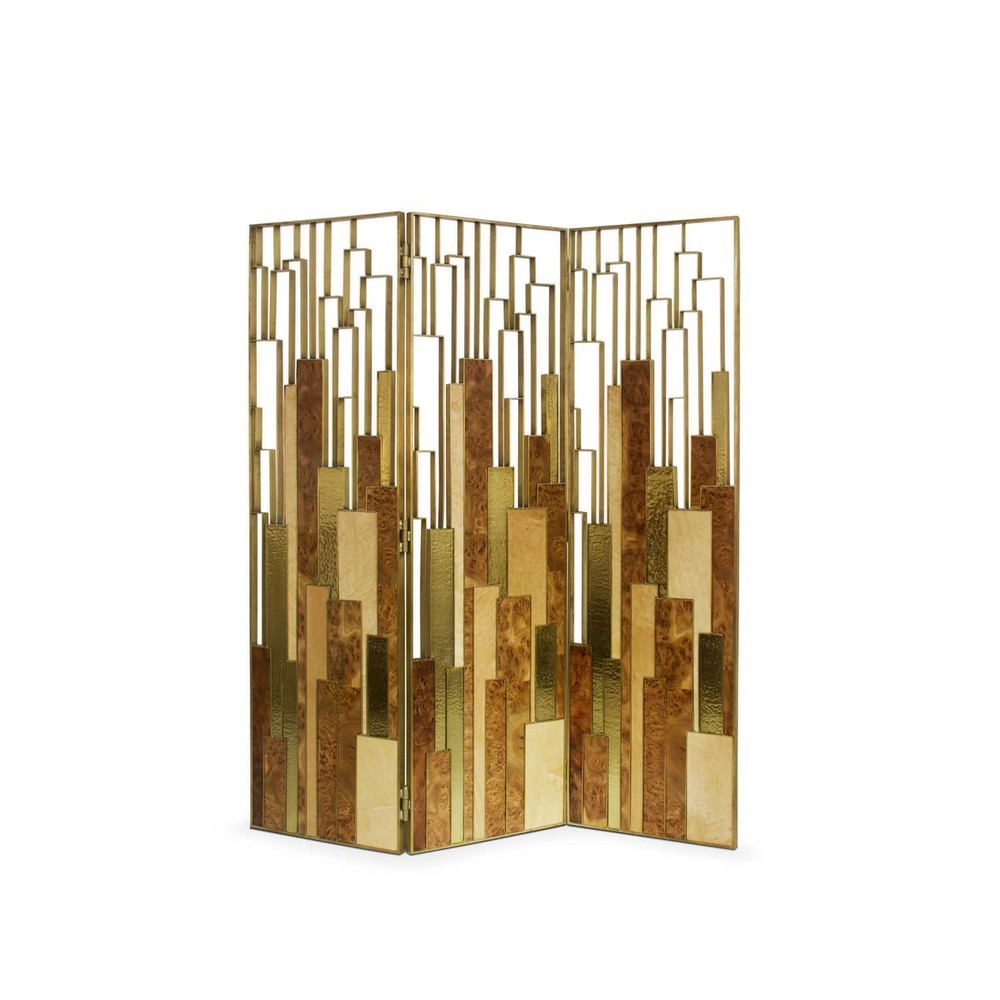 Back to a world of magic, Delphi, ancient Greece's holiest site, prophesied the future of kings and countries. DELPHI Screen brings oracle to life through its bird's eye wood veneer, glossy elm root wood veneer, and polished hammered brass. This folding screen is sure to impress.
Delta Screen explodes with a dramatic but elegant black, noting a sensual geometry in the flow of the four panels. This unique folding screen is perfectly wrapped in polished brass & black lacquered wood and adorned with black leather. Unleash the reality of the unforgettable and addictive taste of uniqueness.
MONK SCREEN BY HOMMES
Separate any space in an art deco decadence with the Monk Folding Screen. Carefully artisan-crafted from solid wood with pleasing upholstery panels, the Monk would be perfect for creating a quiet corner of seclusion.
Lapiaz TV cabinet takes exceptional craftsmanship and design to a new realm. Finding beauty in the most unexpected places, this contemporary design piece is inspired by authentic karst formations created by surface dissolution, freezing, or thawing of limestone or dolomite rocks. Its organic features are achieved through the manual fitting of polished brass, and a sharp finish in polished stainless steel that portrays a perfect mirror.
MANTICE SCREEN BY BAXTER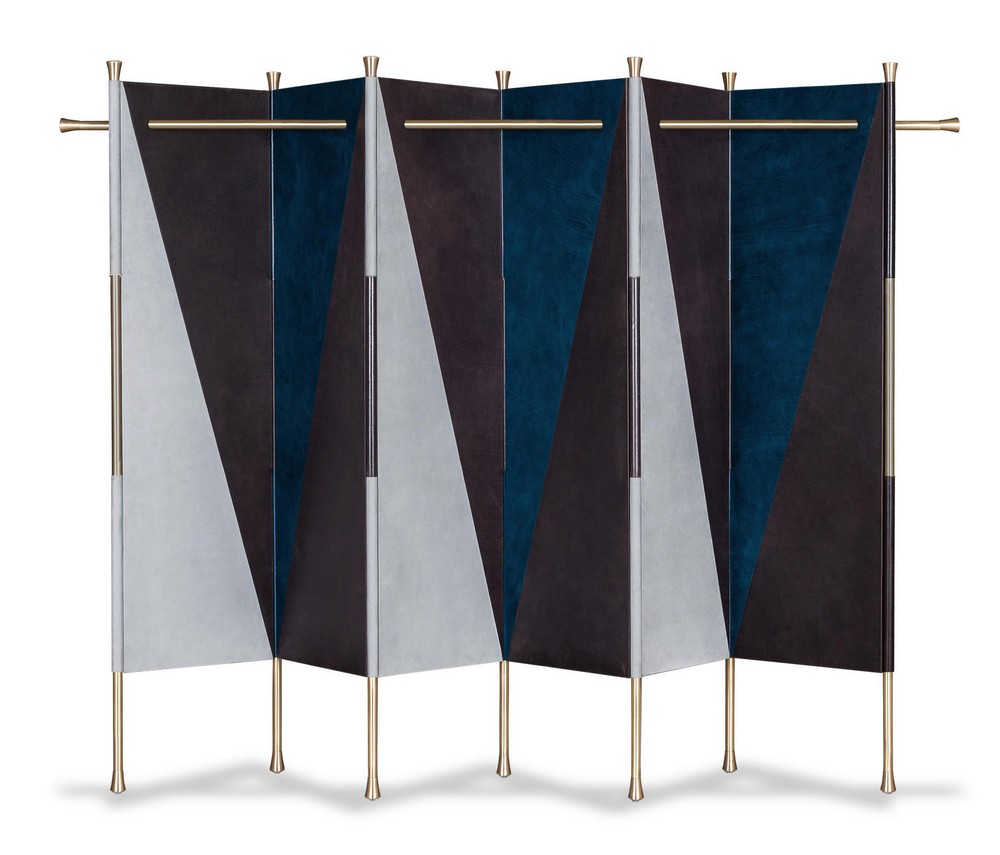 Designed by Pietro Russo for Baxter, Mantice features a tubular satin brass frame. Paneling with 4 or 6 modules in birch multilayered wood, matched with the aluminum leather-covered thin layer.
Gentle curves of dark bronze undulate to create the Simone screen's charismatic form. A bold yet subtle work of art, Simone's soft panels of upholstery and elegant panes of antique mirror are sure to bring the allure of vintage glamour to any space.
WAGNER TV CABINET BY EICHHOLTZ
Thanks to a dark metal frame, this piece exudes personality. It would sit well amongst an industrial-styled living room. The piece boasts modern lines and mocha oak veneer accents, which add even more warmth to the feel of the unit.
The precious crossing curved brass frame of this beautiful screen, named after Giulietta Masina, creates an elegant dialogue with the upholstery – deep yellow or peacock velvet combined with a fifties' taste fabric.
PAINTING BY ALESSANDRA BALDERESCHI FOR DE CASTELLI
A large screen designed as a theatre curtain represents imaginary natural landscapes on both sides: a night sky and the outline of a series of hills. The chromatic variations obtained thanks to the different surface oxidations resemble the colours of a painting on canvas, with the resulting image becoming a stage backdrop.
If you've always imagined your projects with exquisite details this Empire folding screen donates a deluxe feel to the most stylish spaces. The three panels are made in smoked mirror and gold plated brass. The Empire folding screen is not only important for decoration but these partitions are also convenient to divide spaces. The ultimate luxury for a dressing room by providing privacy.
PADDOCK TV CABINET BY CATTELAN ITALIA
TV stand in lacquered graphite (GF69) or white (GF71) embossed wood with drawer in Canaletto walnut (NC) or lacquered black (GF73) embossed wood with drawer and lower shelf in burned oak (RB).
Grand Canyon is one of the seven natural wonders of the world. In an attempt to reinterpret its magnificence, the CANYON Screen was created. It features a structure in brass with three tones of matte patine and nails in aged gold. This room divider will make a statement in any modern interior design.
ICONIC TV CABINET BY THEODORE ALEXANDER
Boasting glorious, glamourous tones of gold alongside mesmerizing marble and indulgent veneers, the Iconic range is a refined choice for the divinely designed interior.
Fascinated with all things wild, from exotic wood textures to the delicate butterfly silhouettes, the intriguing Euphoria screen captures the mystic and seduction that lies behind the wings of a luxurious butterfly.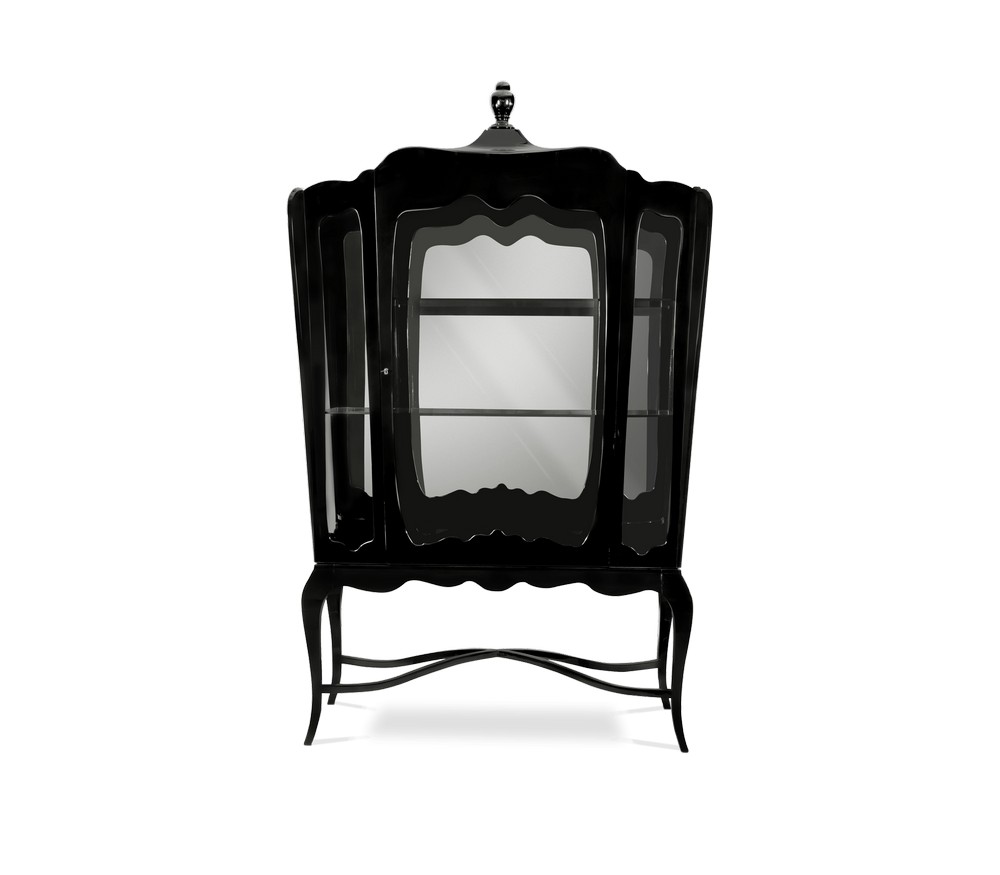 Palace is a reinterpreted object and a delicate piece with a strong presence that builds the imagination of those distant times. Its frame surrounds four glass panes, supported by a base that emphasizes the spirit of the piece. Elegantly crafted from mahogany this piece creates a refined ambiance for any modern entrance or dining room.
ACQUARIO BY LISSONI & PARTNERS FOR PORRO
Ideal for the home as well as for the most elegant shops, Acquario is the central drawer unit, perfect in the middle of a room, made in transparent glass with burnished brass profiles; it is divided into 3 shelves and is equipped with wooden trays in order to leave the contents visible, store them in perfect order and then extract them with ease.
< ?php get_footer(); ?>
⇒ Check our article  Empire your Home – Decorate like Royalty⇐
If you enjoyed this article regarding Luxury Décor Pieces To Complement Your Luxury Interior Project then make sure to check out our socials to find news, inspirations, and more interior design trends and ideas: Pinterest | Facebook | Instagram.