Lady's Closet – A Guide to Paradise ⇒ Every woman dreams with the ideal closet, organized by colors, a lot of storage space, and with a luxurious and elegant aesthetic. Could it be that difficult to achieve the perfect lady's closet?
The Perfect Lady's Closet
When it comes to closets design, every woman experiences the same dilemma: have an organized space with a beautiful and elegant design, either having a dressing room, a walk-in closet, or even if you place your wardrobe in your bedroom. There are many options to closet design, as showcase your shoe collection or even put a vanity to create a boudoir ambiance. So, here's a guide for achieving the perfect Lady's Closet. 
Luxurious Storage Solutions
A Functional Closet
Choosing a wardrobe is a challenging task as there are so many options in the market, and it's the main piece of any dressing room. However, modular designs are always a reliable option since it allows various combinations to fit suitably into your space. After choosing the type of closet design, it's time to consider the materials. High-quality materials endure the most. So, wich wardrobe is ideal for a Lady's Closet?
High-quality materials? The Waltz Closet by Luxxu is made with the finest materials, such as walnut root veneer, leather, lacquered wood, brass, and smoked mirror. Furthermore, it offers a fully customizable organization system featuring shelves, rods, and drawers. A soothing system for a Lady's Closet, don't you think?
An elegant dresser
Dressers are also an excellent alternative to save your clothes. You can pair the Waltz Closet by Luxxu with the Waltz Dresser, or place it solo in your dressing room or bedroom. It has eight spacious drawers adorned with brass hardware. A Lady's Closet will benefit from its elegant design. Here organization isn't a problem.
Our Waltz Valet Stand is also a sophisticated solution to storage. It provides three hooks for ties, scarves or belts, a shoe rack, brass bars for trousers, and a drawer. So, storage isn't a problem in a Lady's Closet!
.
Create a boudoir ambiance
High-quality upholstery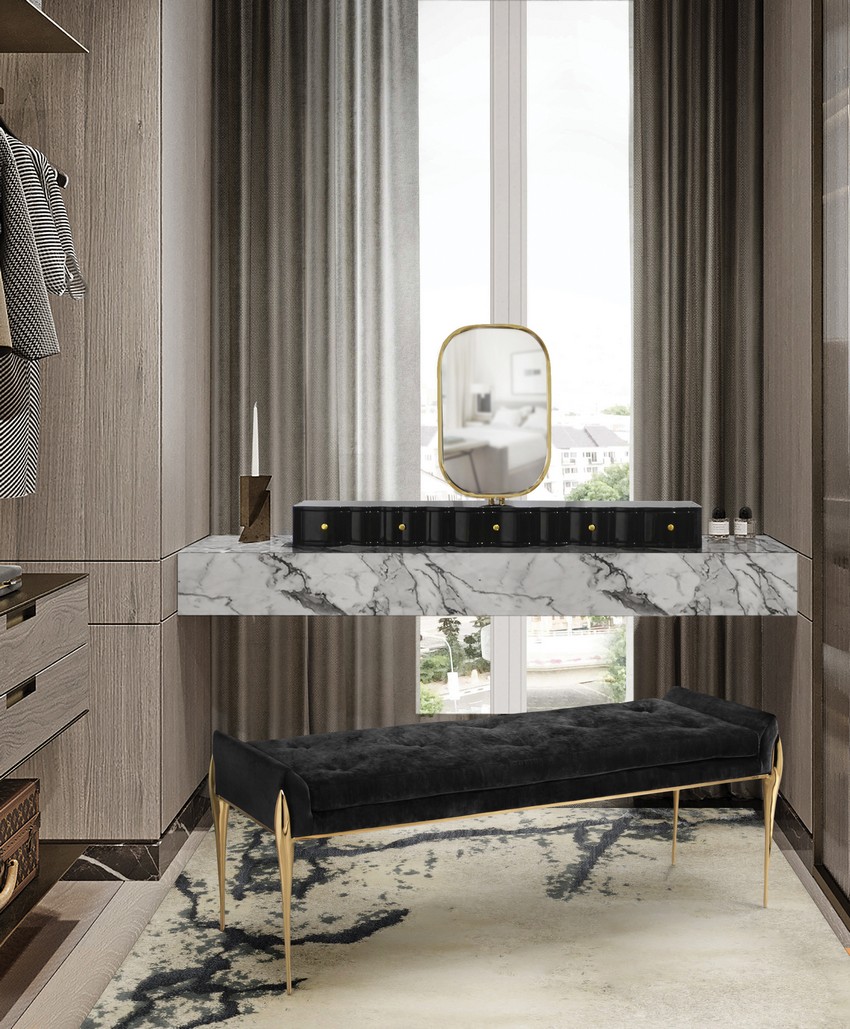 A dressing room or a walk-in closet asks for a beauty area, like a vanity room, creating a boudoir ambiance. A bench with high-quality upholstery can add the ultimate glamorous aesthetic. Let us introduce you to the Stilleto Bench by Maison Valentina. It has brass stiletto legs inspired by high heels. A feminine piece for a luxurious closet – a Lady's Closet.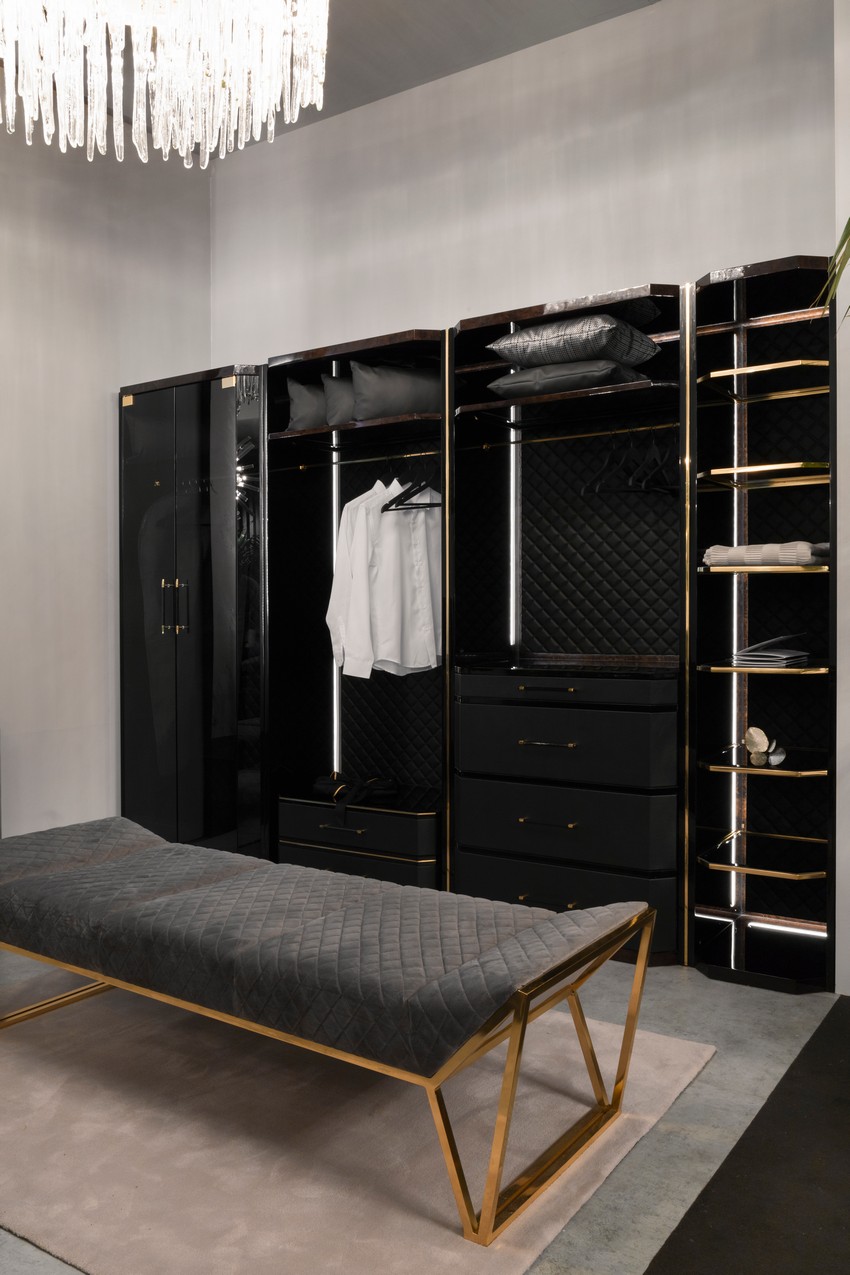 An ottoman could be handy in a Lady's Closet to upgrade the decor. The Prisma Ottoman by Luxxu is meticulously handmade with high-quality materials, and it's hand-sewn individually by expert upholsterers.
Exquisite Dressing Tables
Well, a boudoir ambiance wouldn't be complete without a dressing table. A lady can plan her outfits, and still do her make up in the same room. The Symphony Dressing Table by Maison Valentina was inspired by church organ tubes, and it plays beautifully in a closet. It has five small drawers and a round mirror, ideal for storing your jewelry collection. Storage and charm combined for a Lady's Closet.
A magnificent mirror
A massive and magnificent mirror is a must-have piece in any closet, and mandatory in a Lady's Closet. Either way, how would a woman check her full look before leaving the house? A dressing room design can benefit from its design since mirrors make small spaces larger, and dark rooms lighter. So, a modest closet improves with a magnificent mirror. Check the Athos Mirror by Luxxu, a modern mirror beautifully crafted with a leather and brass frame. The giant Athos was the main inspiration for this design since the Greek Mythology figure had a tremendous value in the first appearance of the titans. Athos is a powerful mirror as its influence, still, despite its dimensions, is an elegant choice and steals all the attention. 
 Unique Design Combinations
The Philosophy Art Studio designed this contemporary closet design. This master bedroom wardrobe has an ingenious design since it mixes the closet area with the bathroom. It combines a classic style with a modern solution design beautifully. The Eden Freestanding by Maison Valentina creates a luxurious ambiance.
.

.
Luxurious Lighting
A Masterpiece Chandelier
Lighting is everything when it comes to coordinate outfits and to check your look. An elegant and luxurious closet demands an impressive chandelier. A neutral color scheme gains with its design. Check the Empire Chandelier by Luxxu. It creates an exclusive atmosphere thanks to its vigorous personality.
Refined Wall Lamps
Wall lighting can be a simple yet elegant way to upgrade your dressing room design. Since a Lady's Closet requires an outstanding illumination, wall lamps can be the answer to fulfill both demands. You can place wall lamps above your dressing table to enhance its beauty and while at the same time furnishings the walls. The Waterfall Wall by Luxxu is an elegant and modern piece made of gold plated brass and handmade crystal glass tubes. Its design adds sophistication to the ambiance. The Sinuous Dressing Table by Maison Valentina pairs beautifully with the Waterfall Wall creating a luxurious environment, fitting of a Lady's Closet.
.
.
 All details matter
Classic Hangers
You can't talk about closets without mentioning hangers. It's common to underrate and depreciate this object. However, it plays a crucial part in a closet. Instead of replacing hooks regularly, it's possible to purchase high-quality and customs holders. A Lady's Closet demands noble pieces. So, let us introduce you to The La Maison Le Cintre W. This company offers a high level of customization when it comes to clothes hangers. It's possible to adjust to your size and tailored to your taste with many materials.
 The main structure of the hanger is carved by hand with high-quality wood such as oak, walnut, rosewood, flamed sycamore, padauk, Zebrano, or Macassar ebony, and according to the customer demands. The hook and the trousers bar are produced with brass with different finishes. Furthermore, the shoulders, the inside of the hook, and the trousers bar are surrounded by exclusive leathers such as french or exotic tanneries. Finally, you can also customize your hanger with precious stones like diamonds, sapphire, and mother pearl. 
If you're into more simplistic yet classic designs, you can choose the Avery Clothing Hanger by Anthropologie. A handcrafted rubberwood hanger with iron.
.
Decorative Hardware
Decorative Hardware is a powerful way to glamour your dressing room design. The Flow Door Pulls by PullCast have an organic shape inspiring sophistication and personality. Its design adds luxury ambiance to a Lady's Closet. 
Waltz Drawer Handles by PullCast are a simple drawer handle, yet it recalls the art deco era, giving value and function to every design. This drawer handle is the perfect match for Luxxu's Waltz Dresser.
.
Set the mood
A Lady's Closet should have a signature scent. Candles and incense are great options to set a glamorous mood. Incense burners could decorate your dressing table or your dresser, adding that extra touch to the decor. L'Objet x Haas Brothers Monster incense burner is a statement piece – contemporary and modern.
Candles are always in season, and its containers are now more stylish than ever. If you're into natural scents, keep in mind the Herbosum Candle by Gucci. A fragrance that reminds "a garden draped in morning mist with the fresh, intense scents of tomato leaves and aromatic plants peppered with basil and lemongrass." The candle has Gucci's Herbarium motif in a white Richard Ginori porcelain. A candle that will exhale a sophisticated fragrance into your Lady's Closet!
.
⇒ Check our article regarding Fall Trends 2020: A Millionaire Trends Report⇐
.
If you enjoyed this article regarding The Lady's Closet – A Guide to Paradise then make sure to check out our socials to find news, inspirations, and more interior design trends and ideas: Pinterest | Facebook | Instagram.