Jonathan Adler's Whimsical Partnership With Caesarstone ⇒ For the past 7 years, Caesarstone, an Israeli quartz manufacturer, has been challenging interior designers to use quartz in an unexpected way. This year, Jonathan Adler was chosen for their Designer Program, and the results are jaw-breaking.
⇒ Pharrell Williams Launches Sustainable Cutlery⇐

Set in Toronto's 2020 Interior Design Show, Jonathan Adler's installation features a neon rainbow with two blue eyes amongst while clouds welcoming guests to the event, having been described as a "surreal free-floating fantasy"
By applying a usually rough and serious material to a soft and magical ambience, Jonathan Adler was able to challenge the way we traditionally view quartz.
Featuring different textures, an array of bright colors and an overall whimsical experience, we think the designer has completely succeeded in Caesarstone's challenge.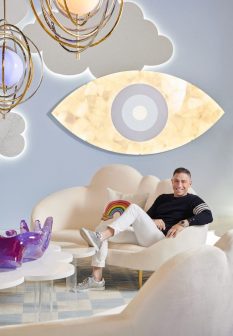 If you enjoyed this article about Jonathan Adler, then make sure to check out our socials to find more interior design trends and ideas: