Interior design ideas for the fall: Must have pieces ready to ship

⇒ September started, and with it arises near the autumn season. If you're starting an interior design project, check these luxury pieces that are ready to ship.
September is a month of changes. School starts, holidays are over, autumn is near, and due to the pandemic outbreak, we're all more at home. So, it's normal to make changes as well in your home and start an interior design project. See these amazing pieces that will enhance your home design and are ready to ship.
Guggenheim Chandelier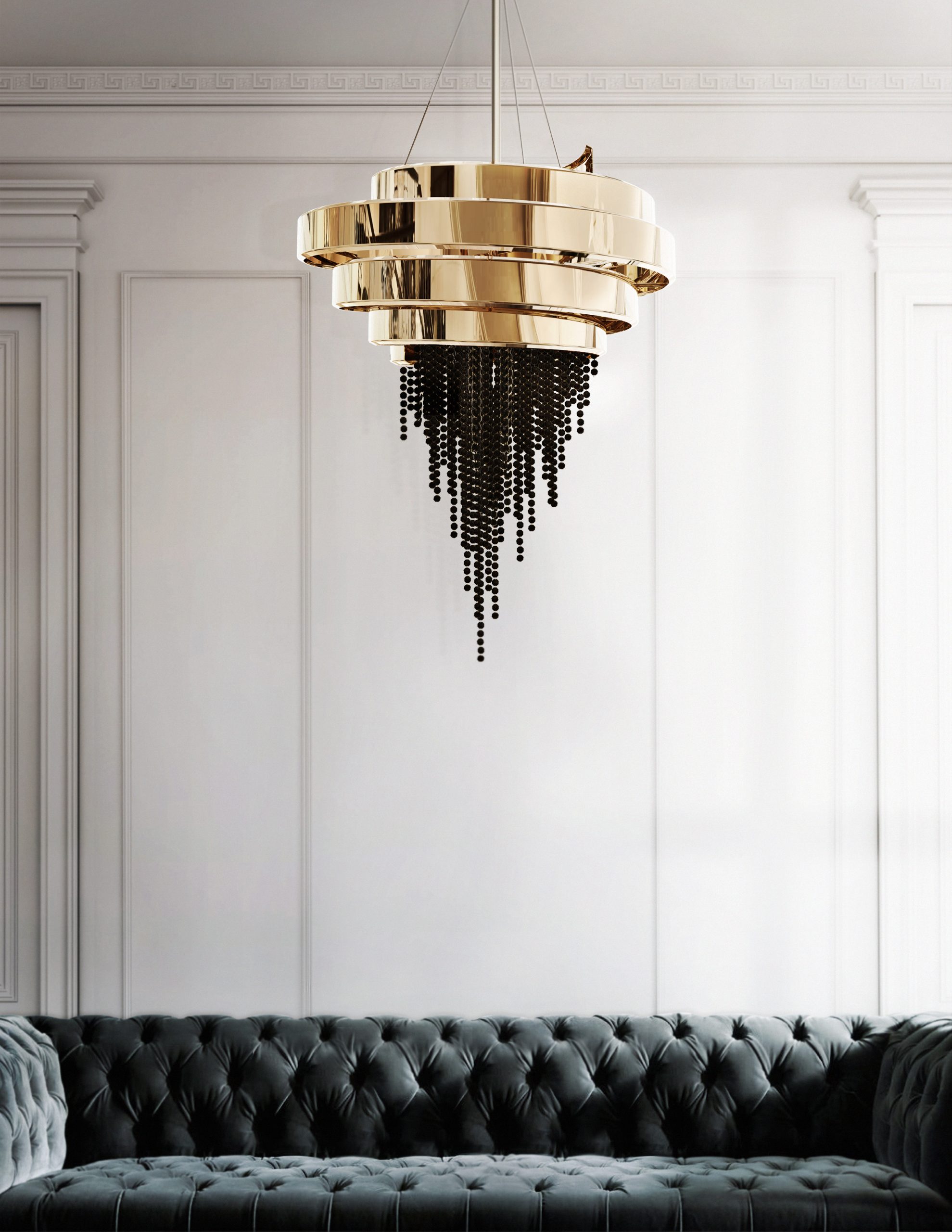 Inspired by the Guggenheim Museum, this chandelier was designed as a result of the leading-edge architecture. The Guggenheim Chandelier by Luxxu is made of gold plated brass and beautiful black Swarovski crystals. An amazing masterpiece to exhibit at your living or dining room – a luxurious interior design idea.
Empire Wall Lamp
Run out of ideas for your interior design project? In a challenge to glamour your entryway or living room? Create a luxury and pleasant environment with the right light. The Empire Wall Lamp by Luxxu is inspired by The Empire State Building and that's why this creation is so powerful and capable to transform every space in a stunning scenario. It's ready to ship to add a modern aesthetic to your decor. 
Apotheosis TV Cabinet
Every living room deserves an elegant TV cabinet. What's an interior design project without one? The Apotheosis TV Cabinet by Luxxu is an anthem of sophistication and exclusive design. Made with the finest materials, Nero Marquina marble, gold plated brass, and black lacquered wood.
Charla Dining Chair
Dining rooms are an important space, especially when hosting dinner parties. A comfortable dining chair is essential to your guests, take this in mind if you're in an interior design project. However, the combination of comfort and elegance could be hard to find. The Charla Dining Chair by Luxxu has timeless lines with a modern twist, by using a complexity of luxurious materials, such as velvet, brass, and lacquered wood. Ideal for a modern and elegant dining room and it's ready to ship.
McQueen Wall Light Mirror
Mirror, Mirror on the Wall, who's the fairest of them all? Hard to say, when you only can focus on the mirror itself. The McQueen Wall Light Mirror by Luxxu is a meticulously designed savage beauty. Its magnificent foliage is made of hammered brass with the gold plated finish and a rhythmic luminosity of the Swarovski crystals. Glamour your interior design project, adding this piece at a luxury vanity or at your entryway.

⇒ See Also: Island Mansion: Dream Villa In Capri by Boca do Lobo exhales luxury⇐
interior design
If you enjoyed this article regarding Interior design ideas for the fall: Must have pieces ready to ship, then make sure to check out our socials to find more interior design trends and ideas: Pinterest | Facebook | Instagram.