Boca do Lobo's Island Mansion is the ultimate summer paradise

⇒ Dream Villa In Capri reunites renowned design brands creating the ultimate expression of luxury.


Imagine breathtaking sunsets, crystalline blue waters, panoramic views, and an infinite pool combined with the best and most exclusive luxury design. Boca do Lobo, alongside Luxxu, Mysa, Maison Valentina, Cobra Art Company, and Rug Society created a luxurious Island Mansion, A Dream Villa In Capri.
This Dream Villa is on a remote location just near Capri, surrounded by marvelous views of the Mediterranean sea. Like any extravagant island mansion, it has an extensive sundeck, an infinite pool, a private heliport, and all the rooms have a panoramic view. However, it's the indoor-outdoors dream areas that create the ultimate artful lifestyle experience.
One of the master bedrooms of this luxurious island mansion is designed by Luxxu and includes a marvelous walk-in closet.
The bed is the main piece of this room, due to the opulent custom headboard that makes an impressive statement and needs no introduction: our Château Bed. This piece gains wider dimensions, reminiscing the walls of French castles.
It's paired gracefully with the Waltz Nightstand that adds elegance and sobriety through its black lacquer and gold accents. Nevertheless, our Empire Pendant lightens the room through its noble form. The dark hues contrast harmoniously with the bedding and our custom Charla stool.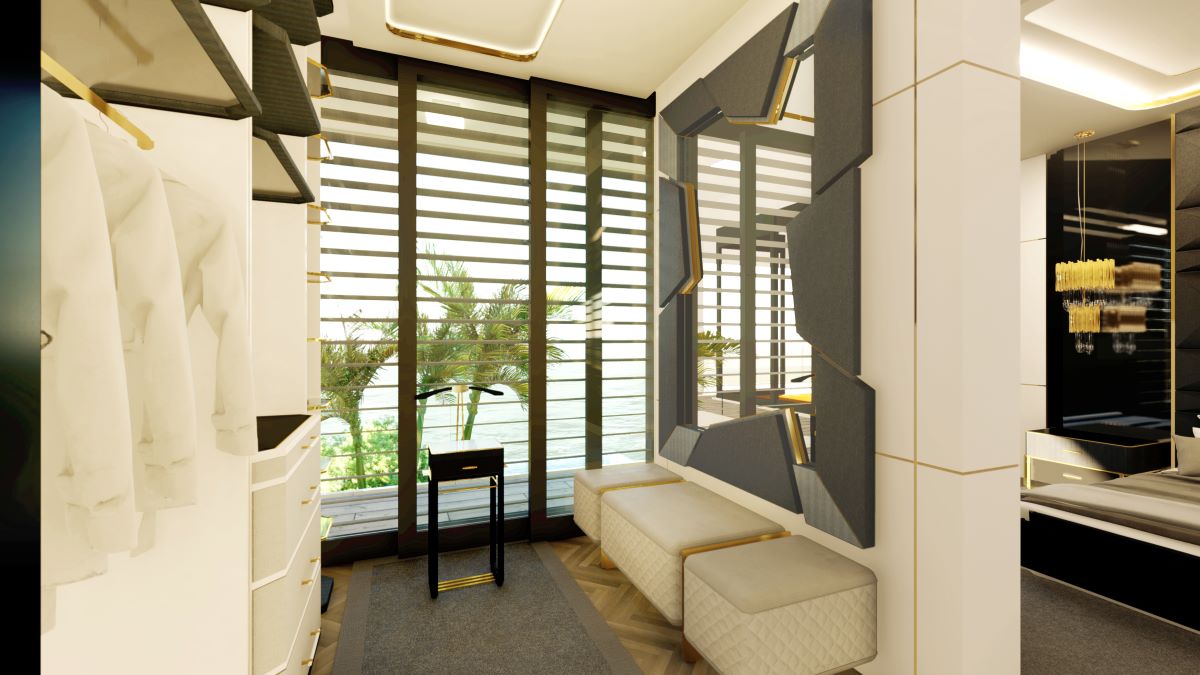 The closet is where the magic happens every morning so Luxxu created a functional yet modern design. In a contrasting color scheme, we can find as much organization as we need and, of course, a big mirror – our Athos Mirror that pairs perfectly with the Tenor Ottoman
Here organization isn't a problem. Our Waltz Valet Stand is a sophisticated solution to storage since it provides 3 hooks for ties, scarves or belts, a shoe rack, brass bars for trousers, and a drawer.
Yet the star of the room is our custom Waltz Closet, finished in white hues. This elegant closet is modular, allowing different combinations to better fit into your space.
The family living room has a living and dining area also. It combines gold hues, dark walls with exquisite art. Our Luxxu Empire Suspension is the center of the living area, creating an exclusive atmosphere through its extravagant shape inspired by the architecture of The Empire State Building.
Summer is to be spent outside, so in this Dream Villa In Capri the outdoors are charmingly decorated to relax and tan. This terrace lounge is furnished with gold pieces and modern sittings. The armchair, the stools, the chaise long, and the sofa are from the line Galea, which will be launch soon, by the new outdoor brand MYSA Outdoor – who is moved by the Swedish term of outdoor comfort and enjoying oneself. In this Dream Villa, you have an exclusive preview of what the refreshing outdoor brand, MYSA, is preparing.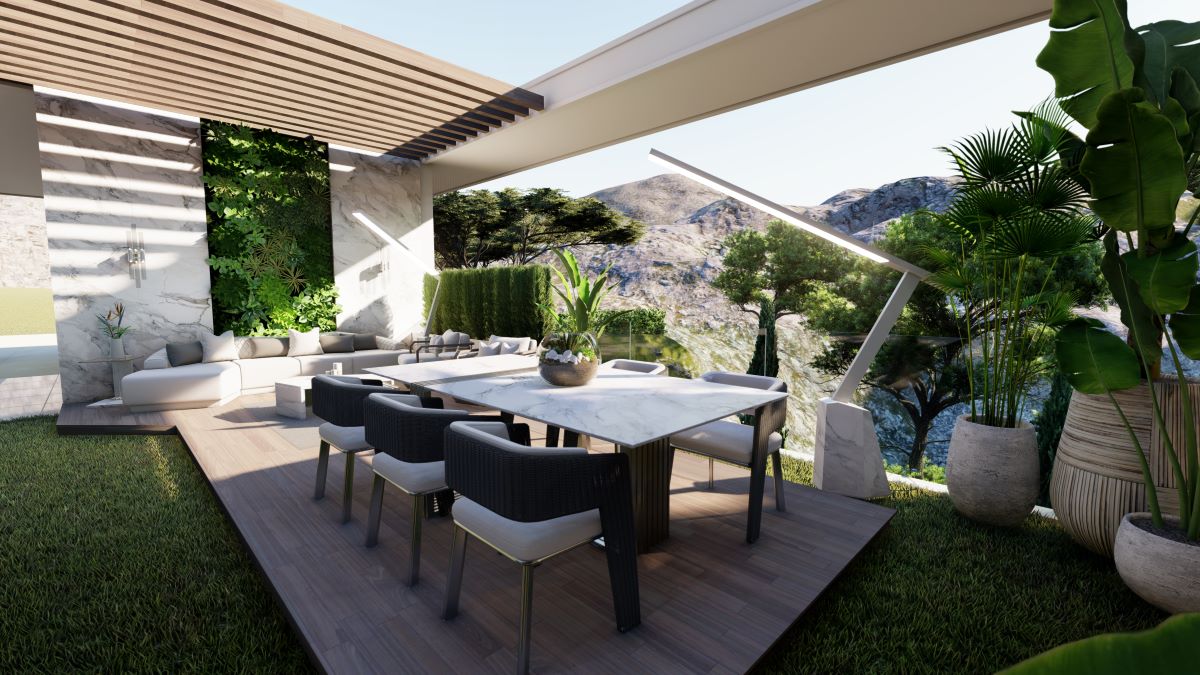 Dinner with a view is always a good idea. So Boca do Lobo Studio created an Outdoor Dining Area to enjoy the sunsets in this island mansion. The Vertigo Dinner Table by MYSA serves the ultimate expression of luxury lifestyle, stylizing the entire area. It's complemented by the Galea Dining Chair, by MYSA as well, creating a modern set up.
This space has a lounge area that it's colored by white hues. The modular Anguis Sofa by Luxxu exhales comfort, however, a timeless piece built with high-quality materials.
Curated by renowned design brands, this contemporary island mansion displays unique craftsmanship and bespoke details. It has three floors, one entirely dedicated to the young family's private areas, two living rooms, two dining rooms, and two master bedrooms with a walk-in closet.
This isolated millionaire house is the ultimate summer paradise. Boca do Lobo studio even joined forces with the luxury fashion brand, Jimmy Choo, to create the perfect walk-in closet. A gold and white color scheme highlighted by the best shoes on display, that it's incorporated into the Boca do Lobo master suite.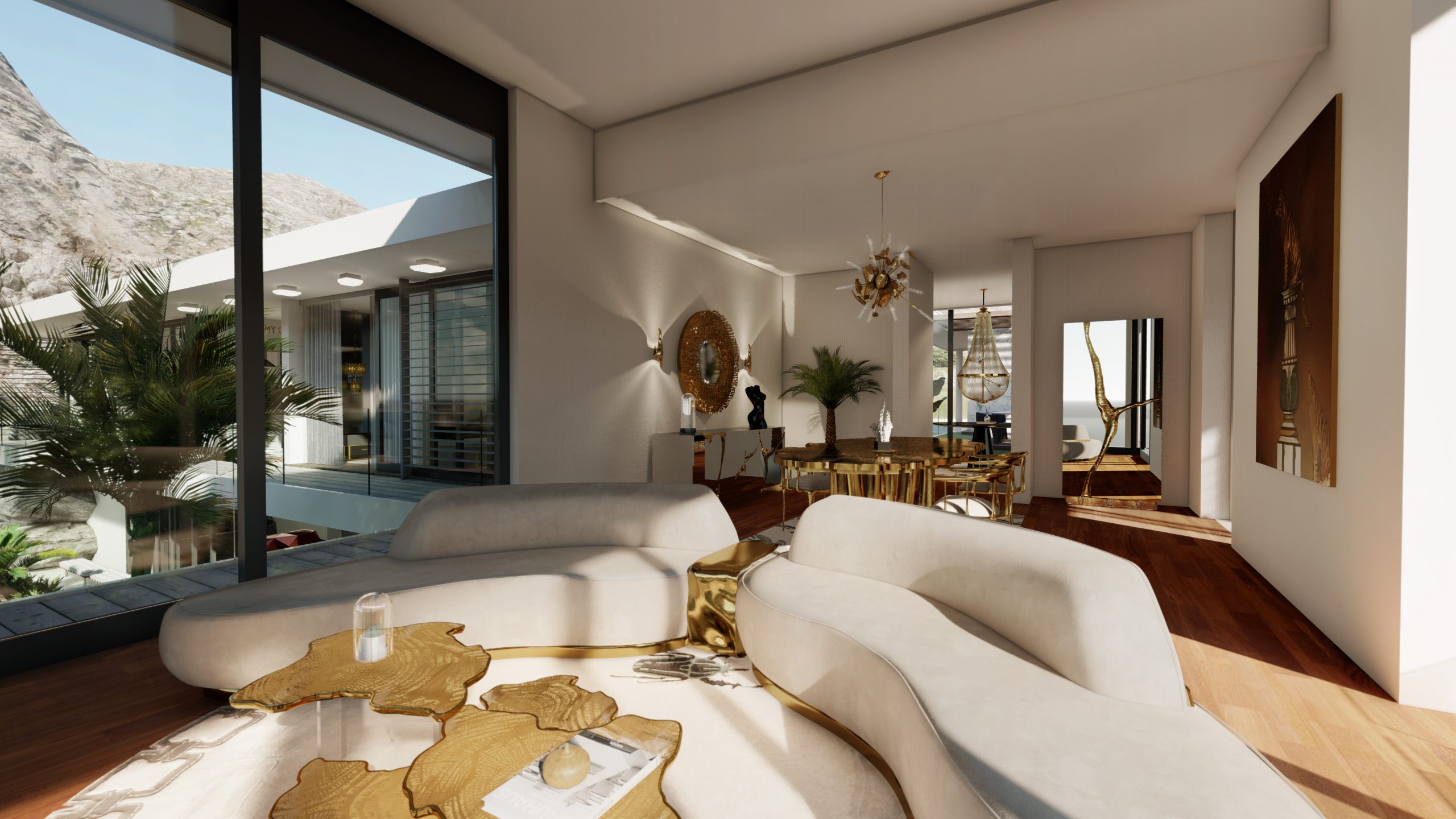 Gold means success, prosperity, and luxury. So, it only makes sense that all the divisions of this island mansion are elegantly put together with gold accents. The living room & the dining room, on the second floor, use a white and gold color pallet creating a luxury and contemporary scenario.
island mansion island mansion
⇒ See Also: Outdoor Trends to Live by this Summer⇐
island mansion island mansion
If you enjoyed this article regarding Boca do Lobo's Island Mansion, then make sure to check out our socials to find more interior design trends and ideas: Pinterest | Facebook | Instagram.