Lighting, seating, organization are always facts to consider when designing a luxury home library. Discover six ideas below.

When designing a home, lifestyle, function, and style are always the main factors. And we tend to pay more attention to our daily life needs than to spaces that are special, such as home libraries or for smaller versions reading corners. However, with the digital era and busy routines, these spaces can function as a shelter from the world.
The dream of any book lover and literature enthusiast, home libraries are increasing in popularity due to its relaxing ambiance, wildly related to the entire mood of the room and its actual purpose as from your ages we've all been taught reading places are meant to be peaceful and quiet.
Discover 6 ideas and tips below.
Comfortable Seating

When selecting the seating for these areas there's one main factor at hand. It needs to be comfortable! Otherwise, readers would just go somewhere else as feeling comfortable is very important in a relaxing activity, especially one that makes you stand still in the same spot for hours (if the book is that good). Luckily there are numerous options out there! From cozy sofas, comfortable armchairs, window seats and even more modern and ergonomic solutions.
Window Seat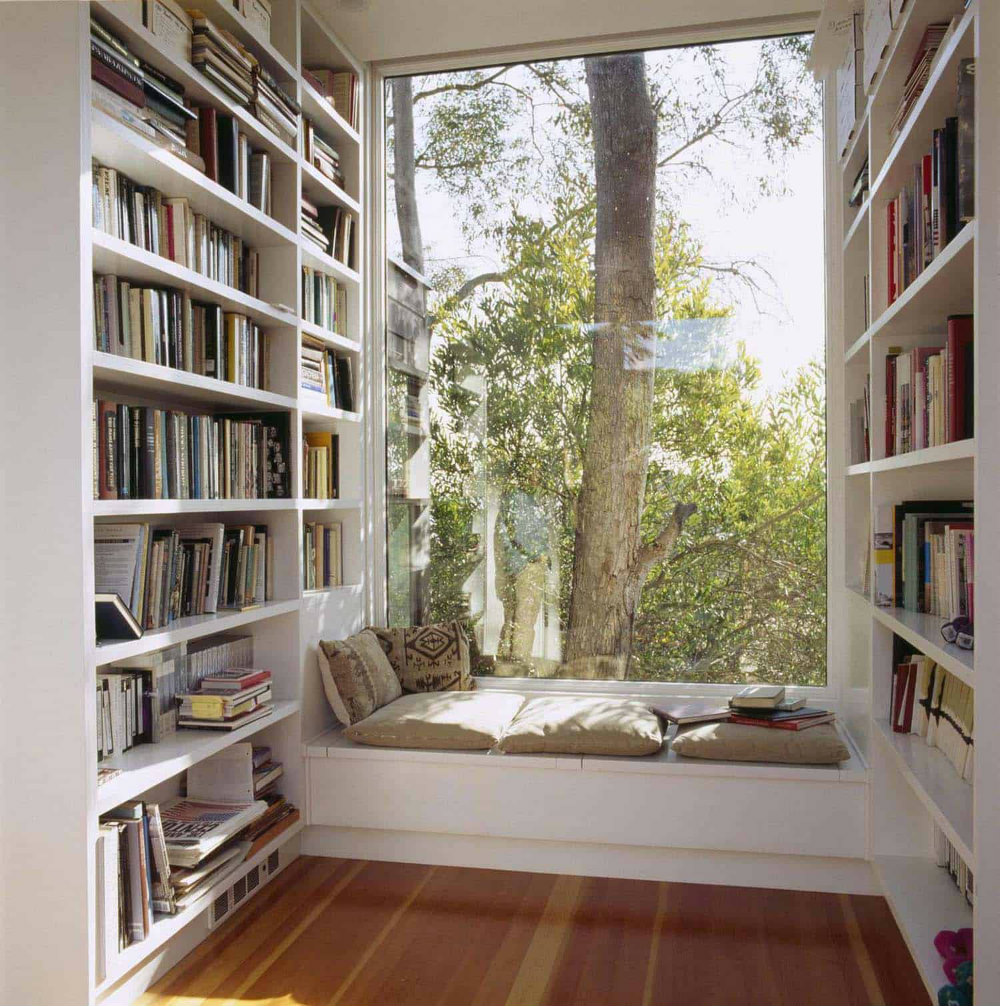 Speaking of seating, a window seat must be one of the greatest additions to a home library or book corner. It adds instantly a cozy factor, while still keeping the style very classy. It works great for every style of home, whether it's a modern, a minimalist, a Victorian or a contemporary house. It's also great for children and might motivate them to read.
Incorporated into the Home Office
If the house has no space for a separate library it's always a good idea to incorporate it into the home office. Walls lined with bookshelves and a few seating areas will turn a plain office into a glam library.
Old Library Feel
If you're more into old libraries aesthetics than into modern ones, a home library that sprawls over two floors and is divided by a spiral staircase (or any type of stairs) is a great way to bring that ancient library feel to your home. And don't forget wood panels covering the walls and wooden bookshelves to store your book collection.
Lighting
When designing a space meant for reading another huge factor is lighting, a crucial point when reading. Natural lighting, if possible, is the best type of lighting, but after dark, you'll need some lighting fixtures to illuminate the area. However, if you're lucky enough to have natural lighting in the space make the most of it!
Book Organization
A bit obvious here, but you'll need shelves, the type you choose will set the tone for the entire room so choose carefully. There are countless ways to organize books. By author, by size, alphabetically or by color. Choose the one that suits you the most and get to organizing all the books.
There are many different ways you can go about designing a luxury home library.
You Might Also Like
The Most Unique Libraries in The World
The Most Beautiful Libraries Around The World
Furniture For The Perfect Home Library