These elegant dining room ideas will definitely surprise any guest.
Fall is such a beautiful season! The outdoor landscapes are filled with red and yellow hues, the smell of hot coco starts to have value again, as well as staying cozy at home in a rainy night watching movies.
It's also the perfect season to spend more time indoors with the people we cherish the most. Thinking about the smallest things, we decided to gather a few elegant dining room ideas to help you upgrade your next meal with friends, family or guests.
Take a look below.
TEXTURE

To build the perfect dining room design for colder seasons, you really need to take texture seriously. It not only makes the room feel cozier but also warmer, while giving it a trending typical Fall/Winter look.
In this luxurious space a rectangular patterned red rug delineates the center of the room while a circular marble dining table and a set of velvet dining chairs are placed on top. To finish up the look a unique gold-plated suspension falls from the ceiling like a masterpiece.
SHOP THIS LOOK
NEUTRALS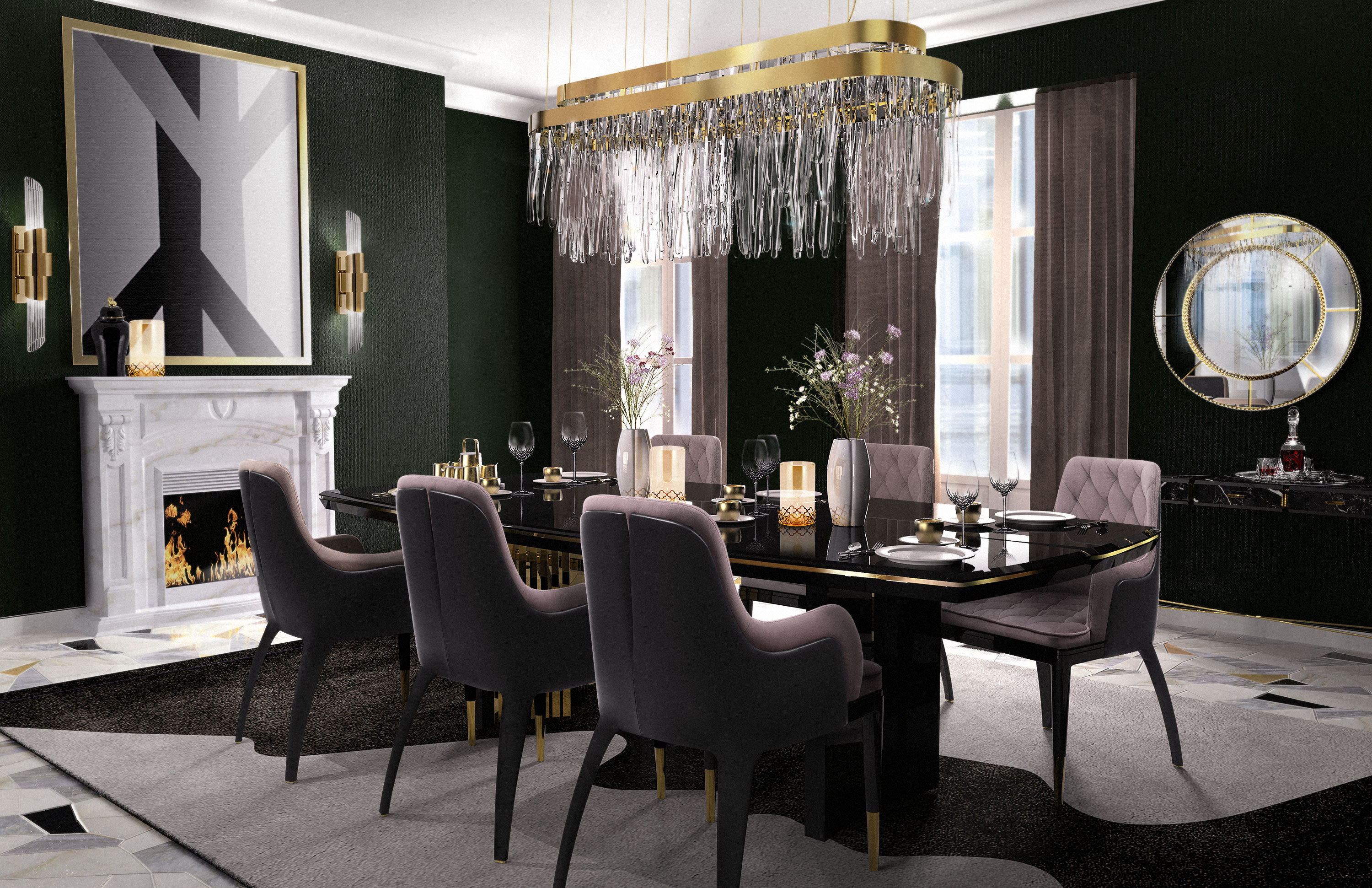 If there's a color pallet that we often associate to Autumn and Winter is Neutrals. So please say good bye to minimal pastels for a few months.
Neutrals require a few statement decorative items such as luxurious round mirrors and crystal glass wall lighting, so don't be afraid to go wild on these.
In this dining room decor for example, colors such as black, white, grey and beige are paired with statement gold detailing and a few dark greens. A rectangular brown and white rug serves as a base for a luxurious dining set which includes a black and gold dining table and beige velvet chairs. A cozy fireplace enhances the space.
SHOP THIS LOOK
ARTSY
Since you're going to spend more time at home, it's only smart of you to spoil your living spaces with artwork and unique aesthetics. Your guests will definitely thank you.
Transform your dining room with materials like marble, brass and glass and display a few patterned rugs for a charming look.
In this elegant space a round white and gold dining table features seducing lines while a set of grey velvet chairs assure comfort. An opulent gold plated sideboard is placed underneath a chic painting, creating an artsy feel to the room. A dazzling suspension finishes up the look.
SHOP THIS LOOK
---
Hope you got enough inspiration for the upcoming season and manage to create a unique interior design for your friends and family.
Read also: Take a Look at the 2018 Color Trends and Get Ready For a Major Change