Decorate Your Home Office Or Reading Corner With Luxury => Add a luxurious touch to your office and create a stunning reading corner with the best furniture pieces and lighting. Redecor these places of your house with elegance and with the most exquisite decor pieces. Today's article Luxxu Blog will show you marvelous ideas to create unique interior designs to get an exclusive statement in your house.

Reading Corner
A cosy, well-lit living room in completely neutral and white tones. Sounds perfect, right? Dream no more, because you can easily attain it with the ESSEX Mid-Century Armchair. This soft and velvet-upholstered armchair, complemented by the LURAY Side Table and Rug'Society's fuzzy KOTTA Rug will make all your dreams become a reality.
Cosmopolitan and modern are the perfect attributes for this contemporary living room. The elegant and astounding GEORGE Sofa upholstered in cotton velvet, next to the ethereal AGRA Coffee table will create the perfect interior design combination for any activity.
See also: Where To Shop – The Best Luxury Showrooms In Basel
If you wish to adopt a classic approach to your interior design, then an incredible source of inspiration can do wonders for you. This stunning ambiance is gifted with the geometrically perfect and unique Air Rug for you to step into your living room design in a stylish fashion.
Indulge yourself in the most contemporary interior design with the perfect reading corner inspiration. Plan your interior design selection perfectly to tie everything together is the most unique manner with the help of the Round EYE Rug in grey and white tones.
See also: Mayer Black Center Table
Office
This stunning office represents a room to travel all over the world without leaving home. The reading nook is composed of two swivel velvet ESSEX Armchairs, which give the possibility to relax or recharging energies. An aged brass KOI side table with the tabletop in forest green marble and an aged brass CYRUS floor light. To complete the office we add a custom-made built-in open bookcase, inspired in the BARAKA collection, which provides storage and organization to the room.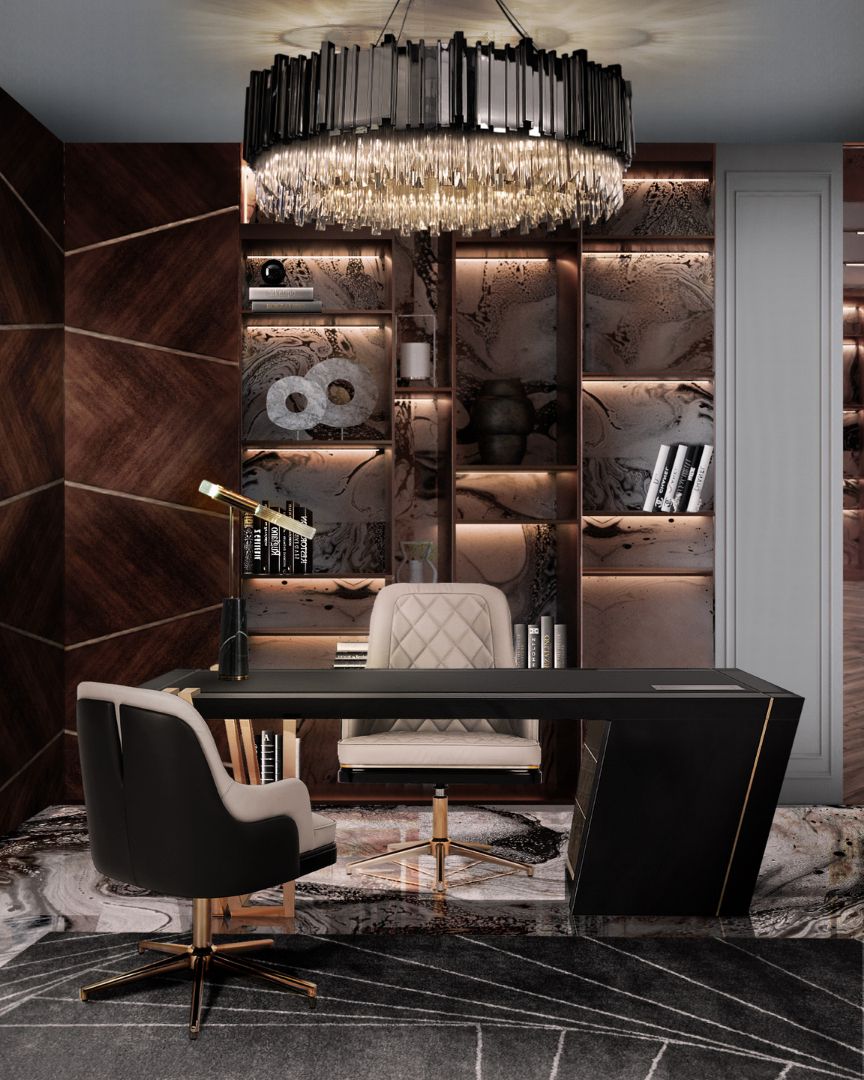 In recent years the home office has become an increasingly important part of any household. A luxurious workspace where you can feel inspired to do your best work. Going for a more neutral color palette is perfect to convey exclusiveness and luxury and give your room a more professional look.
People sometimes undervalue desks and go for simple designs. Nevertheless, high-quality furnishings increase productivity. The Apotheosis Desk by Luxxu is a powerful and functional statement piece since it's equipped with a USB port for maximum accessibility. It embodies the ultimate display of luxury, sophistication.
See also: Best Interior Design Projects In Basel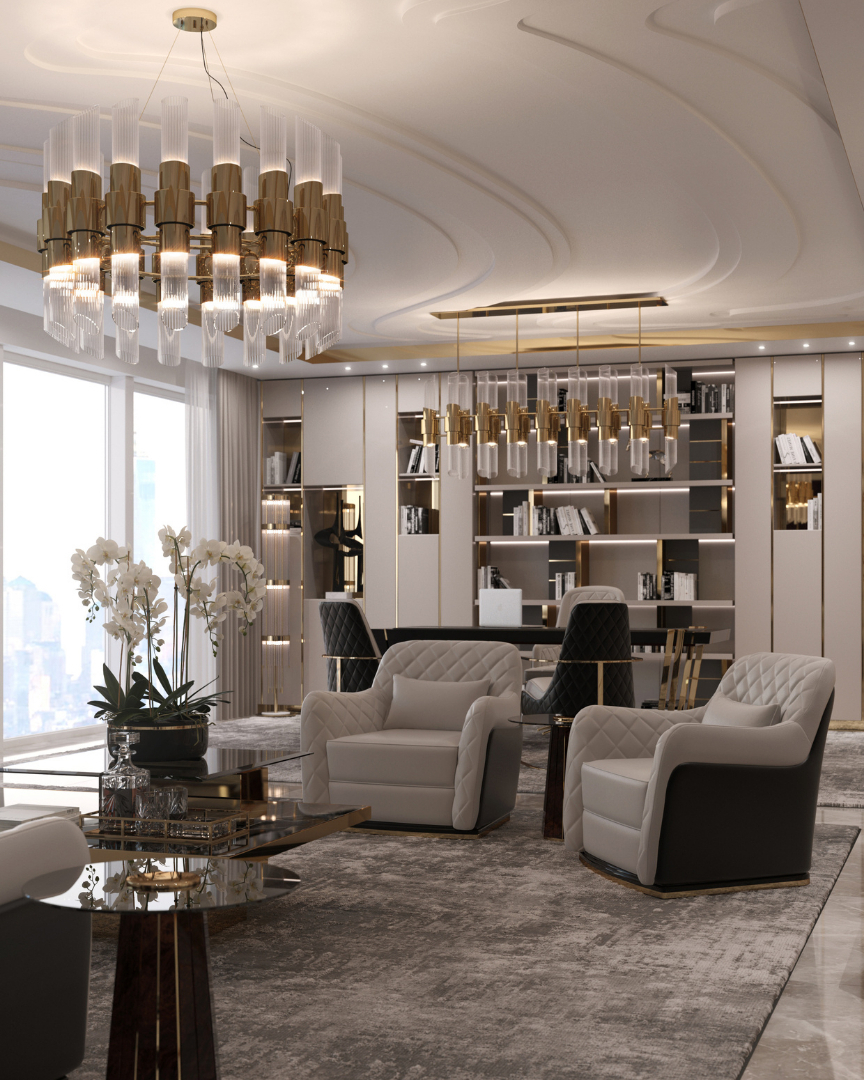 If the house has no space for a separate library it's always a good idea to incorporate it into the home office. Walls lined with bookshelves and a seating area will turn a plain office into a glam library. This modern and elegant office is furnished exclusively with Luxxu pieces and merges perfectly these areas.
If you enjoyed this article regarding Decorate Your Home Office Or Reading Corner With Luxury then make sure to check out our socials to find news, inspirations, and more interior design ideas: Pinterest | Facebook | Instagram.