La Casa de Manolet Bistró: a Palace Restaurant in Spain ⇒ In the heart of Cordoba, Spain, sits a mansion built in 1890 by José Ortega y Munilla, father of Spanish philosopher and writer Jose Ortega y Gasse. Ultimately sold to Manuel Rodríguez Sánchez "Manolete" in 1942 and passed down to his heirs, the mansion is now home to a traditional bistro that serves mainly simple, creative yet flavourful dishes inspired by the region of Cordoba. With stunning LUXXU lighting fixtures in its design, La Casa de Manolet Bistró is set for success.
⇒ Hortus Sanatis: Meet Gucci's Exclusive Fragrance ⇐

With a distinct architecture on the outside, the mansion reminds us of an aristocratic estate with the grand archways and impressive pillars, providing a warm welcome to the guests.
Inside, La Casa de Manolet Bistró is decorated in shades of beige, brown and white, with velvet seats and stunning table decor. In the main area of the restaurant, there are two large caricatures hung on the walls, one of which pictures Manolete and Ortega y Gasset, painted by Cordoban artist Fernando García Herrera.
In this dining room, four of LUXXU's McQueen Pendant Lamps light up the space, creating an artistic and whimsical ambience that very much fits the history behind this building, as the romantic design of this fixture is reminiscent to the aristocratic times the mansion was built.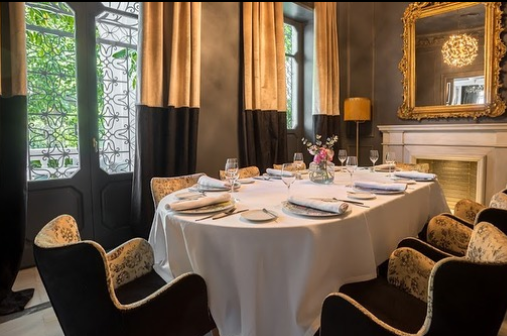 In a private dining space inside La Casa de Manolet Bistró, a single table lined with black velvet chairs provides a more sophisticated look to the restaurant with a slightly darker color palette than the rest of the establishment. In this room, LUXXU's McQueen Globe Suspension Lamp is the main focus, granting not only light but a decoration piece as well.

If you enjoyed this article about La Casa de Manolet Bistró, then make sure to check out our socials to find more interior design trends and ideas: 
​