Timeless Modern House In Chicago Represented By Karim Rashid – It's not that easy to combine timeless modernity with casualness in the same home, yet it's basically a must these days. The demands of our daily lives have compelled design to reinvent itself, and this project is a fantastic example of that combination of comfort, simplicity, astonishing beauty, and shape. This house was designed with the goal of people spending more time inside and LUXXU Blog will walk you through it!
---
See also: Salone Del Mobile 2022: The Milano Design Event You Don't Want To Miss

---
Walking Around Chicago, You'll Find A Timeless Modern House
With 6 bedrooms, a living room and dining room, a kitchen, and a movie room, this magnificent home has everything you need to live a happy life. It is located in Chicago, the third-largest city in the United States, and it meets all comfort criteria in both the cold and hot seasons. This opulent property is located on the shores of the massive Lake Michigan, with stunning views that resemble a panorama from a painting. The designers of this building, Mid Century Studio, wanted to bring the beauty of nature inside the home, so they built a winter garden in the center that spans two levels and is surrounded by all of the rooms.
LIVING ROOM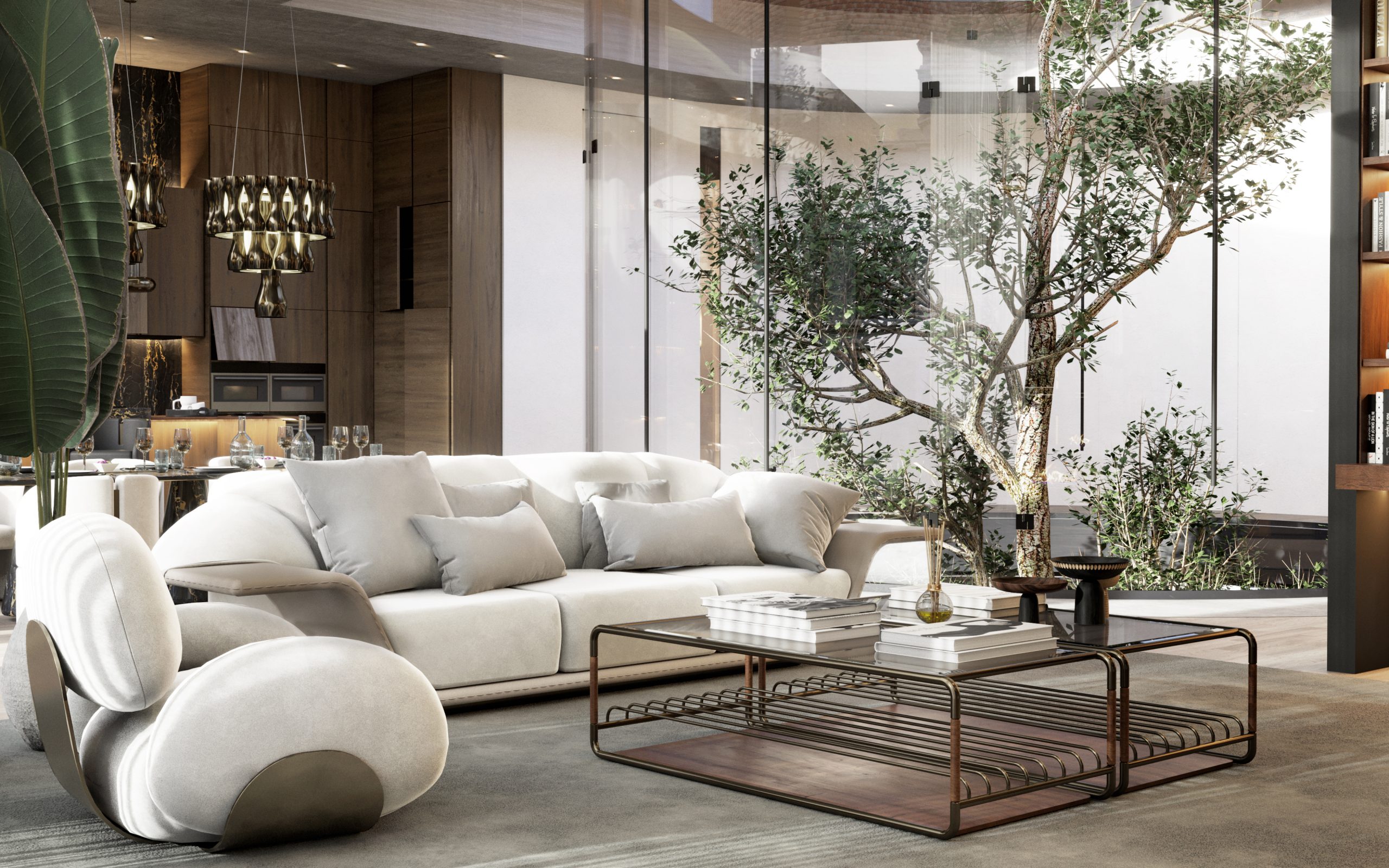 Earth tones, neutral tones, between browns and beiges, with a touch of glamour, the gold, predominate in the living room, as in all other rooms. And nothing beats the Klaude Sofa and the Karlotta Single Sofa for comfort; their simplicity is the key to a strong room where luxury reigns supreme. With their curved lines that are both trendy and elegant, these two objects from Karim Rashid's Kasual Collection for Essential Home are the essence of modern and contemporary design. Fabrics are of the highest quality and will last a long time.
---
"I would refer to the Kasual collection as casual luxury with fabrics and details that are rich, but with a minimal softness and ease where new comforts prevail. Our home furnishings should take on greater importance to support our lives with comfort, ergonomics, and contemporary inspiration!"
– KARIM RASHID
---
---
MASTER BEDROOM
A reference for design refinement, a huge room with a rest space (bed) and a leisure area where you can enjoy quiet reading, all with views of the winter garden in the center of the house. The Kay Sofa is the standout object in this space, with a unique shape that will appeal to all design aficionados seeking an unconventional yet attractive piece. This sofa is comfortable and ideal for a luxury design project like this one, as it was created using high-quality materials and experience. This product assortment is rich in creativity, captivating the eye with new possibilities and shapes. Each piece is soft and graceful, with a human and sensual feel, fusing current and mid-century design in a revolutionary way.
---
"I think a natural and organic evolution for a design, residential and hospitality too be open to the new and allow for growth. Just like the beauty of any great city is to see all the periods of growth and architecture side by side, a collage, a farrago of markings of the times of the city."
– KARIM RASHID
---
CINEMA
The cinema room is great for enjoying a nice movie in a pleasant environment, with a chosen selection of striking and brilliant pastel colors that balance wonderfully. Kandi Modular Sofa is made out of soft white modules that can be put together to create a unique sofa that suits your needs. Curved lines are a classic trend in home design, and these seating modules are a wonderful example. This is one of the greatest items to play with if you want to get creative with your space because you can customize the color and how it is combined to produce a seating configuration. It is undoubtedly the most important piece and the one that best represents the Kasual Collection from Essential Home.
Today, contemporary style is defined as the harmonious combination of modern and transitional components in a warm and cool manner. We must ponder calmly, peacefully, and coolly, but not coldly. Finding the appropriate balance between these two aesthetics can be difficult, but not with DelightFULL's Miles Table Lamp, which provides the ideal lighting for this cinema.
---
See also: A New Era Set In Stone – LUXXU's Groundbreaking New Collections!
---
If you enjoyed this article regarding Timeless Modern House In Chicago Represented By Karim Rashid then make sure to check out our socials to find news, inspirations, and more interior design ideas: Pinterest | Facebook | Instagram.