Studio IAAD: An Urban Refuge in New Delhi With Exclusive Furniture – An Interior Design by Studio IAAD in New Delhi for a Luminary in the Cinematic Industry, with the main designer Rachna Agarwal, featuring a mix of architecture, interior design, and art that culminates in the right opulent balance within the house! An exclusive production featuring Boca do Lobo's contemporary Sinuous Console!
---
See also: Meraki Palace In Qatar: Feel The Modern Design With An Arabian Touch
---
Step inside this Luxurious Home in New Delhi By Studio IAAD
This contemporary home, nestled in the leafy bylanes of an urbanistic region in the heart of New Delhi, is the residence of a respected luminary in the film business who finds a balance between his meditative look at nature and his passion for the metropolitan city character.
The center of the home is firmly sheltered within an envelope of screens and vegetation since this house prioritizes seclusion and its architecture seeks a clear separation between the overcrowded neighborhood.
On the inside, art and bespoke furnishings reign supreme, as one of the client's must-haves. Boca do Lobo is the ideal partner for this project, integrating art, design, and workmanship in a way that no other company can.
Sinuous Console is designed for individuals who appreciate beautiful lines and fine detail. It has a tempting design that draws you into a wonderful and golden realm.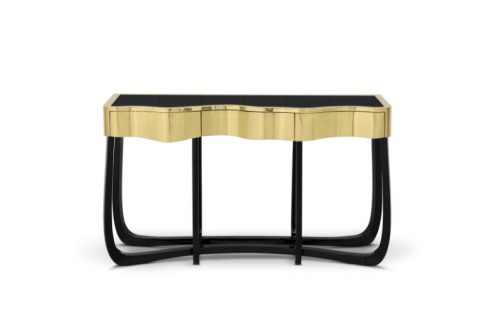 This console's beautiful character is defined by its sinuous lines, which combine the styling of Coolors Collection's best-selling pieces.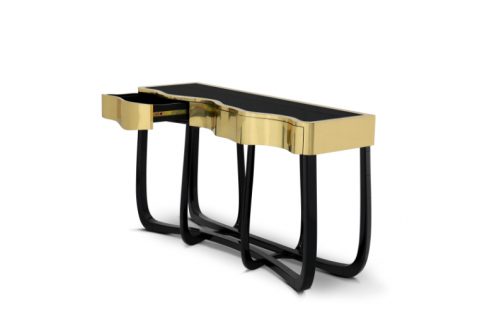 Boca do Lobo's artisans created the structure in mahogany with a high gloss black lacquer finish and a polished brass plated topcoat to reach grandeur, bringing up the vibrant and bright side of Boca do Lobo.
---
"Homes are like authored biographies, and to truly animate a client's vision, one must begin by understanding them. Translating their requirements into reality while ensuring the solution entails tastefully stylized spaces that elevate their aesthetic sensibilities — that is the true objective of the architect."
– RACHNA ARGWAL, FOUNDER AND DESIGNER IDEATOR OF STUDIO IAAD
---
The interior of this incredible structure is just as well-designed as the façade. The discreet entranceway leads to an incredible bottom floor and basement designed primarily for social purposes.
The lower ground is a coherent convergence of art, architecture, and recreation spaces, with a wonderfully balanced combination of personalized, salvaged furniture and opulently completed interiors. It has a large den and entertainment area, as well as a quirky, contemporary bar that unites the space.
---
---
Aren't Studio IAAD's Projects Wonderful?
A social living room on the ground floor stands out, with a beautiful bar area. The client's life is well represented in this area, which is decorated with images from the film Breakfast at Tiffany's.
The art pieces meticulously picked by the client, an avid collector with a clearly global, refined taste for art pieces and sculpture, mark the dining area, an open court, and a bedroom on this floor.
The contemporary staircase leads to more tranquil living areas on the upper floors, which include a master bedroom, a child's bedroom, and a family parlor with custom-designed furniture.
When you go into the family room, the gold and black Sinuous Console by Boca do Lobo is the first thing you see. This opulent design not only reflects the owner's taste in excellent and collectible design but also the brand's transcendent marriage of classic and contemporary style.
Color palettes, surface treatments, and interior finishes have all been reverse-conceptualized to blend with sculptural or constructed masterpieces in many instances during the design process.
---
See also: A New Era Set In Stone – LUXXU's Groundbreaking New Collections!
---
If you enjoyed this article regarding Studio IAAD: An Urban Refuge in New Delhi With Exclusive Furniture then make sure to check out our socials to find news, inspirations, and more interior design ideas: Pinterest | Facebook | Instagram.