Salone Del Mobile 2023: A New Look At LUXXU's Stand – Milan Design Week is over and we miss it already! In order to overcome this feeling of nostalgia LUXXU Blog prepared an article with exclusive new photos from the event. Take a virtual tour through our stand, and discover new products or reconnect with the classics!
---
See also: Milan: Discover The Best Luxury Showrooms For A Shopping Spree
---
Salone Del Mobile 2023
A New Look At LUXXU's Stand
It's always a bittersweet feeling when Salone Del Mobile comes to an end, and, like you, we find ourselves missing the excitement and glamour of the show. For that reason, we prepared a special treat for all our readers! Take a virtual tour of LUXXU Home Stand and immerse yourself in the luxurious atmosphere of our creations. Whether you're looking to discover our new products or reconnect with our classic pieces, this article is the perfect way to relive the magic of Milan Design Week.
Our living room presented guests with two new items from the Algerone Collection but also brought back other pieces that were already famous on their own! The Galea Armchair brought its strong presence to Milan, with a design inspired by the helmets worn by warriors from the Roman Empire. What other upholstery piece could fit better?  Echo, a hand-tufted rug with a modern aesthetic, embellished the space with its stylish and asymmetrical shape. Did you know that it is made of bamboo? Proof you can mix luxury with eco-friendliness!
Get the look:
Small corners are challenging spaces to design but since we are masters of detail, we always come up with something sophisticated! For this corner of LUXXU's stand, we chose the Algerone Console and the Algerone Mirror, pairing them with two Waterfall II Big Wall lamps, creating a simple, yet elegant area for the perfect mirror selfie!
Get the look:
Algerone Console and Algerone Mirror
---
See also: The Art Of Modern Luxury At Salone Del Mobile 2023
---
The dining room featured a lot of items from the Algerone Collection, which makes it an area with a strong and imponent presence for sure! Our Tempus rug covers the floor with a modern and unique design. Available in seven different sizes it is made of bamboo and is the perfect choice for your residential or hospitality project.
Get the look:
Tempus Rug and Vertigo Mirror Set
We need to highlight the presence of our new pieces that help create this stunning dining room. As we've previously discussed the versatility of sideboards and their ability to elevate a space, the newest member of the Algerone collection is no exception. If you're seeking to enhance your home's aesthetic, the Algerone Sideboard may just be the perfect solution.
Get the look:
The Needle Table Lamp brings a little bit of Seattle to Milan. It is a lighting fixture inspired by the futuristic architecture of the Space Needle. Did you know that Futurist Architecture originated in Italy as part of the artistic movement of futurism created by poet Filippo Tommaso Marinetti? Our own Needle Table Lamp is designed to be a durable, well-made luxury table lighting piece with a simple design that will never go out of style.
Get the look:
---
See also: Earth Day: Luxury Hotels That Are Embracing Ecology
---
Our Algerone Bar Cabinet was designed to put any dining room on a whole other level, and that's what it did in our stand. Located at the head of the table, this sleek and opulent design piece brought contemporaneity and craftsmanship to the space.
Get the look:
Algerone Bar Cabinet and Eclipse I Sculpture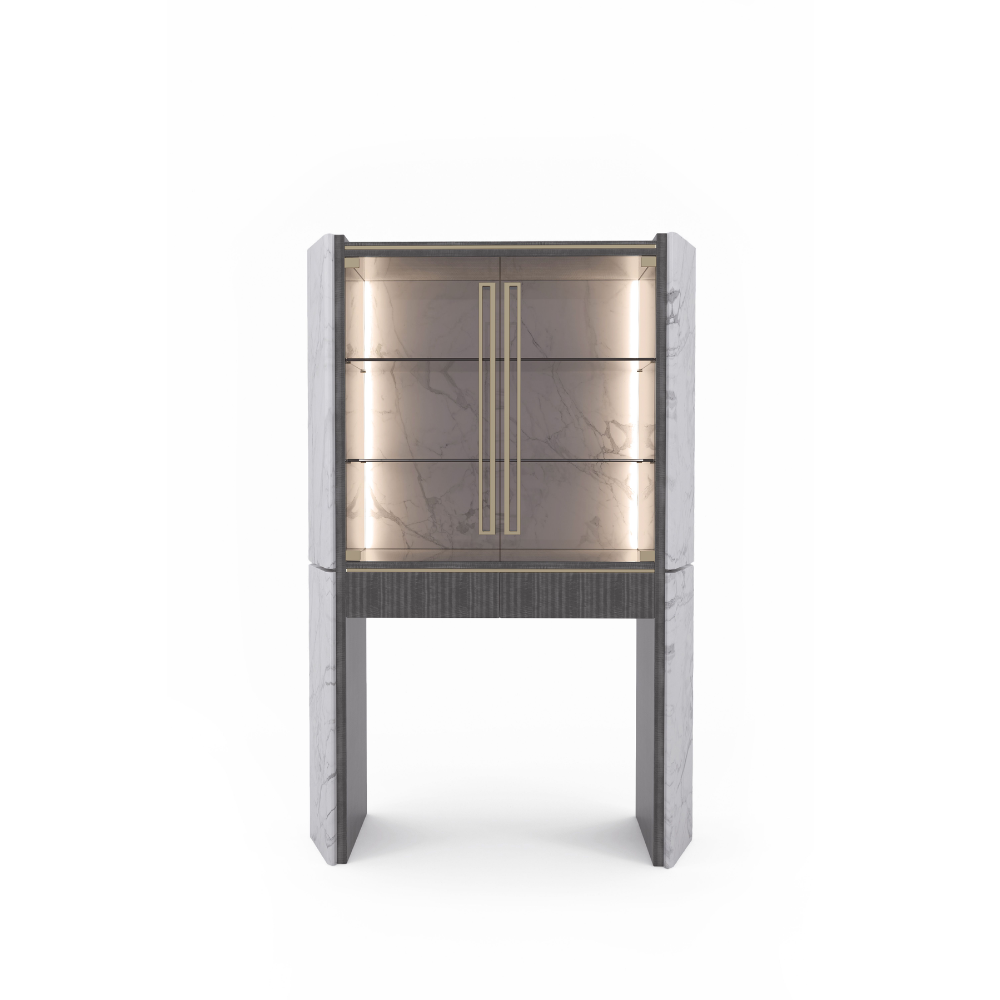 ---
See also: LUXXU Stocklist
---
If you enjoyed this article regarding 

Salone Del Mobile 2023: A New Look At LUXXU's Stand

 then make sure to check out our socials to find news, inspirations, and more interior design ideas: Pinterest | Facebook | Instagram.