Perfect inspirations for a luxury bedroom=> In today's article, we have gathered a series of bedroom design inspirations that were curated by the modern design brand, LUXXU. From sumptuous furnishings and upholsteries to exquisite lighting designs, and even walk-in closet ideas, take a look at a series of inspirations that will certainly give you an idea on how you can modernize and upgrade your bedroom decoration, and ultimately create the perfect bedroom design!
See also: Suit Up With The Best Closet Design Trends In 2021

BEDROOM LIGHTING
Who said science and design can be combined? Check the Atomic Round Suspension Lamp by Delightfull. A modern lamp that will inspire any kid while brightening beautifully any ambiance with its unique design.

NEUTRAL TONES
Neutrals are appealing because they're calming, fresh. The perfect ambiance for a bedroom design. So, give your bedroom decor an update with these calm hues that pair beautifully with golden accents. The Turner Pendant by Delightfull fits perfectly in this bedroom decor.
Bedrooms can benefit from different layers of lighting since you can adapt the ambiance to your mood and adding a twist to your decor. The Turner Family by Delightfull can be the perfect solution for an elegant hotel bedroom design.
See also: Explosion Suspension
Choosing a bedside lighting fixture is a difficult task. There are so many options such as table lamps, pendant lamps, or sconces. Tuner Suspension lamp by Delightfull creates a relaxing atmosphere, with a light not too strong.
Bring the best lighting to your bedroom design, the Pharo Suspension will illuminate your room perfectly and with the utmost comfort, you enjoy a good night of rest luxuriously.
See also: Château Bed
A bedroom should mix elegance and comfort while also complementing your home style. The Charla Collection is perfect for dressing up a bedroom. Choose an impressive bed to make a statement such as the Charla XL Bed that will create an impact with its luxurious design and pairs splendidly with the Charla Nightstand.
When it comes to bedroom design, balancing elegance and comfort may be challenging. A bedroom's color palette must encourage a decent night's rest while also complementing your home décor. This elegant home design offers the best possible deal!
To mark a design position in a bedroom takes much more than a simple comfortable bed or a luxury nightstand. Lighting can define the tone of the room and set the perfect mood. TheThe Turner Wall Lamp by Delightfull will add an elegant and sophisticated touch.
Masterbedroom Closet
A walk-in closet should not feel claustrophobic and, well, like a closet. That's why modular closets with a neutral color scheme and an open cabinet concept allow the space to feel airier and even bigger—not to mention, the transparency forces you to stay organized. Aside from organization, it should feel glamorous, and with that just add a touch of luxury with our Prisma Ottoman and our unique Pharo Snooker Suspension.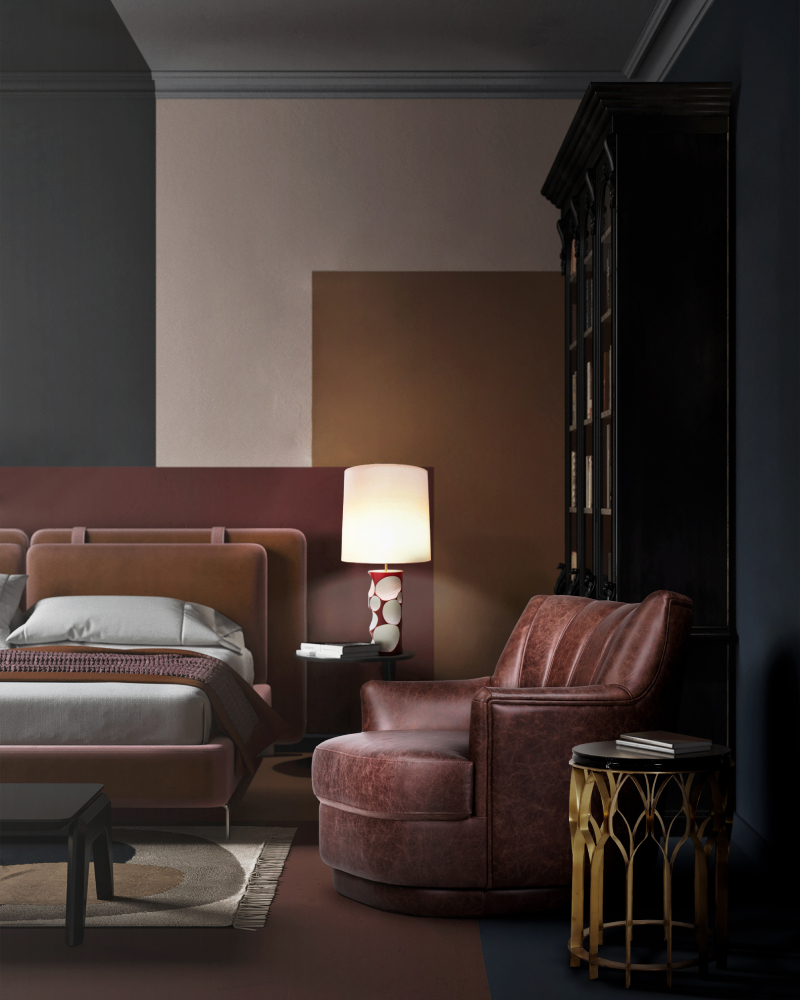 If you're searching for a fully elegant and traditional modern style, go no further than the PLUM Single Sofa, which is constructed of beautiful brown synthetic leather. When combined with the exquisite and one-of-a-kind MECCA Side Table and the AMIK Table lamp, your functional bedroom will be even more impressive.
See also: Amazing Hospitality Interior Design Inspiration
If you enjoyed this article regarding The Best Luxury Bedroom Décor then make sure to check out our socials to find news, inspirations, and more interior design ideas: Pinterest | Facebook | Instagram.Shortcode