Louis Vuitton's Stunning Store Front by UNStudio ⇒ The Dutch architecture firm UNStudio recreated a typical Dutch townhouse's brick facade for Louis Vuitton's Amsterdam store in the town's shopping spot PC Hoofstraat.
⇒ A Look at the Prada Fall 2020 Menswear Collection⇐

Titled "The Brick Pixelation", this project is directly next door to another of this firm's work, "The Looking Glass", and close to MVRDV's "Crystal House". Located on the 140-142 numbers of this luxury shopping street.
The focal point of this project, and the characteristic that gave it it's name, is the lower floor of the Louis Vuitton store's facade, whose traditional Dutch bricks have been replaced by stainless steel bricks with glass inlays that give it a pixelated effect.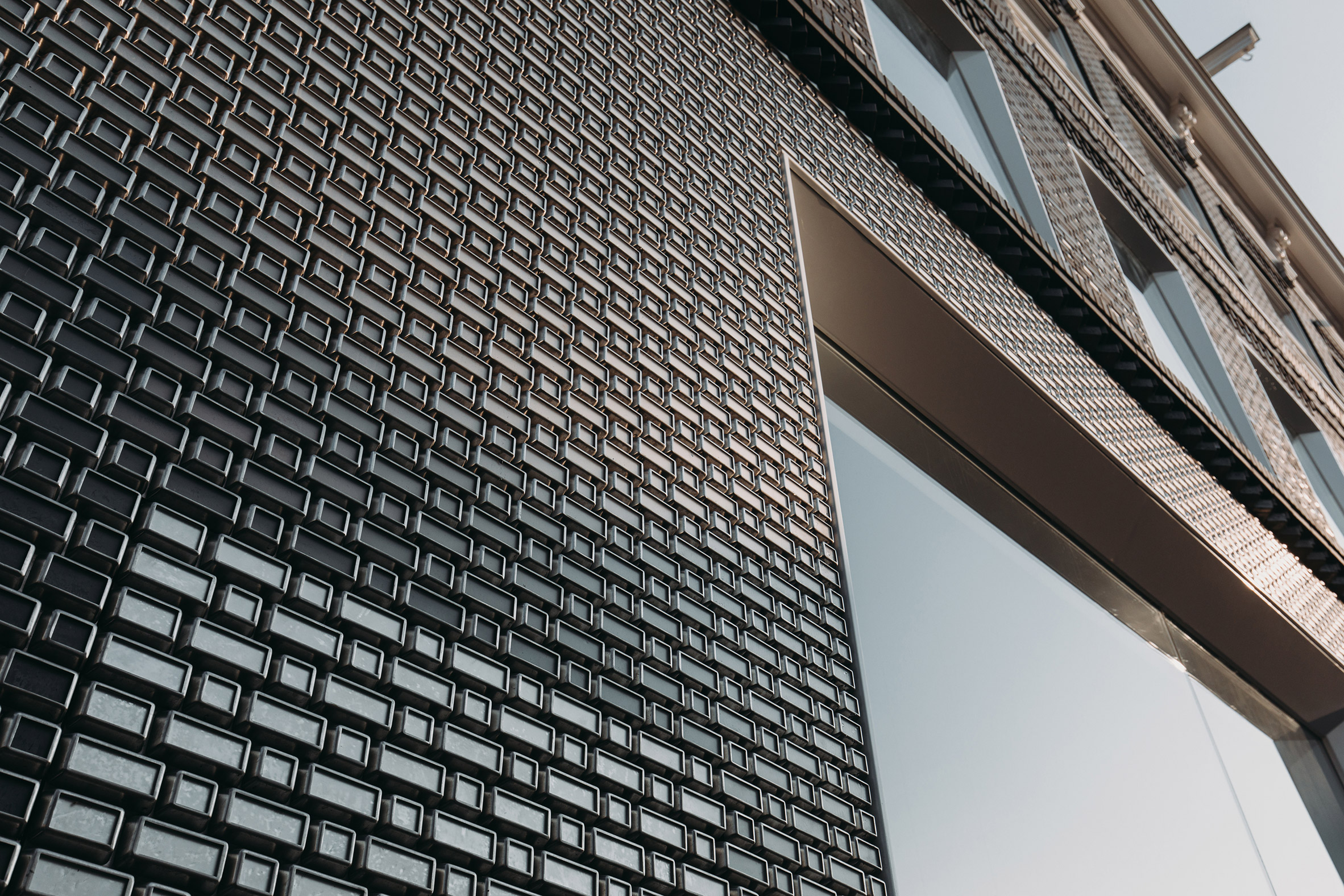 "The tapered stainless steel bricks, while following the pattern and scale of the traditional brick facades that line this street, create a distinctive textured and detailed appearance that contrasts with other buildings," said UNStudio.
"The glass inlays give the facade a semi-transparent quality and make it possible for the facade to be illuminated from within the bricks."
The inside of the store, which was not designed by this architecture firm, is decorated with natural wood flooring and displays, with bright pops of colour creating an impactful contrast to the store's facade. For the first time in the Netherlands, this Louis Vuitton store showcases all of the brand's items, from women's and men's ready-to-wear, leather goods, shoes and accessories to watches, jewellery, fragrances, and even an exclusive selection of Objets Nomades, the Maison's collectable furniture collection.
In addition, the store is can also discover Louis Vuitton's many personalization services such as hot-stamping for leather goods, My LV Heritage, My LV World Tour, My LV Belt, and the Now Yours customization of Run Away sneakers.