Kelly Hoppen is one of the greatest interior design inspirations of all times. Her home projects are an incredible source of luxury interior design ideas that can inspire you to get better home interiors. We have selected 10 Kelly Hoppen Interior Design Ideas to inspire you, enjoy!
⇒ Bvlgari Explores Roman Heritage With New Collection⇐
Chalet Design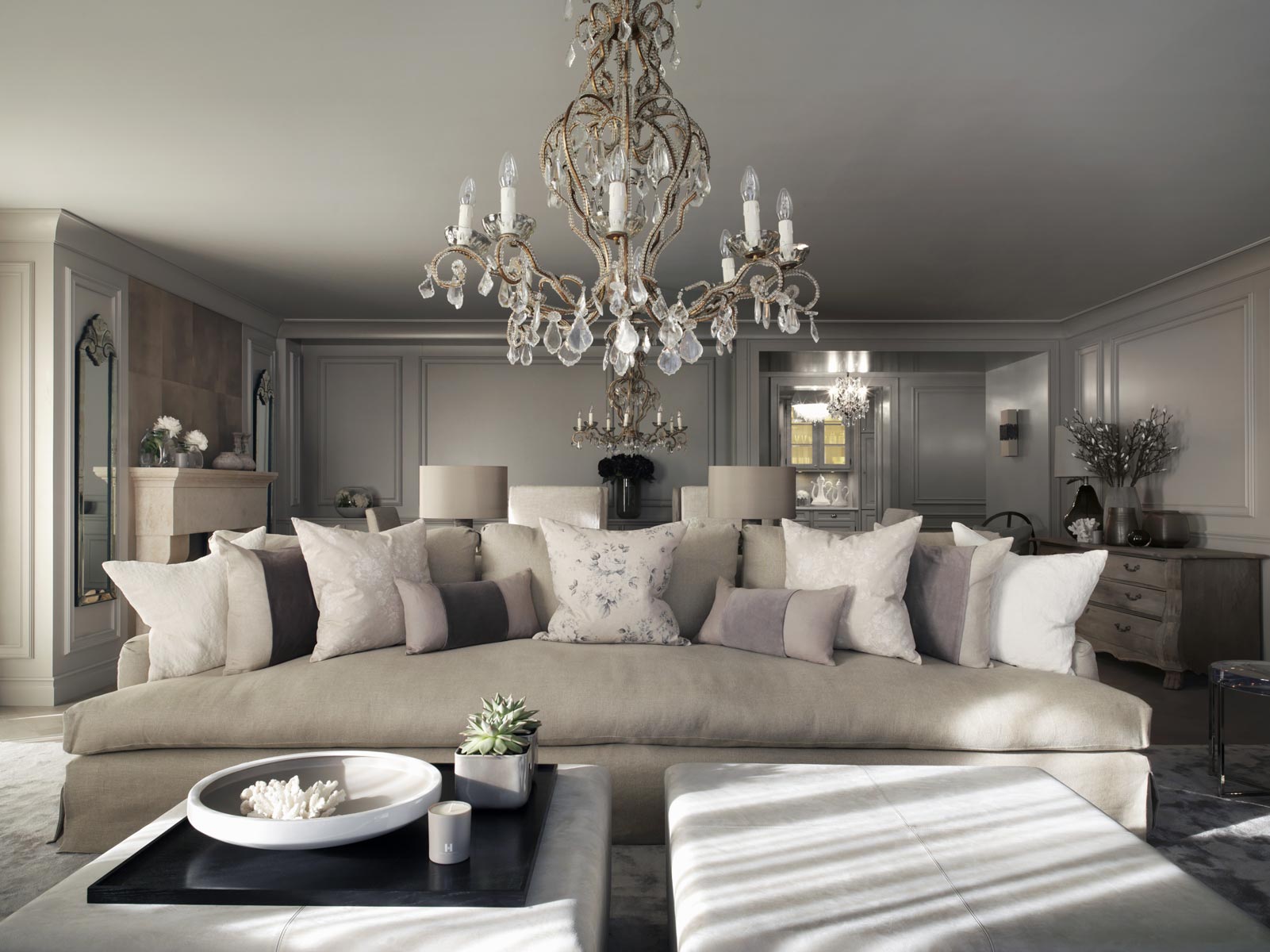 This elegant Chalet in Switzerland is one of Kelly Hoppen's beautiful interior design home decoration. The grey tones provide a calm and graceful ambience to the living room.
The bedroom also presents an elegant modern design. The grey tones are now merged with beautiful calm rose tones that reflect the calm and sweetness that all bedrooms should evoke.
Sophisticated Details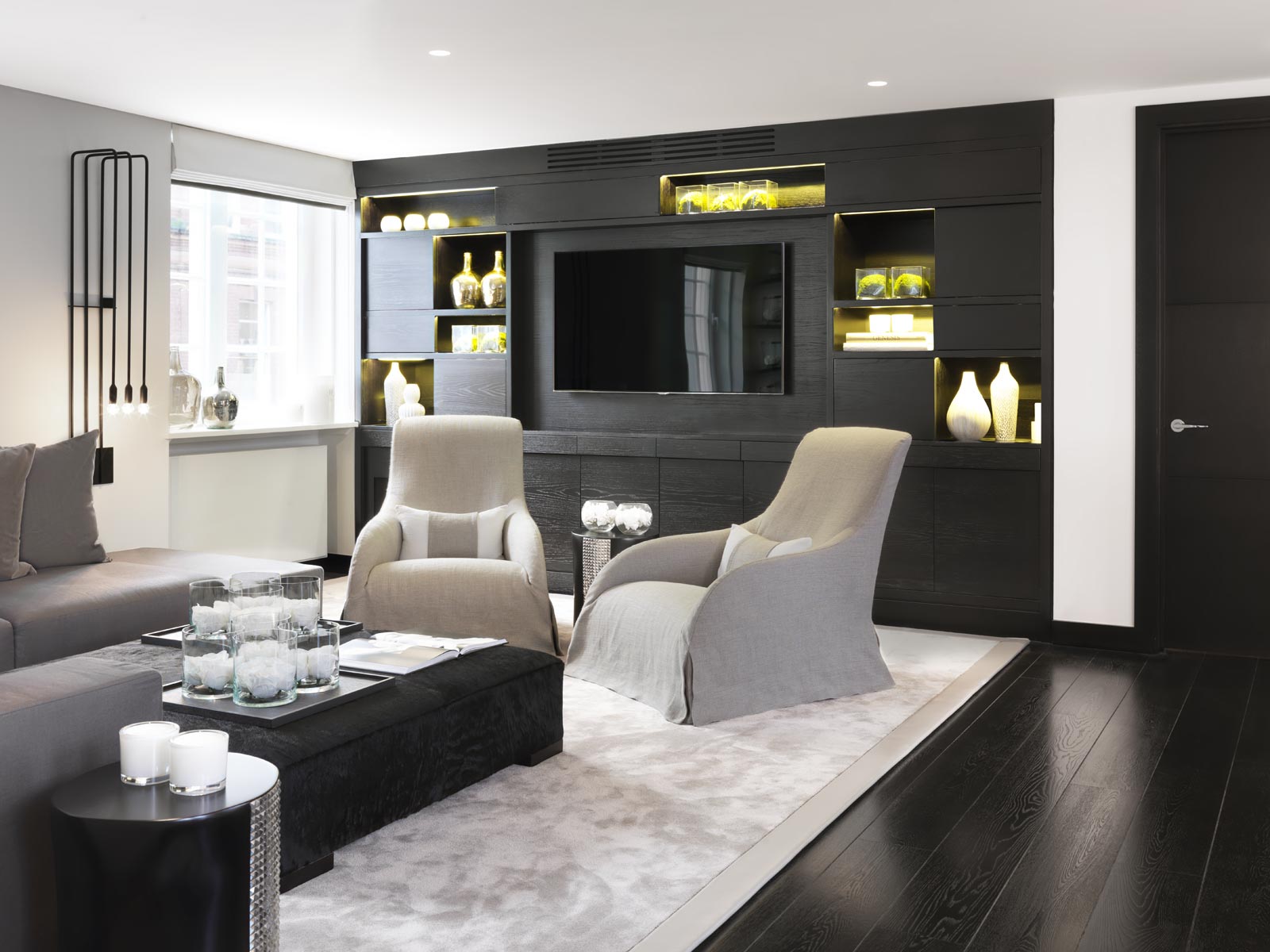 Pied a Terre, in London, is our second project made by the top interior designer Kelly Hoppen. Here we have a stylish living room with beautiful details all over.
The hallway presents the elegance that we all expected in luxury design, with beautiful long curtains and a shining art deco chandelier.
Bright Touches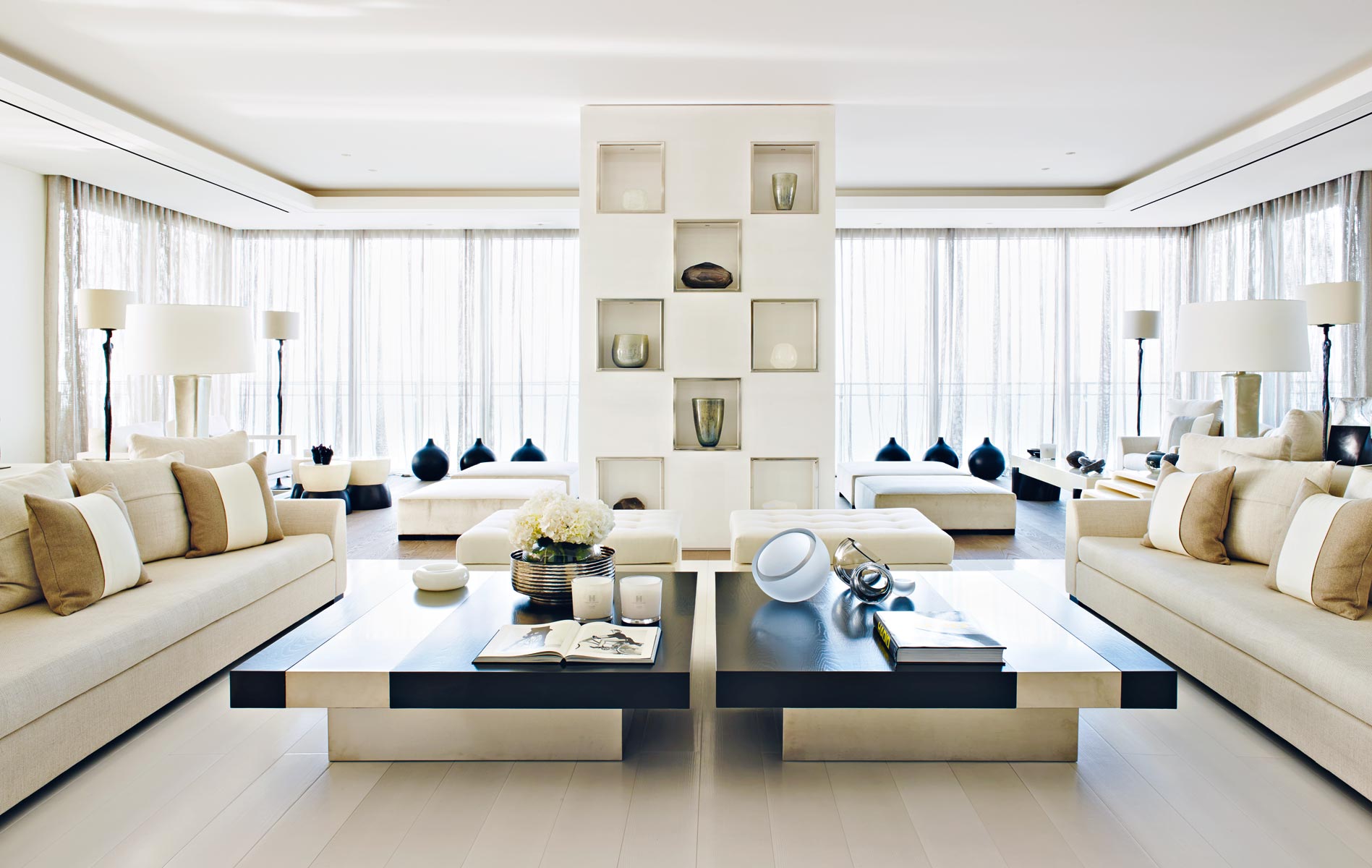 This stunning home in Beirut has a modern design easy to fall in love. The geometric lines and modern colors are the perfect combination in this living room.
This amazing space continues to surprise us with beautiful stylish chairs and modern design center tables.
Eclecticism
In fourth place, we present you an eclectic apartment with a modern architecture design style. The hallway presents a contemporary design with modern décor pieces, like the golden egg sideboard.
A contemporary design living room gives us more sense of modern design, characteristic of Kelly Hoppen, with sophisticated sofas and a stunning piano.
London Charm
Here next we present you a typically London family home. A cozy modern design living room carefully decorated with the unique taste of Kelly Hoppen.
The kitchen has a perfect natural ambient lighting, which also provides a major sense of dimension. The green plants are the perfect touch in this white design kitchen.
Statement Chandeliers
In sixth place, we have a contemporary design London loft. The modern white ambience is enriched with green and brown decor touches. See also: Best of Yabu Pushelberg Modern Design Hotels
The living room has a contemporary design chair playing along with modern comfortable sofas. The semi-spiral staircase at the end of the room completes the glamour of the luxury space.
Winter Luxury
The Ski Chalet, in France, is another design project made by this top interior designer. The living room presents a cosy sophisticated ambience that matches perfectly with the location. Evoking wood branches, the chandeliers are the highlighted pieces of this home decor, creating beautiful ambient lighting.
The indoor pool is absolutely stunning, with a subtle yet sophisticated lighting design and grey walls.
Metallic Glamour
The Town House, in London, presents a luxury kitchen with a modern design fireplace. The ambience is completed with sophisticated metallic touches.
The bedroom design evokes all the calm and peacefulness the room requires, with a beautiful natural ambient lighting. The modern white design has little green decor touches to enrich the room.
French Inspired
In ninth place, we present you this french Villa with a traditional modern design living room. From the custom pillows and curtains to the contemporary centre table, this space is full of home decor ideas for your own living room.
The bedroom presents the same traditional modern design, with beautiful lines and wallpaper that blends perfectly with the whole spirit of the room.
Black Accents
Our last project made by Kelly Hoppen is a modern townhouse. The living room presents a contemporary design with some nature decor pieces.
The bathroom presents a modern marble design with an elegant black wood floor. Some brass details complete the scheme, giving a sophisticated ambience to the room.
Luxury furniture you might also like:
If you enjoyed this article regarding Top 10 Kelly Hoppen Design Ideas then make sure to check out our socials to find news, inspirations, and more interior design trends and ideas: Pinterest | Facebook | Instagram.