Industrial Interior Design: Everything You Need To Know – Do you find the rough, edgy allure of industrial interior design appealing? The use of salvaged materials and old lighting fixtures, as well as exposed brick walls and concrete flooring, has grown in popularity recently. You've come to the perfect place if you're thinking about giving your own home an industrial look but don't know where to begin. Join LUXXU Blog while we navigate through the world of industrial interior design!
---
See also: Earth Day: Luxury Hotels That Are Embracing Ecology
---
Industrial Interior Design
Everything You Need To Know
What Is Industrial Interior Design
Popular and adaptable, industrial interior design is influenced by industrial structures like factories and warehouses. This architectural aesthetic celebrates the unpolished, functional, and raw characteristics of industrial architecture and uses exposed pipes, metal, concrete, and brick as primary building materials. The industrial design uses a deeper, neutral colour palette that includes tones of white, black, and grey, with a focus on open spaces and natural light. You can create an industrial-style environment by using unfinished and rough materials and adding sleek, black details. Dark metals are used to unify the entire look while highlighting the movement of natural and raw materials, which are frequently embraced by this design aesthetic.
How To Incorporate This Style In Your Interiors
It takes more than simply concrete flooring and brick walls in the architecture to create an industrial-style interior. The desired appearance is greatly influenced by industrial decor. Lighting fixtures with big shades or thin-body construction made of dark metals can effectively complement and unite an industrial space because the design approach emphasises minimalism. Furthermore, accent chairs with leather or neutral-colored upholstery mixed with thin-profile metal tables can seamlessly merge into an industrial warehouse without detracting from the look of the design as a whole.
Consider using reinterpreted manufacturing elements, such as steel or factory lights, as well as art produced from reclaimed metal materials when considering design ideas for industrial-style spaces. The traditional industrial design aesthetic is exemplified by steel tables and cabinets, Holophane lighting fixtures, and mirrors made from variously sized and shaped gears. A more contemporary interpretation of this design might, however, pair a blackened metal table with hardwood chairs for a novel touch. Use your imagination when recycling industrial components to give your home personality and depth.
Get the look:
Galea Dining Chair and Apotheosis Dining Table
---
See also: World Class Design Inspirations
---
A History Lesson On Industrial Design
The industrial revolution served as the impetus for industrial interior design. In the 1700s, as warehouse construction increased and efficient architecture became more important, a design trend that has persisted to the present day was established. The popularity of industrial-style architecture and design was greatly influenced by the usage of steel and concrete in buildings. The popularity of loft-style living in urban locations during the 1960s and 1970s helped this style acquire traction in the residential sector, despite its initial associations with mass manufacturing and machine production. Old warehouses and factories were converted into homes as traditional living spaces grew more difficult to come by, paving the door for the widespread use of industrial interior design.
Industrial design is becoming a timeless and dynamic aesthetic rather than merely a trend thanks to the rising popularity of adaptive reuse initiatives. We can give these formerly chilly and uninviting areas new life and functionality by repurposing older industrial structures. This has changed the appeal of industrial interiors, challenging our ideas of how to use and interact with them.
Modern Industrial Design
Many components from earlier iterations can still be found in contemporary industrial design, such as the usage of metal, beams, and recycled wood. However, some of the more vintage iterations can come off as stale and uninspired. Modern industrial design favours a cleaner, more streamlined style by using decorative elements like gears and exposed lightbulbs less frequently. The design of the bathrooms and kitchens in these areas has maybe seen the most significant change. A more modern and minimalist aesthetic is now being mixed with the strong industrial vibe to create an updated and new take on the industrial appearance.
Get the look:
Algerone Sideboard and Vertigo Mirror Set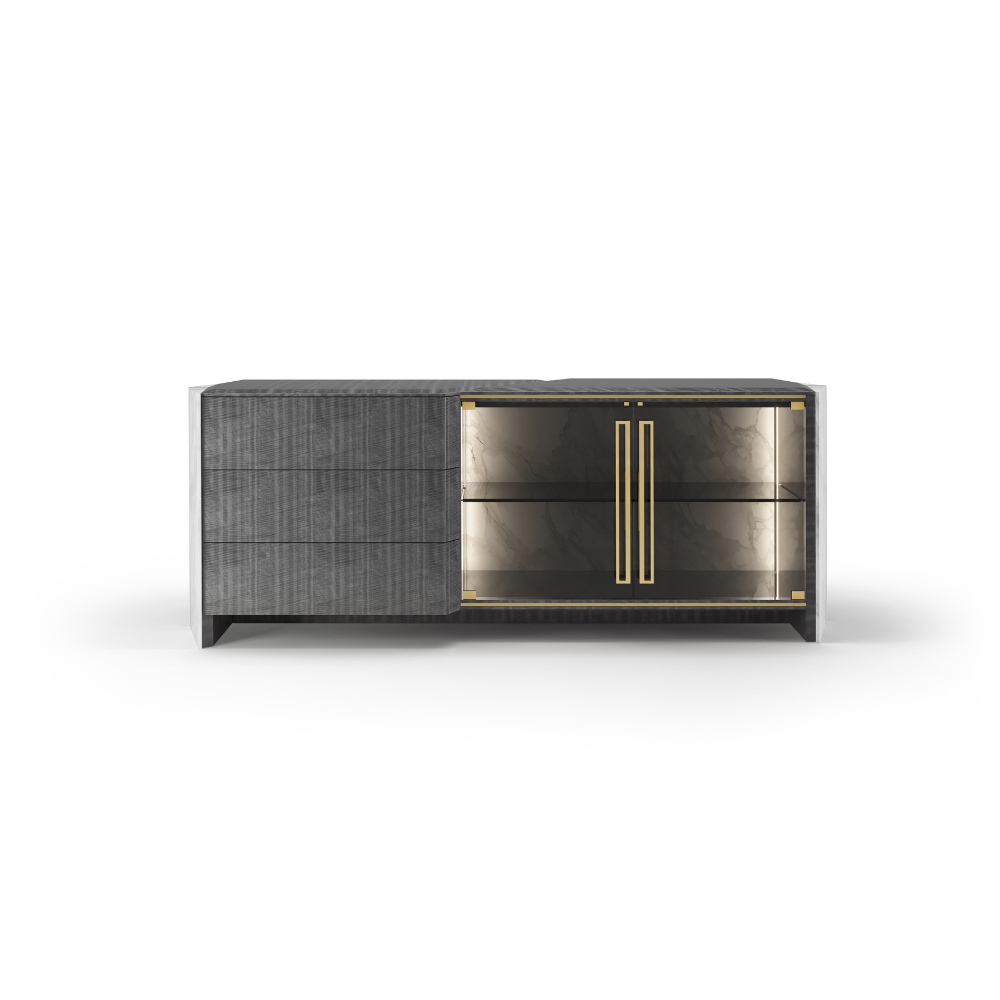 ---
See also: 50 Best Interior Designers in Asia: Part II 
---
By combining numerous design styles, modern industrial design has advanced beyond its rough roots. Unlike earlier iterations of industrial settings, which emphasised rawness and made use of available space, modern industrial design is a fusion of various design trends. By incorporating contemporary components with farmhouse-style materials that emphasise a rustic and natural palette, it reinterprets the conventional appearance of industrial design. The ways that an interior might be created to feel industrial have been expanded by this modern interpretation of the industrial look.
Industrial Interior Design Essentials
A range of design elements are incorporated into industrial interior design to produce a distinctive and unpolished aesthetic. Visible structural components, such as exposed brick walls, exposed beams, or open ductwork, as well as rough wood or concrete floors are frequently seen in industrial-style homes. Generally speaking, the colour scheme is neutral with a focus on darker tones like blacks, greys, and whites.
Chairs, tables, sofas, and other home décor items frequently employ raw materials like leather and wood. Beams and columns are frequently made of steel and black metal, which is also used to decorate, make furniture, fittings, and artwork. Industrial areas frequently have high ceilings and big windows. Finally, the emphasis is on minimalism, and homes with an industrial design tend not to have a lot of adornment or details.
Get the look:
Algerone Angular Sofa and Algerone Set II Center Table
---
See also: LUXXU Stocklist
---
If you enjoyed this article regarding 

Industrial Interior Design: Everything You Need To Know

 then make sure to check out our socials to find news, inspirations, and more interior design ideas: Pinterest | Facebook | Instagram.