Kitchen Design: How to Improve Your Kitchen – Most people use their kitchen as a multifunctional space: for cooking, eating, hang out, among others. There are simple ways to stylish this area, such as decorated shelving, and colorful tiles. Read more to discover how to improve your kitchen design.
---
See also: An Undeniable Artistic Flair – Prestigious Manchester Apartment

---
How To Improve Your Kitchen Design?
Decorated Shelving
Open shelves are a good way to display aesthetic cookware, glasses, or pots. This trend uses functional objects as decorative elements, giving an eclectic style to your kitchen design.
Colorful Tiling
Kitchens don't have to be just white, marble or granite. You can play with colorful tiling to add some personality to the area. Created by Jenn Feldman Designs, this kitchen design is beautifully placed together with navy tile.
---
---
Marble Countertops
Marble can be traditional or modern, depending on how you stylish it. This material is high maintenance and implies an upkeep routine. For this reason, faux marble is trending, among this year's main styles, and performs visually as well. However, real stone remains a frequent material. The designer Tina Rich was in charge of this Midtown New York kitchen renovation. Using Calacatta Vagli marble in the counters and backsplash, resulted in a clean and bright space.
Keep It Classy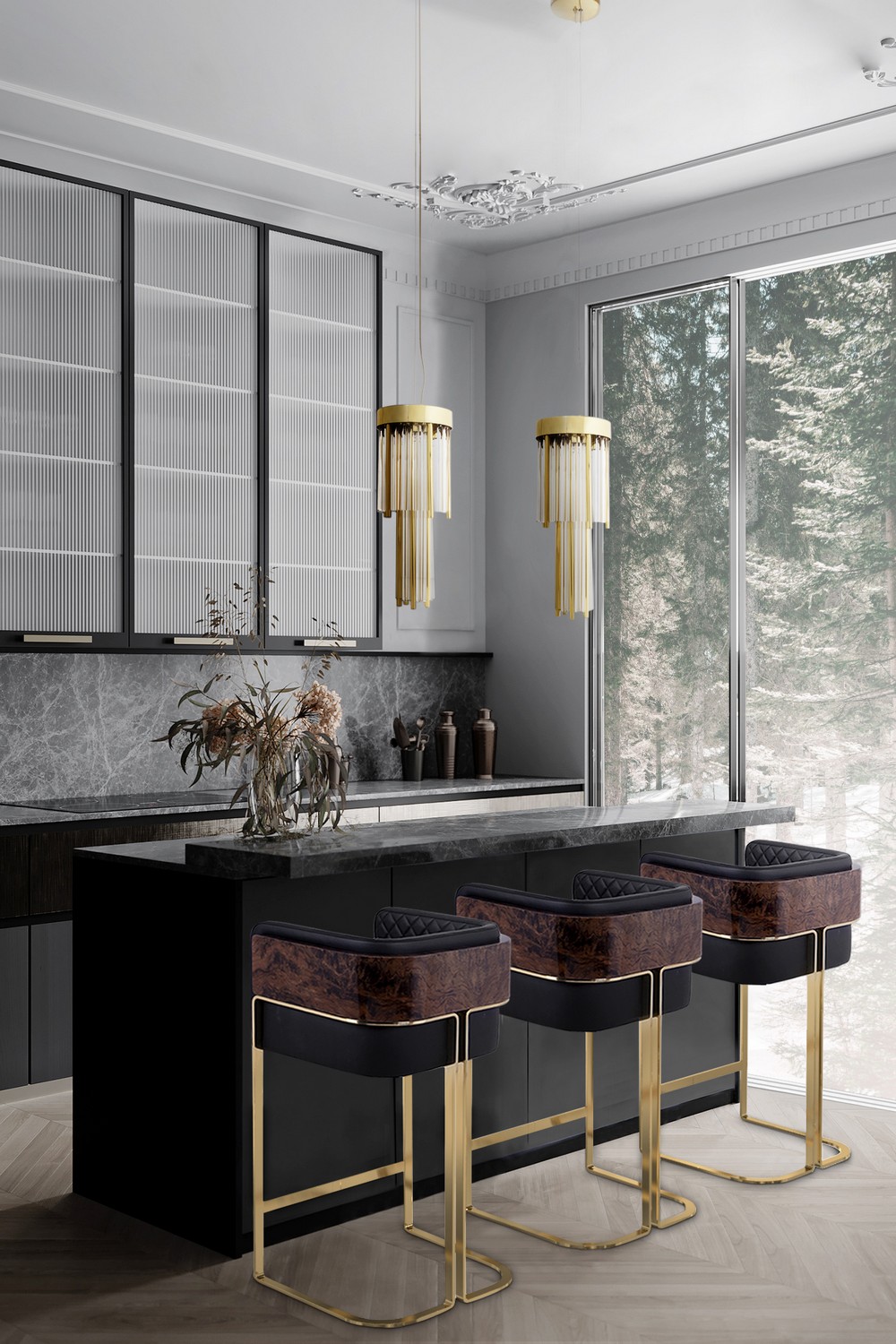 Classic and modern styles were never out, especially in kitchen design. Neutral color palettes, high-end materials, and decorative details harmonize the area. Lightning can work as a decorative element and add a sophisticated environment to your kitchen. Designed by LUXXU, the Pharo is a crystal pendant with a delicate look but a strong structure. It's made of crystal glass and gold-plated brass.
---
---
Bar chairs are a central piece of countertops and cabinetry. It can define the tone of the room. Since classic styles are timeless, high chairs can enhance elegance and luxury in your kitchen design. The Saboteur Bar Chair reminisces the old glamour of noir movies while mixing luxury and comfort. Designed by Luxxu, this classy velvet chair furnishes gold details into a neutral color scheme palette. It's made of wood, brass, and velvet.
---
See also: How To Enhance Any Design Today With LUXXU's Details That Matter!
---
If you enjoyed this article regarding Kitchen Design: How to Improve Your Kitchen then make sure to check out our socials to find news, inspirations, and more interior design ideas: Pinterest | Facebook | Instagram.