Top 25 Dining Tables Ideas⇒ Luxxu can be considered a very versatile, it can go from astonishing and breath-taking chandeliers, to the most simple and luxury pieces. Today we will show you some ideas of a type of piece that sometimes can pass unnoticed but unconsciously gives the finest detail and one of the most importants to your project, the Dining Table.
Excellence. That's what Luxxu is all about.
Bellagio Dining Table
Inspired by one of the most famous hotels in Las Vegas, the Bellagio was designed to be the perfect solution for every occasion, combining business with pleasure in a luxury environment. With a strong structure made of brass, wood and marble and a rectangular glass top, the Bellagio is ideal for dining rooms, meeting rooms and offices.
Apotheosis XL Dining Table
A larger option to the original Apotheosis Dining Table, this piece maintains an air of sophistication and indulgence in its 4-meter design. Its inspiration derived from the Greek Mythology will add a strong presence to any dining room and elevate it to a truly luxurious and chic space.
Principessa dining table by Artemest
A refined addition to a contemporary dining space, this table's imposing design is balanced by visual lightness. This modern dining table by Artemest highlights the architectural flair of this remarkable design!
Vertigo Black Dining Table
The vertigo family has extended to one more impressive piece with a sublime shape: The Vertigo Black Dining Table. This statement piece is the highest proof of ultimate design. Made with perfectly crafted marble, polished brass and smoked glass, this table creates a unique and sophisticated environment you need in setting. A fascinating and exclusive piece that exhales luxury and a luxury lifestyle.
Anapo by Gordon Guillaumier, Driade
Gordon Guillaumier created the Anapo table, inspired in the sixties and in a specific idea of the middle-class home torn between rigor and softness, luxury and functionality, indifferent to passing fads.
Limited Edition by Thierry Dreyfus
Thierry Dreyfus, in collaboration with Carpenters Workshop Gallery, created this astonishing dining table. With a minimalistic approach, this is an intriguing piece, that won't go unnoticied. The division into two parts, makes this modern dining table so unique, raising the bar when it comes to exclusive design.
Vertigo Black XL Dining Table
The vertigo family has extended to one more impressive piece with a sublime shape: The Vertigo Black Dining Table XL. This statement piece is the highest proof of ultimate design. Made with perfectly crafted marble, polished brass and smoked glass, this table creates a unique and sophisticated environment you need in setting. A fascinating and exclusive piece that exhales luxury and a luxury lifestyle.
Littus Oval Dining Table
Littus oval dining table, with a very strong style and sculptural features, has come to be recognised by its distinctive spiral. With the same quality signature of the collection, this oval table embodies handmade techniques by some of the best craftsman.
Kono Architectural Dining Table by Massimo and Lella Vignelli for Casigliani
Postmodern design architectural dining table KONO by Massimo & Lella Vignelli for Casigliani is considered a true masterpiece. This modern dining table consists of a black granite base and a red copper cone, oxidized following ancient procedure. 
Darian Dining Table
The Darian dining table gets its inspiration from our prodigious Darian sideboard. This stunning handcraft table is made of round smoked glass placed on top of a wooden structure in black lacquer touched by gold plated brass bars.
Skorpio Keramik by Cattelan Italia
The next suggestion is a modern dining table by Cattelan Italia, with a base in titanium and a top in different materials, ceramic Marmi Alabastro, Ardesia, matt Golden Calacatt, glossy Golden Calacatta, and more!
Wedge "Dining" by Minotti
Wedge "Dining" by Minotti is a dreamy modern dining table, made of solid sculptural masses of semi-circular legs. This element of surprise is even stronger in the version with a barrel-shaped glass top, the surface of which reveals the semi-circles of the supports.
Earthquake by Patricia Urquiola
Fragments of marble together were able to create a unique dining table! The fantastic sequence of colors is a concrete representation of the value that there's nothing like waste nor leftovers. Patricia Urquiola created one of the most expensive dining tables in the world and one of the most charming furniture pieces!
Penthouse Table by Minotti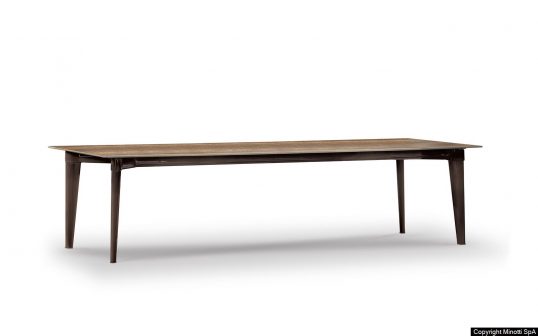 The Penthouse table combines minimalist appeal and reassuring aesthetics, presenting classic-modern reminiscences with a contemporary feel.  
It is the result of a high-tech design which pairs the structure, characterised by slightly retro, flared cast aluminium legs with a thin eucalyptus wood top sporting a matt finish, which stands out due to the natural flamed effect of the veining.
CATLIN DINING TABLE BY MINOTTI
Minotti's dining table is a distinctive piece, that is available in a surprising number of combinations of materials: textured black-painted metal combined with bright Chrome or bright Gold finish. We love the combination of the blacktop with the golden legs!
AGRA III by BRABBU

Agra is the modest setting of one the most famous and most celebrated monuments in world, the Taj Mahal, also known as the marble mausoleum. AGRA Rectangle Dining Table just like Taj Mahal, is an impressive display of craftsmanship and elegance. Its delicate work of the robust forest green marble reinforces the imposing structure, supported by a base in black glossy lacquer and polished brass.
KOI II by BRABBU
Koi carp is a recurring symbol of Japanese culture. Its natural colour mutations reveal their capacity to adapt, just like KOI II Dining Table. Featuring a base in aged brass and a top in acrylic, this rectangular dining table will add refined elegance to any dining room design.
Alberto by Essential Home
Alberto dining table was named after one of the best Italian cinema personalities (Alberto Sordi), the smooth curvilinear lines of the wooden legs of this unique table design take inspiration from the architectural shapes of Oscar Niemeyer's concrete structures. In partnership with Carlo Donati Studio.
Plateau I by BRABBU
Monument Valley, in Arizona, is one of the greatest icons of the North-American West landscape. It inspired the creation of PLATEAU I Dining Table. It features a top in walnut root veneer with a matte varnish and details in matte hammered brushed aged brass, adding a special touch. The base is in matte black lacquer, making it an intriguing dining furniture item.
Beyond Dining Table
The distinctive details make a delicate adjustment between, the best hand worked wood with touches of brass and the warm and golden tones on its polished surface. Created in an outstanding moment of inspiration, this luxury statement table makes the perfect center point of any dining setting.
Littus Dining Table
The creation of Littus Dining Table was made in order to strengthen a unique concept. This luxury dining table has come to symbolize the spiral, is a curve in the space, which runs around a centre in a special way like the great decisions are taken around powerful tables among determined minds. With quality signature, Littus Dining Table embodies handmade techniques such as marble cutting, gold plated brass, executed by some of the best craftsman.
Algerone Dining Table
Algerone is an opulent round dining table, inspired by architectural elements, it was designed to remind us of the unique strength and class that only marble has. The carrara marble circular top is supported by a sleek base adorned with black leather and polished brass detailing. A design that will redefine the way you perceive dining tables.
Chained Up Miami by Barberini & Gunnell
The first expensive dining table of our selection was born from observing the gigantic iron chains, which are used for tying up the enormous container ships or transatlantic cruisers. Barberini and Gunnell took this concept to the next level and created an icon, that truly is a masterpiece
Apis II by BRABBU
Bees, originally called "Apis" in Latin, were the main inspiration for APIS Dining Table II. It features a large table top in stained oak with brass details and a base in matte brass. Place it in a modern dining room and this round dining table is sure to impress.
< ?php get_footer(); ?>
⇒ Check our article  Consoles – An Accent table that makes the difference⇐
If you enjoyed this article regarding Top 25 Dining Tables Ideas then make sure to check out our socials to find news, inspirations, and more interior design trends and ideas:Pinterest | Facebook | Instagram.