Dom-A – Meet this Russian Design Studio Luxurious Project

 ⇒ Dom-A is a Russian Design Studio owned by Maria Serebryanaya. She has presented us with several projects from classic to modern. Get to know some of their work with Luxxu!
An Elengant Open Plan Kitchen
Dom-A has worked alongside Luxxu. Our Empire Snooker brightens this kitchen design, adding a glamorous ambiance. Kitchens can have a sophisticated environment, with an elegant suspension lamp, above the counter. Made off with crystal glass and brass.
A Large Modern Living & Dining Room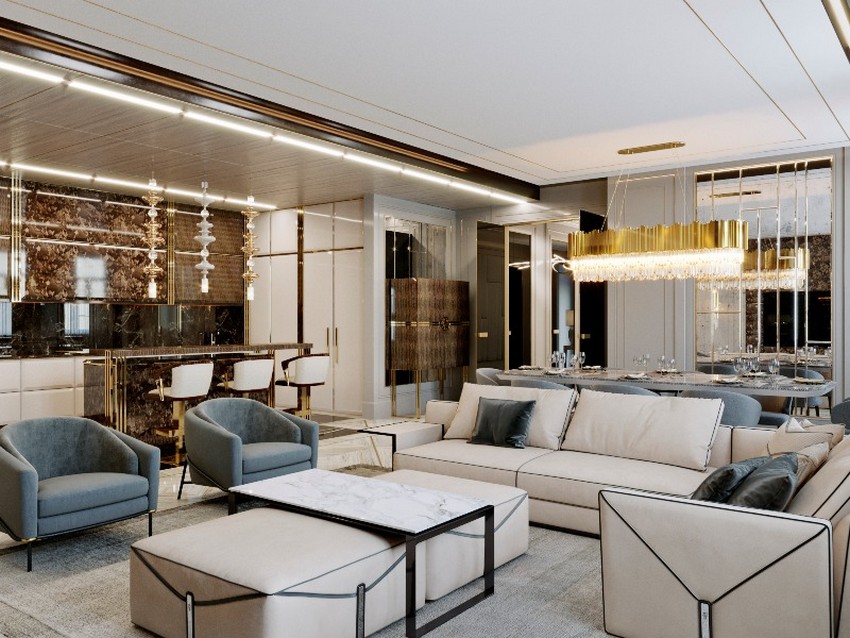 An open space can be tricky to decorate. However, Dom-A put beautifully together this living & dining room design. Empire Snooker by Luxxu brightens the dinner table, defining the dining area. The gold plated finish of the Empire Snooker contrasts perfectly with the main neutral color scheme.
Dining room designs require luxurious lighting. It sets the mood. Instead of placing one rectangular suspension lamp, like other projects, Dom-A produced a sophisticated ambiance by placing two Empire Suspension by Luxxu above the dinner table. This exclusive fixture is made with one elegant layer of brass and crystal glass.
Classy Office
Check this classy and modern office design by Dom-A. A classic color scheme, with brown contrasting with beige hues, complemented by golden accents. The Draycott II Wall Lamp by Luxxu adds an exquisite and delicate touch. It's made of brass and crystal glass.
.

⇒ Learn how to build the perfect closet in our article Lady's Closet – A Guide to Paradise⇐
.
If you enjoyed this article regarding Dom-A Casa Ricca – Meet this Russian Design Studio Luxurious Project then make sure to check out our socials to find news, inspirations, and more interior design trends and ideas: Pinterest | Facebook | Instagram.