Dining Room Design Filled With Opulent Beauty Within A Meraki Palace – Now that we've shown you the entire palace, we're ready to dig closer and more in-depth into each sector. So be prepared to learn about this dining room design's luxurious tribute in today's LUXXU Blog article!
---
See also: Meraki Palace In Qatar: Feel The Modern Design With An Arabian Touch

---
Dining Room Design With Outstanding Decoration
The dining space combines soothing gray tones with blue hues to produce a sense of grace, with just a hint of luxury offered by the gold accents. Neutral tones are timeless and provide a relaxing ambiance. The Algerone Rectangular Dining Table takes center stage, exhibiting the Statuario marble's power and historic appeal while wonderfully complimenting the Saboteur Dining Chair.
The Pharo Chandelier, with its gold-plated brass and crystal glass, creates a regal atmosphere while nicely contrasting with the main color scheme. The Saboteur Single Sofa, in a relaxing blue, looks well next to the arched windows with the Rug'Society's Warao Rug.
---
---
What Do You Think Of This Dining Room Design So Far?
MYSA's Suspicion Side Table, sculpted in Carrara marble, contrasts with the Pharo III Table Lamp while complementing the Carrara marble walls. The Pharo II Wall Lamp, on the other hand, highlights the patterned wall and lends a refined look to the space.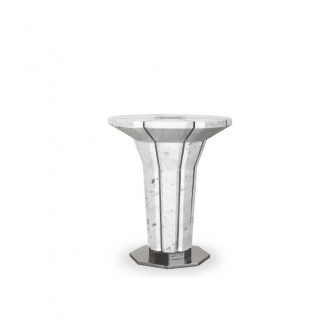 Finally, the dining room set is only complete when the dramatic Myllo Console is paired with the poetic Scala Mirror. Pull the Brubeck Door Handle from PullCast to exit this opulent dining hall and proceed to the next room!
---
See also: A New Era Set In Stone – LUXXU's Groundbreaking New Collections!
---
If you enjoyed this article regarding Dining Room Design Filled With Opulent Beauty Within A Meraki Palace then make sure to check out our socials to find news, inspirations, and more interior design ideas: Pinterest | Facebook | Instagram.