Bottega Veneta Unveils 'Invisible' Shanghai Store ⇒ The three-metre-high, 100 sq meter mirrored cube is an ode to Bottega Veneta's statement against self-promotion.
⇒ Celebrity Pools We Would Spend Summer In⇐

Designed by Bottega Veneta's creative director Daniel Lee and located in the atrium of the Plaza 66 mall, the 'Invisible Store' is an innovative concept conceived specifically for this space. The entire cube is clad in mirrors which reflect the other luxury brand's storefronts instead of showcasing the store itself.
This pop-up store plans to overthrow the modern perception and recreate the concept of visibility by giving over brands the chance to be seen on its own walls, with Chief Executive Officer Leo Rongone stating that the store's design translates Bottega Veneta's essence of "discretion, joy, and sensuality."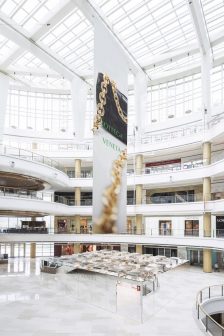 Inside the store, white surfaces and mirrors create dazzling light tricks and optical illusions while displaying Bottega Veneta's pre-Fall 2020 men's and women's collection, as well as accessories, jewellery and other small leather goods.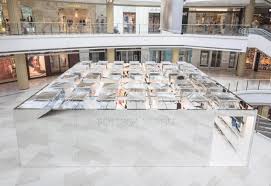 If you enjoyed this article about Bottega Veneta, then make sure to check out our socials to find more interior design trends and ideas: