Austin Astonishing Living Room Designs With LUXXU => Austin, brace yourself for this amazing selection of living room spaces and products that are destined to inspire your designs!
---

---
Austin Astonishing Living Room Designs With LUXXU
Serving as a place to rest and relax after the entanglement of daily life, as well as receiving guests, a great Living Room is a must in every home! Mixing comfort and style, here are a few ideas to inspire your designs and uplift your projects.
A modern interior design needs to be bright and have organic shapes. This stunning living room has it all!
The Senzu Sofa brings a high-end upholstery solution, an unmatched minimalist and contemporary feel to this space. The Orbis Mirrors combined with the Pharo Floor Lamp create a larger and brighter look. All together gave birth to the ultimate expression of comfort, functionality and luxury! Don´t you love it Austin?
Get The Look
Designed to epitomize the ultimate expression of comfort, functionality, and luxury, the Senzu Sofa modern is made of leather with a rounder form and a neutral color scheme. It's able to grant a new dimension to the concept of living room sofas!
A fine example of a crisp color palette incorporated with a tall ceiling and a light wood floor. Grey-themed, this large and open Living Room has a fresh and modern look and is perfectly aligned with the marble around the walls.
Luxxu's Thomson Sofa provides sleek and modern lines, while the Empire Set III Center Table adds some texture and pops of gold, filling the large room and tying everything together.
Get The Look
Able to create a luxurious, sensual and sophisticated look in any Living Room, Luxxu's Thomson Sofa is a unique and functional option for your projects!
---
Austin, are you loving these astonishing pieces as much as we did?
---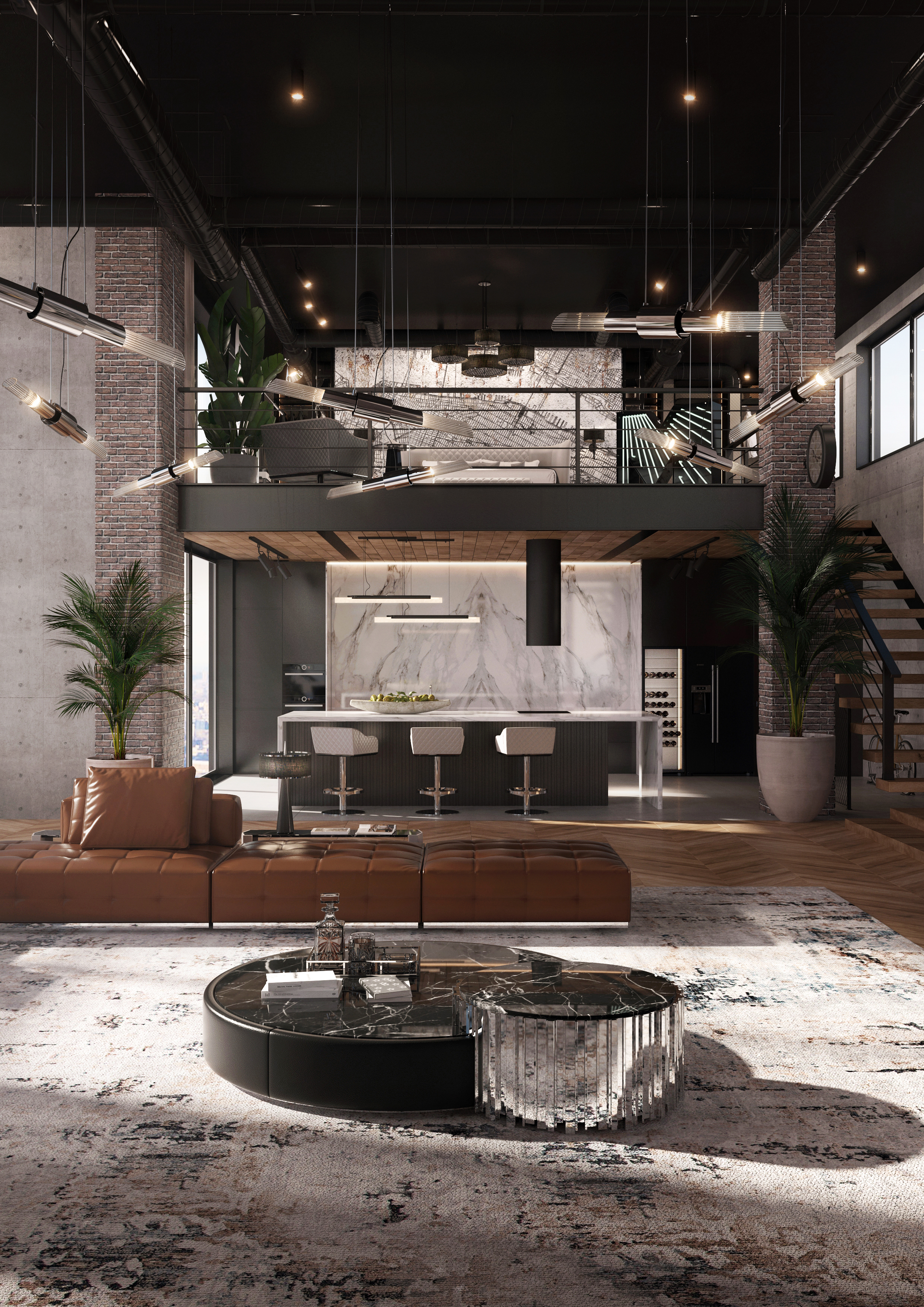 Since always, the Living Room has been an area built to encourage social interaction with its spacious yet cozy setup. With a contemporary design and filled with comfort, this space is the best option to entertain any desired number of guests! Can you feel its potential Austin?
Get The Look
Developed with the iconic lines characteristic of the Empire collection, the Empire Set I Center Table is a two-piece round table made with Bronze Brass, Emperador Dark Marble & Nata Elastron Leather. Filled with glamour and charm, this is the perfect piece to decorate your Living Room like royalty!
Last but not least, we present to you this open and modern Living room look. With essential upholstery pieces, like the Thompson Sofa and the Saboteur Swivel Single Sofa, and an unconventional lighting piece, the Explosion Suspension, this place looks amazing. And lets not forget the sublime yet incredible look accomplished with a couple of Vertigo Long Side Tables. They really increase the level of functionality and luxury in the room! Don´t you agree Austin?
Get The Look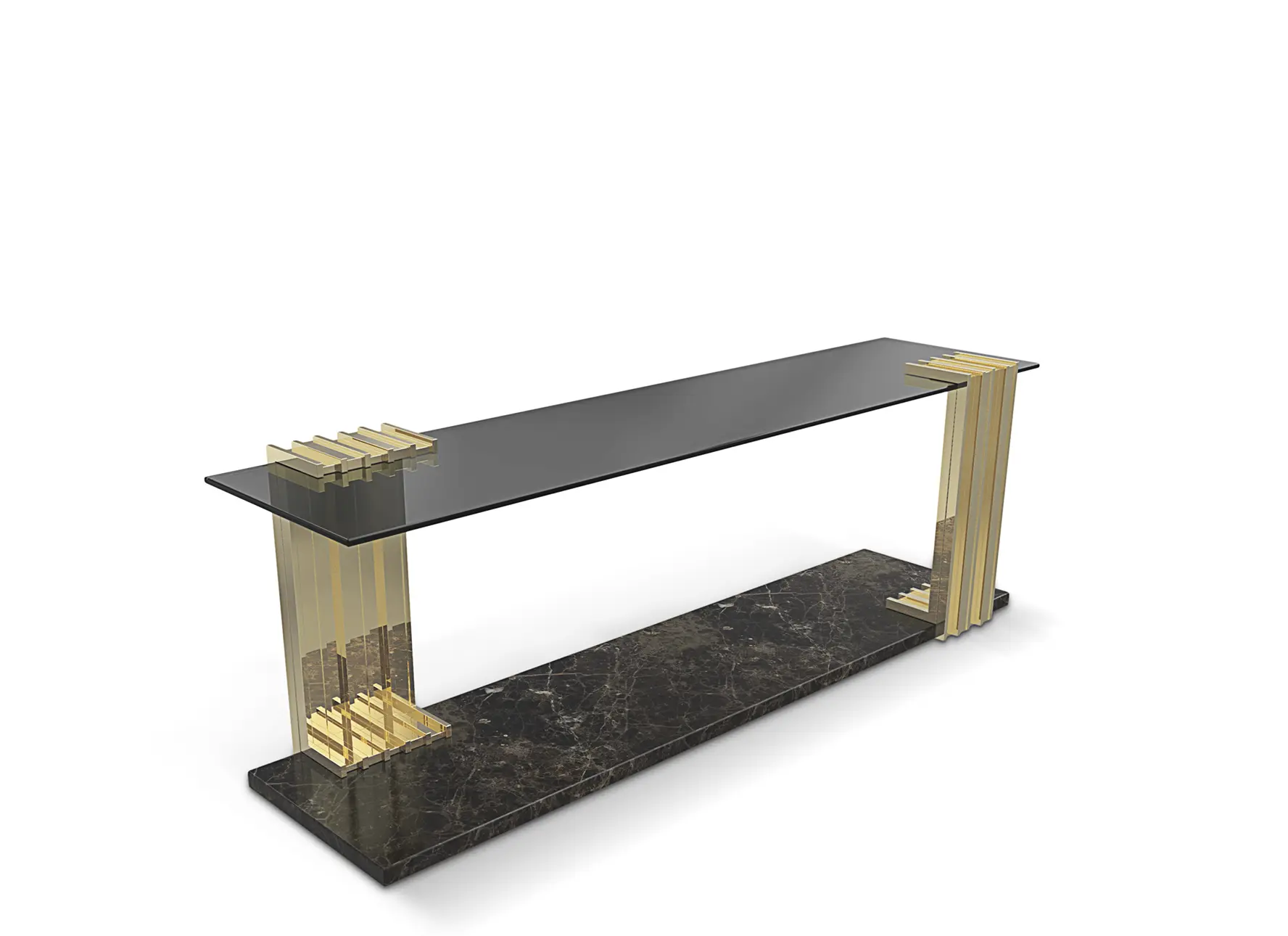 Built with brass, smoked glass and Nero Marquina marble, the Vertigo Long Side Table will catch all the attention in the room! Its bold and sophisticated look is a real feast for the eyes!
If you enjoyed this article regarding Austin Astonishing Living Room Designs With LUXXU then make sure to check out our socials to find news, inspirations, and more interior design ideas: Pinterest | Facebook | Instagram.